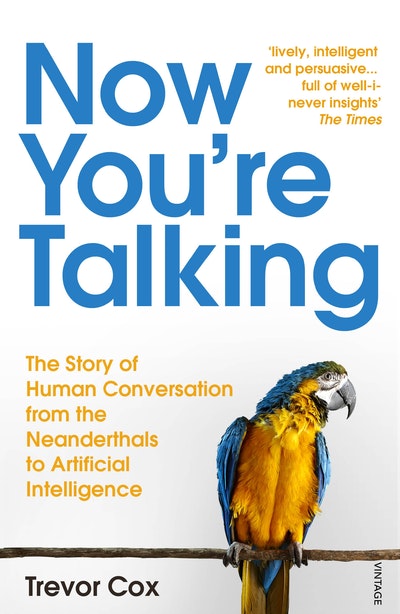 Published:

2 July 2019

ISBN:

9781784705220

Imprint:

Vintage

Format:

Paperback

Pages:

320

RRP:

$22.99
Now You're Talking
Human Conversation from the Neanderthals to Artificial Intelligence
---
---
---
The fascinating story of our ability to converse from the 'David Attenborough of the acoustic realm' (Observer)

'A lively, intelligent and persuasive history of speech...Expertly and patiently explained' The Times
Why are human beings the only animals that can speak? And why does it matter?
If you've ever felt the shock of listening to a recording of your own voice, you realise how important your voice is to your personal identity. We judge others – and whether we trust them – not just by their words but by the way they talk: their intonation, their pitch, their accent.
Now You're Talking explores the full range of our voice – how we speak and how we sing; how our vocal anatomy works; what happens when things go wrong; and how technology enables us to imitate and manipulate the human voice.
Trevor Cox talks to vocal coaches who help people to develop their new voice after a gender transition; to record producers whose use of technology has transformed the singing voice; and to computer scientists who replicate the human voice in their development of artificial intelligence.
Beginning with the Neanderthals, Now You're Talking takes us all the way to the digital age – with the frightening prospect that we may soon hear 'Unexpected item in the bagging area' more frequently than a friendly 'Hello, how are you?' in the street.
Published:

2 July 2019

ISBN:

9781784705220

Imprint:

Vintage

Format:

Paperback

Pages:

320

RRP:

$22.99
Praise for Now You're Talking
Full of well-I-never insights... A lively, intelligent and persuasive history of speech...Expertly and patiently explained

Laura Freeman, The Times
Full of well-I-never insights... A lively, intelligent and persuasive history of speech...Expertly and patiently explained

Laura Freeman, The Times
Fascinating... Illuminating… The book draws on the latest scientific research and is studded with arresting statistics... [Cox] wears his learning lightly... A rewarding read... Cox knows how to make his subject sing. And the narrative is enlivened by colourful anecdotes.

Sebastian Shakespeare, Daily Mail
Fascinating... Illuminating… The book draws on the latest scientific research and is studded with arresting statistics... [Cox] wears his learning lightly... A rewarding read... Cox knows how to make his subject sing. And the narrative is enlivened by colourful anecdotes.

Sebastian Shakespeare, Daily Mail
A brain-pleasing and entertaining read. Cox's passion for his subject comes through on every page. An entertaining read for anybody.

Abi Jackson, UK Press Syndication
A brain-pleasing and entertaining read. Cox's passion for his subject comes through on every page. An entertaining read for anybody.

Abi Jackson, UK Press Syndication
Cox's investigation sweeps from the putative protolanguage of human ancestor Homo heidelbergensis to the likelihood of creative algorithmic discourse.

Nature
Cox's investigation sweeps from the putative protolanguage of human ancestor Homo heidelbergensis to the likelihood of creative algorithmic discourse.

Nature
[T]his is a continually interesting and instructive account of our conversational abilities, and a much needed exposé of our remarkable incapacity to infer anything from each other's talk.

Harry Ritchie, The Spectator
[T]his is a continually interesting and instructive account of our conversational abilities, and a much needed exposé of our remarkable incapacity to infer anything from each other's talk.

Harry Ritchie, The Spectator
[A] fascinating examination of how the nature of voices invoke prejudice and preconceptions

Adrian Woolfson, New Statesman
[A] fascinating examination of how the nature of voices invoke prejudice and preconceptions

Adrian Woolfson, New Statesman
An epic and multi-stranded tale… Cox ably and entertainingly explores the political and cultural dimensions of how we speak

Simon Ings, New Scientist
An epic and multi-stranded tale… Cox ably and entertainingly explores the political and cultural dimensions of how we speak

Simon Ings, New Scientist
This is a book overflowing with knowledge, and delight in it

James McConnachie, Sunday Times, **Books of the Year**
This is a book overflowing with knowledge, and delight in it

James McConnachie, Sunday Times, **Books of the Year**
Epic… Cox keeps the tone accessible with pop-culture references throughout, revealing Cox's taste in music and film

James Dacey, Physics World
Epic… Cox keeps the tone accessible with pop-culture references throughout, revealing Cox's taste in music and film

James Dacey, Physics World
Filled with remarkable insights and evidence from current research, Cox's illuminating survey takes the reader on a fascinating journey

PD Smith, Guardian
Filled with remarkable insights and evidence from current research, Cox's illuminating survey takes the reader on a fascinating journey

PD Smith, Guardian