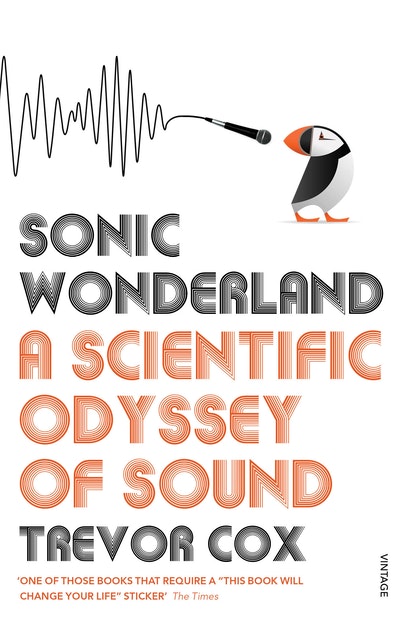 Published:

9 January 2014

ISBN:

9781448114573

Imprint:

Vintage Digital

Format:

EBook

Pages:

320
Sonic Wonderland
A Scientific Odyssey of Sound
---
---
---
An original and compelling tour of the world's most amazing acoustic phenomena and a passionate plea for a deeper appreciation of and respect for our shared sonic landscapes.
As an acoustic engineer, Trevor Cox has spent his career eradicating unwanted noises - echoes in concert halls, clamour in classrooms. Until the day he heard something so astonishing that he had an epiphany: rather than quashing rare or bizarre sounds, we should be celebrating these sonic treasures.
This is the story of his investigation into the mysteries of these Sonic Wonders of the World. In the Mojave Desert he finds sand dunes that sing. In France he discovers an echo that tells jokes. In California he drives down a musical road that plays the William Tell Overture. In Cathedrals across the world he learns how acoustics changed the history of the Church.
Touching on physics, music, archaeology, neuroscience, biology, and design, Cox explains how sound is made and altered by the environment and how our body reacts to peculiar noises - from the exotic sonic wonders he encounters on his journey, or the equally unique and surprising sounds of our everyday environment.
In a world dominated by the visual, Sonic Wonderland encourages us to become better listeners and to open our ears to the glorious cacophony around us. Listen to a selection of astonishing sounds here: https://soundcloud.com/sonicwonderland
Published:

9 January 2014

ISBN:

9781448114573

Imprint:

Vintage Digital

Format:

EBook

Pages:

320
Praise for Sonic Wonderland
A riveting ear-opener, Trevor Cox describes in lyrical detail a range of sonic events and new ways of listening that can only brighten our experience of the acoustic world around us. A must-read for sound-lovers of all stripes

Bernie Krause, author of The Great Animal Orchestra
This is acoustician Trevor Cox's fun but thoroughly detailed tour through some of the world's aural gems. Sounds like music to our ears

New Scientist
A must read for musicians, producers, sound engineers and nerds of all kinds

Lauren Laverne, BBC 6 Music
A David Attenborough of the acoustic realm, whose knowledge is unimpeachable yet worn lightly, whose language is vivid yet without indulgence

David Hendy, Observer
Sonic Wonderland by Trevor Cox is one of those books that require a "this book will change your life" sticker

Simon Barnes, The Times
Sonic Wonderland, a delightfully instructive book, will make you want to listen to the world anew and with beatifically attuned ears

Ian Thomson, Sunday Telegraph (Book of the Week)
Captivating book... This book does not call for quiet, but for good sound over bad... Reading this revelatory book, it is impossible not to be converted to his cause. He syringes his readers' ears and the effect is delightful

James McConnachie, Sunday Times
If there's one man who could give you an informed account of one-hand clapping, it's Trevor Cox. Fascinating …. Thought-provoking

Tibor Fischer, The Times
Cox explores a dazzling variety of fascinating sounds... When we actively listen rather than merely hear, the world becomes a richer and fuller place, and Cox's book is the perfect primer for retraining your ears

Chris Maume, Independent
It's a joy as a reader to follow [Cox's] captivating forays into this "sonic wonderland" that surrounds us all. His enthusiasm is palpable and I challenge anybody to read this book and not want to experience for themselves at least one of the subjects described. This really is a perfect book for anyone with an interest in sound

BBC Focus
Compellingly original... Fluent and engaging, the book's lapses into scientific jargon are leavened by Cox's boyish enthusiasm and earnest desire that the world's sonic wonders should not fall on deaf ears

Lonely Planet Traveller
Delightful and informative

Sunday Times
An infectiously enthusiastic study

Caspar Henderson, Guardian
[An] intriguing book

Orlando Bird, Financial Times
Cox's strengths are founded in joyful ardour – a love of unusual sound events – and the scientific knowledge and communicative skills to analyse each of these events as he encounters them on his travels

David Toop, Times Higher Education
Fascinating

i
You'll never hear the same again

Blackpool Gazette
A charming and romantic book

Ivan Hewett, Daily Telegraph
Wonderful

John Clarke, Independent on Sunday
A fascinating book... Cox writes wonderfully, alternating between lyricism, expert testimony and self-deprecating humour

John Burnside, New Statesman
Makes you think... There is lots to pique our interest in this lively book by an adept science communicator

Shaoni Bhattacharya, New Scientist
The pace and breathless enthusiasm of this book initially seems at odds with the idea of simply stopping for a moment to listen. It's a whirlwind trip around the world with an expert guide, allowing us to listen to a vast range of unusual sound phenomena, from the tiniest click to the loudest roar

Kevin Younger, Engineering and Technology
Excellent

Simon Barnes, The Times
[Cox's] sense of adventure transforms field trips into Indiana Jones-esque romps

Yo Zushi, New Humanist
Trevor Cox takes the reader on a fascinating journey of the acoustic wonders of the world

Rob Kingston, Sunday Times
I loved this book. It is definitely worth the price, and even if it seems strange to read about sound instead of listening to it, Sonic Wonderland is the perfect arrangement

Philippe Blondel, Physics World
A technological travelogue conducted by an expert tour guide, bursting with aural arcana that adds just the right amount of tech-savvy detail, Sonic Wonderland brings into relief a world often obscured in our image-heavy existence. Even as we follow Cox to the ends of the Earth, what makes his book a real rush is that it's ultimately an ear-buzzing journey to the center of our minds.

Greg Milner, Perfecting Sound Forever
This small encyclopedia of strange sounds reveals how much art there is in the act of listening. Reading it made my ears more mindful

Adam Gopnik