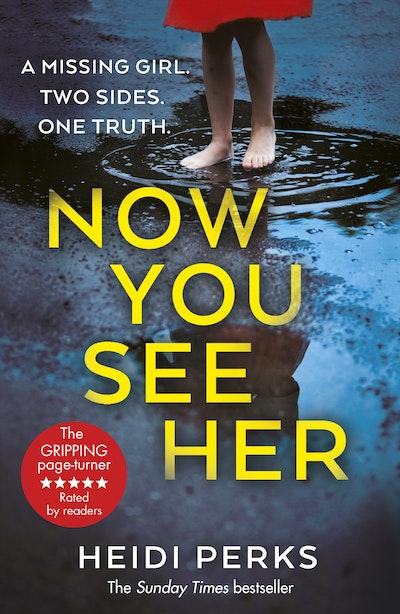 Published:

7 May 2019

ISBN:

9781787460775

Imprint:

Arrow

Format:

Paperback

Pages:

432

RRP:

$19.99
Now You See Her
The bestselling Richard & Judy favourite
---
---
---
A compulsive thriller which explores what happens when you are responsible for your best friend's worst nightmare. Fans of THE COUPLE NEXT DOOR and Lisa Jewell's THEN SHE WAS GONE will not be able to put this novel down.
Pre-order THREE PERFECT LIARS now, the gripping new novel from Heidi Perks
____________________________
The Sunday Times-bestselling Richard & Judy Book Club favourite
HAVE YOU READ IT YET?
'I flew through this book in three days, with my heart in my mouth' LISA JEWELL
'Believe us when we say this novel is the real deal' HEAT
'A gripping tale of friendship and deceit, where nothing is what it seems' LAURA MARSHALL
____________________________
Charlotte is looking after her best friend's daughter the day she disappears. She thought the little girl was playing with her own children. She swears she only took her eyes off them for a second.
Now, Charlotte must do the unthinkable: tell her best friend Harriet that her only child is missing. The child she was meant to be watching.
Devastated, Harriet can no longer bear to see Charlotte. No one could expect her to trust her friend again.
Only now she needs to. Because two weeks later Harriet and Charlotte are both being questioned separately by the police. And secrets are about to surface.
Someone is hiding the truth.
So what really happened to Alice?

Unputdownable psychological suspense from an exciting new talent, perfect for fans of Shari Lapena's THE COUPLE NEXT DOOR and Clare Mackintosh's I LET YOU GO.
____________________________
What everyone's saying about 'the best book of the year':
'Totally hooked from the first page. Such an accomplished thriller!' Amy Lloyd, author of The Innocent Wife
'I couldn't turn the pages fast enough' - Goodreads reader, 5 stars
'Absolutely brilliant. Couldn't put this book down. Right from the very start you are gripped' - NetGalley reader, 5 stars
'A chilling tale of friendships, deceit, manipulation and secrets that had me hooked in from the very first page.' - Goodreads reader, 5 stars
'such a gripping story that I read the rest of the book in one sitting. I just had to know what was going to happen' - Goodreads reader, 5 stars
'I read this book in one tension-filled evening and couldn't go to bed until I knew how it ended.' - Jenny Blackhurst, author of The Foster Child and How I Lost You
'An intense, chilling read that kept me gripped throughout' - Goodreads reader, 5 stars
'Loved the female friendships and the constant twists and turns - a definite must-read for summer!' - Hollie Overton, author of Baby Doll and The Walls
'Heidi Perks writes with an instinctive knowledge of how to keep the reader enthralled' - Goodreads reader
'This is a taut thriller that reads like a TV drama in-the-making. It'll make you wary of those around you, past and present.' - Goodreads reader
'Brilliant book to have for summer reading' - Goodreads reader, 5 stars
Published:

7 May 2019

ISBN:

9781787460775

Imprint:

Arrow

Format:

Paperback

Pages:

432

RRP:

$19.99
Praise for Now You See Her
'I flew through this book in three days, with my heart in my mouth. Seriously page turning'

Lisa Jewell, author of When She Was Gone
Totally hooked from the first page. Such an accomplished thriller!

Amy Lloyd, author of THE INNOCENT WIFE
I read this book in one tension-filled evening and couldn't go to bed until I knew how it ended.

Jenny Blackhurst, author of THE FOSTER CHILD and HOW I LOST YOU
'Loved the female friendships and the constant twists and turns – a definite must-read for summer!'

Hollie Overton, author of BABY DOLL and THE WALLS
Gripping thriller

Good Housekeeping
'The term "unputdownable" gets bandied around quite often in the book world – but believe us when we say this novel is the real deal. 5 STARS. '

Heat Magazine
Dark pasts and secrets and twists aplenty are brought together skilfully (and terrifyingly) in this oh-my-god-don't-let-it-happen-to-me page-turner extraordinaire.

The Bookseller
A chilling, unputdownable story of friendship and deceit

Eastern Daily Press
Now You See Her takes every parents' worst nightmare and spins it into a tense psychological thriller that's difficult to put down.'

Culture Fly, featured in their unmissable summer read roundup
Gripping from start to finish.

Frost Magazine
'With some beautifully engaging dialogue and highly reflective thought processes, the voices of these characters are articulate and carefully crafted. It is swift and engaging to read throughout.'

Nudge Books
What a phenomenal, hair-raising, spine tingling, and energetic read this is. My first thought as I finished this book, was 'one of the best books I have ever read', but now, I have to say that that has changed now that I have had the time to digest Perks' outstanding talent. Now You See Her is my most favourite book of all time, my most favourite book of 2018, and Heidi Perks has very quickly become one of my all-time favourite authors.

The Writing Garnet
An amazing read with two sides to it, Charlotte's side and Harriet's side, but there is only one truth.

BookRead2Day
I have a feeling this is going to be one of the most talked about reads this summer. The emphasis is very much on the characters, you will find yourself doubting them, questioning their motives, and desperately turning the pages to get to the truth.

Book Review Cafe
Now You See Her is an absolutely gripping domestic thriller. From the very opening scene in the police station, I was hooked on this story! Brilliantly written and with a fantastic twist, I fully expect this to be a poolside favourite over the summer holiday season.

Jo's Book Blog
Video
Now You See Her by Heidi Perks
A compulsive thriller which explores what happens when you are responsible for your best friend's worst nightmare. Learn more: https://www.penguin.com.au/books/now-you-see-her-9781780898841