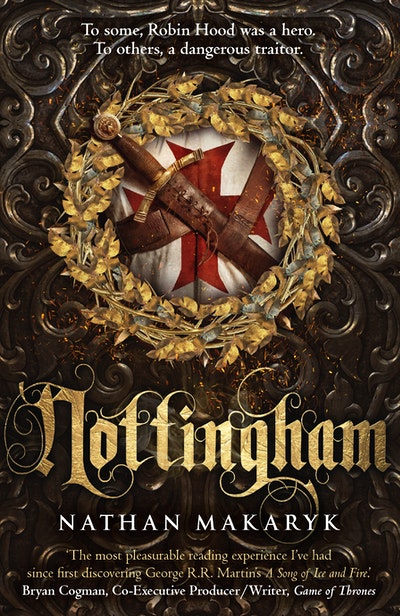 Published:

20 August 2019

ISBN:

9781760890292

Imprint:

Random House Australia

Format:

EBook

Pages:

496
Nottingham
---
---
---
Nathan Makaryk's debut novel is a gripping historical epic - full of action, intrigue and adventure - and a fascinating retelling of the Robin Hood legend.
Nottingham mixes history and myth into a compelling novel of power, ambition and heroism - one that twists and turns far beyond the traditional tale of Sherwood Forest's iconic thief.
'The most pleasurable reading experience I've had since first discovering George R.R. Martin's A Song of Ice and Fire.'Bryan Cogman, Co-Executive Producer/Writer, Game of Thrones

England, 1191. King Richard is half a world away, fighting for God and his own ambition.
Back home, the country languishes, bankrupt and on the verge of anarchy. People with power are running unchecked. People without are growing angry. And in Nottingham, the largest and wealthiest shire in England, a dangerously passive sheriff seems intent on doing nothing.
As the leaves turn gold in the Sherwood Forest, the lives of six people - Robin and William, soldiers running from their pasts; Marian, a noblewoman working for change; Arable, a servant girl with a secret; Guy of Gisbourne, a beleaguered guard captain; and Elena Gamwell, a brash, ambitious thief - become intertwined.
And a strange story begins to spread.

'Nottingham is like reading Game of Thrones for the first time . . . except it's a leap beyond that' K. A. Doore, author of The Perfect Assassin
'This is one of those special books. It's not one you borrow, it's one you keep on your shelf forever' Sarah J. Sover, author of Double-Crossing the Bridge
'A remarkable and comprehensive story . . . this is unique fiction that compels revision of the Robin story and its place in history' The Historical Novel Society
Published:

20 August 2019

ISBN:

9781760890292

Imprint:

Random House Australia

Format:

EBook

Pages:

496
Video
The Legend of Robin Hood - Trailer
"The Legend of Robin Hood" at the Maverick Theater, written and directed by Nathan Makaryk. Opens March 2nd and plays through April 14th, 2012. Ticket info at www.mavericktheater.com "The Legend of Robin Hood" is an original tale that takes a dramatic new look at the heroes and villains of Sherwood Forest. Pulling from the classic ballads, popular stories, and actual historical figures, this bold new adventure takes everything you know and love about the Robin Hood mythology and mixes it with new surprises and characters in a more complex, realistic world. Journey to Nottingham with the Maverick Theater to find out what it takes to turn a man into a hero. Starring Frank Tryon, Michael Keeney, Larry Creagan, Jaycob Hunter, Jeremy Krasovic, Gabriel Robins, Andrea Dennison-Laufer, Sabrina Zellars, Scott Keister, Elisa Richter, David Chorley, Glenn Freeze, Bryce Wieth, Ryan Young, Kyle Hawkins, Evan Green, Rob Downs.