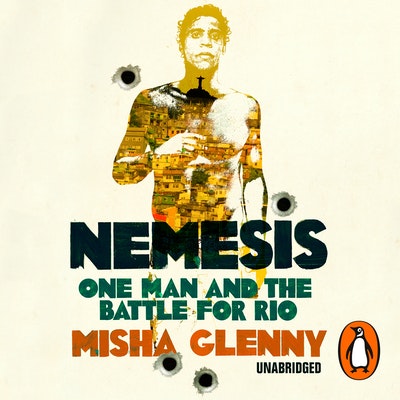 Published:

17 September 2015

ISBN:

9781473521384

Imprint:

Vintage Digital

Format:

Audio Download

Length:

10 hr 7 min

Narrator:

Misha Glenny

RRP:

$22.99
Nemesis
One Man and the Battle for Rio
---
---
---
'Breaking Bad' meets 'City of God' in this gripping account of an ordinary man who became Brazil's most wanted criminal
His name was Antonio, but they would call him Nem. From the infamous favela of Rocinha in Rio, he was a hardworking young father forced to make a decision that would turn his world upside down.
Nemesis is the story of an ordinary man who became the king of the largest slum in Rio, the head of a drug cartel and perhaps Brazil's most wanted criminal. A man who tried to bring welfare and justice to a playground of gang culture and destitution, while everyone around him drew guns and partied. It's a captivating tale of gold-hunters and evangelical pastors, bent police and rich-kid addicts, quixotic politicians and drug lords with maths degrees.
Spanning rainforests and high-security prisons, filthy slums and glittering shopping malls, this is also the story of how change came to Brazil. Of a country's journey into the global spotlight, and the battle for the beautiful but damned city of Rio, as it struggles to break free from a tangled web of corruption, violence, drugs and poverty. With Nem at its centre, locked in a fight for his country's future.
Published:

17 September 2015

ISBN:

9781473521384

Imprint:

Vintage Digital

Format:

Audio Download

Length:

10 hr 7 min

Narrator:

Misha Glenny

RRP:

$22.99
Breaking Bad meets City of God

Roberto Saviano
fascinating dive into Brazil's terrifying underworld, where the stakes are all or nothing...Nemesis reads like a fast-paced thriller

James Hider, The Times
A fast-paced crime story that paints a vivid picture of life in the sprawling favelas

Joe Leahy, Financial Times
A thrillingly vivid picture of another Rio… [Nemesis] confirms Glenny's status as one of the most daring and original true-crime writers of today... A rich and riveting book

Francis Wheen, Mail on Sunday
Glenny doesn't just write books; he lives them

John Kampfner, Guardian
gripping narrative of cocaine and slaughter

Andreas Campomar, Spectator
A magnificent work of reportage by turns raw and courageous

Ian Thomson, Evening Standard
A dynastic 50-year Shakespearean sweep of organised crime that manages to be both intimate and alarming

John Kampfner, Observer
Misha Glenny, an award-wining investigative journalist and expert on organised crime, has turned his attention to the drugs, violence and poverty that thrive in Rocinha, Rio's most infamous favela

Andreas Campomar, Spectator
Glenny's book is fast paced and journalistic.

Bryan McCann, Times Literary Supplement
Nemesis is revelatory.

Tony Allen-Mills, Sunday Times
A taut and thrilling narrative…his hands-on research is exemplary… Nemesis is a triumph: the violent, kinetic City of God brought up-to-date on the page.

Alan Bett, Skinny
A gripping picture of an ordinary man driven to fateful choices.

Simon Shaw, Mail on Sunday