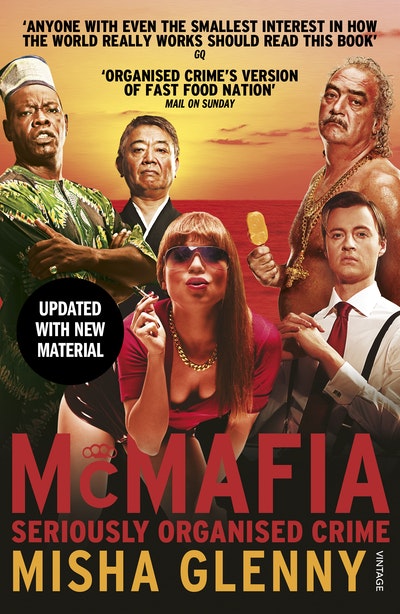 Published:

1 September 2010

ISBN:

9781409077145

Imprint:

Vintage Digital

Format:

EBook

Pages:

432
McMafia
Seriously Organised Crime
---
---
---
A riveting, original and comprehensive account of international crime and a brilliant critique of globalisation's dark side.
In this powerful and groundbreaking book, Misha Glenny takes us on a journey through the new world of international organised crime. For three years, he has been recording the stories of gun runners in Ukraine, money launderers in Dubai, drug syndicates in Canada, cyber criminals in Brazil, racketeers in Japan and many more.During his investigation of the dark side, he has spoken to countless gangsters, policemen and victims of organised crime while also exploring the ferocious consumer demand for drugs, trafficked women, illegal labour and arms across five continents.
The journey begins with an appalling and inexplicable murder in England's stockbroker belt and continues with stories that are often horrifying, sometimes inspiring, usually bizarre and occasionally funny. But together they build a breathtaking picture of the shadow economy that has grown so fast that it may now account for about 20% of the world's GDP.
Usually the preserve of sensationalist reporting in the tabloid press, organised crime has seeped into our lives in so many ways and often without our knowledge. This consistently riveting account unveils the nature of crime in today's world but it also offers profound insights into the pitfalls of a globalisation where the rules dividing the legal from the illegal are often far from clear. McMafia unpicks the nexus of crime, politics and money worldwide which have become entangled and interdependent in entirely novel forms since the 1980s. It argues that conventional policing methods are no longer appropriate to deal with a problem whose roots lie in global poverty and the ever widening divisions between rich and poor.
Published:

1 September 2010

ISBN:

9781409077145

Imprint:

Vintage Digital

Format:

EBook

Pages:

432
To be regarded as one of the essential non-fiction works of our time. Exhaustively researched and reported, it's sobering in the extreme, but also riveting, filled with exotic locations, staggering facts, acts of incredible brutality and colourful, if deadly, characters.... Anyone with even the smallest interest in how the world really works should read this book

GQ
This is a big, noble book by a proper reporter who travels the world and gives the Mr Bigs of global crime a poke in the eye... uncomfortable but compelling reading... You must read it

Literary Review
The great merit of Glenny's book is that it does not just chronicle the foul deeds of international crime syndicates. It probes the imbalances and injustices that propel people and nations towards criminal behaviour... This, racy, well-researched and highly entertaining book should be essential reading for law reformers everywhere

Irish Times
His message is that the global marketplace has empowered criminals on a huge and terrifying scale.... He tells a grisly story very well...A pacey, riveting, eye-opening account

Sunday Times
Horrifying but gripping book... vivid and involving

Daily Telegraph
A substantial book that features, among a gallery of extraordinary crime scenes, some of the most compelling analyses of the Balkan tragedy and the creation of a post-Soviet economy

Observer
Wonderful reporting ... Glenny's excitement in the chase after global crime, with its often grotesque and always revealing details, makes reading this book a rich pleasure

Neal Ascherson, LRB
This is a well sustained narrative dealing seamlessly, if dismayingly, with the tricks, motives and rewards of the new global underworld

Independent on Sunday
MIsha Glenny's excellent book... it's a quite terrifying dissection of the world in which we live - or rather, its underbelly

Scotsman
This terrific expose of big-ticket felonies from China to Brazil is as stuffed with outsize crooks and scams as a smuggler's suitcase with fake Rolex

Independent
A fascinating account of global organised crime

The Scotsman, Books of the Year
A beautiful love story...rendered in crisp language, this simple plot develops into an acute political novel. A real gem - don't miss it

Misha Glenny, New Statesman 'Books of the Year'
Like a journalistic Indiana Jones he has travelled the world in search of his prey, displaying impressive stamina, intellectual chutzpah and physical bravery on the way. .... This is the most important non-fiction book of the year so far - organised crime's version of Fast Food Nation

Mail on Sunday