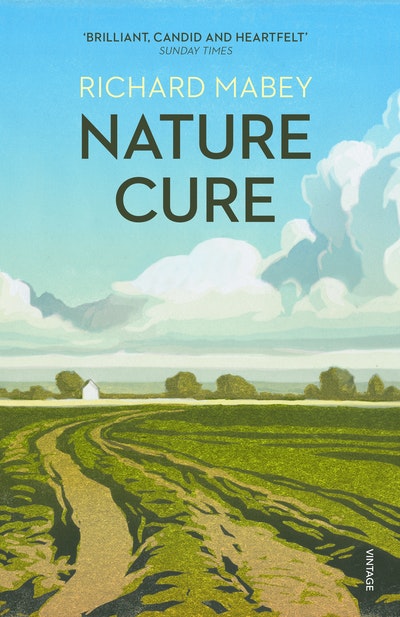 Published:

30 November 2011

ISBN:

9781448114696

Imprint:

Vintage Digital

Format:

EBook

Pages:

240
Nature Cure
---
---
---
'Britain's greatest living nature writer' (The Times) describes how he conquered clinical depression through his re-awakened love of nature.
In the last year of the old millennium, Richard Mabey, Britain's foremost nature writer, fell into a severe depression. For two years,he did little more than lie in bed with his face to a wall. He could neither work nor play. His money ran out. Worst of all, the natural world - which since childhood had been a source of joy and inspiration for him - became meaningless. Then, cared for by friends, he gradually recovered. He fell in love. Out of necessity as much as choice he moved to East Anglia. And he started to write again.
This remarkable book is an account of that first year of a new life. It is the story of a rite of passage -from sickness into health, from retreat into curiosity. It is about the adventure of learning to fit again. Having left the cosseting woods of the Chiltern hills for the open flatlands of Norfolk, Richard Mabey finds exhilaration in discovering a whole new landscape. He writes about the changing seasons in prose so exact andso beautiful that every sentence delights the reader.
But Nature Cure is also alarger story. In finding his own niche, Richard Mabey gained insights into our human place in nature. He reflects on the inherent value of all creatures; on our presumptions that mankind is superior; on the ancient morality of commonland; and above all on the role of the imagination -not as a barrier between us and nature, but as our best way back to it. This was his 'nature cure': not a passive submission to nature, but anactive, sensual re-engagement.
Structured as intricately as a novel, a joy to read, truthful, exquisite and questing, Nature Cure is a book of hope, not just for individuals, but for our species.
Published:

30 November 2011

ISBN:

9781448114696

Imprint:

Vintage Digital

Format:

EBook

Pages:

240
A book of which only he could have written a single page...marvellously observed, deeply felt from sentence to sentence. The writing is exquisite

David Sexton,, Evening Standard
A brilliant, candid and heartfelt memoir...The account of how he broke free of depression, reshaped his life and reconnected with the wild becomes nothing short of a manifesto for living...Mabey's particular vision, informed by a lifetime's reading and observation, is ultimately optimistic. It is also what makes his voice so appealing amid all the froth and flam of the eco-debate

Philip Marsden, Sunday Times
Mabey is a radical, inheritor of an old English tradition...The core of the book is his exploration of his new landscape. It feels a privilege to share it, watching him unpick the layers of watery Norfolk, with dazzling skill and the warmest of hearts, as his troubled mind heals

Michael McCarthy, Independent
Written in the radiant, tingle-making prose that has earned Mabey literary prizes and a multitude of fans... both a wake-up call and an example of how the love of nature can electrify and heal the imagination.

Val Hennessy, Daily Mail
What good company is Richard Mabey - and how utterly necessary...like Seamus Heaney, he is one of those writers whose language is pressed very close to the world. It's exact and attentive, not a "dirty glass" which divides us from nature.

Kathleen Jamie, Scotland on Sunday
Nature Cure moves between the nervous breakdown of an individual and the madness of the modern world with a prescience akin to that of TS Eliot's Waste Land.

Jonathan Bate, Guardian
He has rediscovered the credo that in his black moments he feared he had lost for ever: a belief in the importance of a sensual engagement with the world and a conviction that, to remain on an even keel in life, it is foolish to ignore the links that exist between feelings, the imagination and intelligence.

Caroline Moorehead, Spectator
Part autobiography, part meditation on the relationship between nature and culture. It's a dense, meandering work, a bit like Norfolk, with rivers of shining, sinuous prose suddenly emerging from intriguing thickets of opinion and memory... Mabey understands that beautiful writing is a matter of never being bigger than your subject...and has not lost the childlike pleasure in nature that transports him and his readers to the gates of heaven.

Will Cohu, Daily Telegraph
An inspiring book.

Nicholas Bagnall, Sunday Telegraph
Britain's greatest living nature writer.

The Times
A beautifully written memoir.

The Guardian
An inspiring read.

The Independent