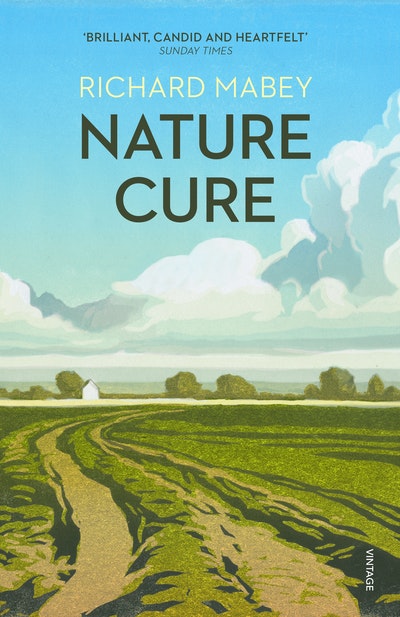 Published:

15 September 2015

ISBN:

9780099531821

Imprint:

Vintage

Format:

Paperback

Pages:

240

RRP:

$22.99
Nature Cure
---
---
---
'Britain's greatest living nature writer' (The Times) describes how he conquered clinical depression through his re-awakened love of nature.

'Britain's greatest living nature writer' The Times
Rediscover the extraodinary power of nature and the British wilderness, from award-winning naturalist and author Richard Mabey
In the last year of the old millennium, Richard Mabey, Britain's foremost nature writer, fell into a severe depression. The natural world - which since childhood had been a source of joy and inspiration for him - became meaningless.
Then, cared for by friends, he moved to East Anglia and he started to write again. Having left the cosseting woods of the Chiltern hills for the open flatlands of Norfolk, Richard Mabey found exhilaration in discovering a whole new landscape and gained fresh insights into our place in nature.
Structured as intricately as a novel, a joy to read, truthful, exquisite and questing, Nature Cure is a book of hope, not just for individuals, but for our species.
'A brilliant, candid and heartfelt memoir...how he broke free of depression, reshaped his life and reconnected with the wild becomes nothing short of a manifesto for living...Mabey's particular vision, informed by a lifetime's reading and observation, is ultimately optimistic' Sunday Times
Published:

15 September 2015

ISBN:

9780099531821

Imprint:

Vintage

Format:

Paperback

Pages:

240

RRP:

$22.99
A brilliant, candid and heartfelt memoir...The account of how he broke free of depression, reshaped his life and reconnected with the wild becomes nothing short of a manifesto for living...Mabey's particular vision, informed by a lifetime's reading and observation, is ultimately optimistic. It is also what makes his voice so appealing amid all the froth and flam of the eco-debate

Philip Marsden, Sunday Times
A book of which only he could have written a single page...marvellously observed, deeply felt from sentence to sentence. The writing is exquisite

David Sexton,, Evening Standard
Subtle, devotional, poetic

Observer
Rich, invigorating and deeply restorative

Irish Times
Nature Cure moves between the nervous breakdown of an individual and the madness of the modern world with a prescience akin to that of T.S. Eliot's The Waste Land

Jonathan Bate, Guardian
Mabey is a radical, inheritor of an old English tradition...The core of the book is his exploration of his new landscape. It feels a privilege to share it, watching him unpick the layers of watery Norfolk, with dazzling skill and the warmest of hearts, as his troubled mind heals

Michael McCarthy, Independent
Written in the radiant, tingle-making prose that has earned Mabey literary prizes and a multitude of fans... both a wake-up call and an example of how the love of nature can electrify and heal the imagination.

Val Hennessy, Daily Mail
An inspiring book

Nicholas Bagnall, Sunday Telegraph
Britain's greatest living nature writer

The Times