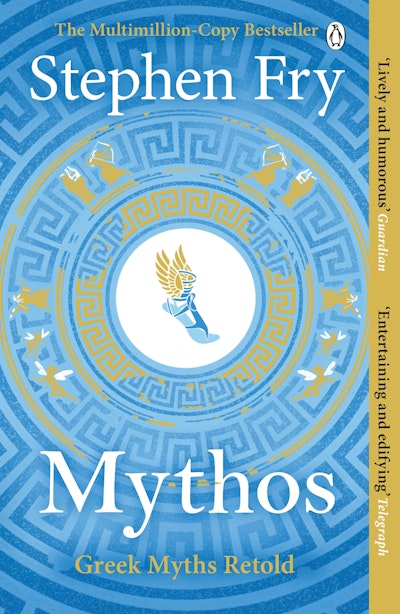 Published:

30 July 2018

ISBN:

9781405934138

Imprint:

Michael Joseph

Format:

Paperback

Pages:

464

RRP:

$22.99
Mythos
The Greek Myths Retold
---
---
---
One of the most imaginative minds alive retells the greatest stories in history - the Greek Myths
The Greek myths are amongst the best stories ever told, passed down through millennia and inspiring writers and artists as varied as Shakespeare, Michelangelo, James Joyce and Walt Disney.
They are embedded deeply in the traditions, tales and cultural DNA of the West. You'll fall in love with Zeus, marvel at the birth of Athena, wince at Cronus and Gaia's revenge on Ouranos, weep with King Midas and hunt with the beautiful and ferocious Artemis.
Spellbinding, informative and moving, Stephen Fry's Mythos perfectly captures these stories for the modern age - in all their rich and deeply human relevance.
Published:

30 July 2018

ISBN:

9781405934138

Imprint:

Michael Joseph

Format:

Paperback

Pages:

464

RRP:

$22.99
Perfect for the 21st Century. Ebullient, funny, Fry retells the Greek myths with elegance

The Times
Entertaining and edifying. The best thing he's written since his superb first novel

Daily Telegraph
Perfect for the 21st Century. Ebullient, funny, Fry retells the Greek myths with elegance

The Times
Perfect for the 21st Century. Ebullient, funny, Fry retells the Greek myths with elegance

The Times
Fry reimagines the Greek myths with wit, warmth and humanity, bringing them into the modern age. A welcome addition to any bookshelf

Book Bag
Ebullient and funny, Fry retells the Greek myths with elegance

The Times
Fry reimagines the Greek myths with wit, warmth and humanity, bringing them into the modern age. A welcome addition to any bookshelf

Book Bag
Fry reimagines the Greek myths with wit, warmth and humanity, bringing them into the modern age. A welcome addition to any bookshelf

Book Bag
Mythos is Stephen's vivid retelling of the Greek myths. Bringing to life the Gods, monsters and mortals of Ancient Greece, he reimagines their astonishing stories for the modern world.

Express and Star
A cracking good story

Times Literary Supplement
Mythos is Stephen's vivid retelling of the Greek myths. Bringing to life the Gods, monsters and mortals of Ancient Greece, he reimagines their astonishing stories for the modern world.

Express and Star
Mythos is Stephen's vivid retelling of the Greek myths. Bringing to life the Gods, monsters and mortals of Ancient Greece, he reimagines their astonishing stories for the modern world.

Express and Star
A wondrous new immersion in ancient stories we only thought weknew. Page to page, Mythos is brilliant, funny, erudite, inventive, surprising and enthralling

Richard North Patterson
A vivid retelling of the Greek myths. Bringing to life the Gods, monsters and mortals of Ancient Greece, Fry reimagines their astonishing stories for the modern world

Express and Star
A wondrous new immersion in ancient stories we only thought weknew. Page to page, Mythos is brilliant, funny, erudite, inventive, surprising and enthralling

Richard North Patterson
A wondrous new immersion in ancient stories we only thought weknew. Page to page, Mythos is brilliant, funny, erudite, inventive, surprising and enthralling

Richard North Patterson
Fry's lively writing certainly conveys his lifelong passion for Greek myths . . . It's a rollicking good read

The Independent
Fry exhibits prodigious learning, a great facility with words, and enormous erudition and enthusiasm

Mail on Sunday
Fry's lively writing certainly conveys his lifelong passion for Greek myths . . . It's a rollicking good read

The Independent
Fry's lively writing certainly conveys his lifelong passion for Greek myths . . . It's a rollicking good read

The Independent
[Fry] exhibits prodigious learning, a great facility with words, and enormous erudition and enthusiasm

Mail on Sunday
[Fry] exhibits prodigious learning, a great facility with words, and enormous erudition and enthusiasm

Mail on Sunday
[Fry] exhibits prodigious learning, a great facility with words, and enormous erudition and enthusiasm

Mail on Sunday
Lively, humorous and intimate, this retelling has real charm

The Guardian
Lively, humorous and intimate, this retelling has real charm

The Guardian
Lively, humorous and intimate, this retelling has real charm

The Guardian
Mythos is the best thing he's written since his superb first novel . . . it is entertaining and edifying - one cannot really ask for more than that

The Telegraph
Mythos is the best thing he's written since his superb first novel . . . it is entertaining and edifying - one cannot really ask for more than that

The Telegraph
Mythos is the best thing he's written since his superb first novel . . . it is entertaining and edifying - one cannot really ask for more than that

The Telegraph
Wit and erudition are impressively evident . . . Read by Fry with his accustomed ebullient showmanship [he] gives the legends modern resonance by telling them with a contemporary colloquial twist'

AUDIOBOOK of the WEEK, The Times
Wit and erudition are impressively evident . . . Read by Fry with his accustomed ebullient showmanship [he] gives the legends modern resonance by telling them with a contemporary colloquial twist'

AUDIOBOOK of the WEEK, The Times
Wit and erudition are impressively evident . . . Read by Fry with his accustomed ebullient showmanship [he] gives the legends modern resonance by telling them with a contemporary colloquial twist'

AUDIOBOOK of the WEEK, The Times
The Greek myths are told to you here by the ever-soothing voice of Stephen Fry, who takes you from Zeus to Athena with his typical humour. The Greek gods of the past become relatable as pop culture, modern literature and music are woven throughout. It is joyfully informal yet full of the literary legacy threaded through so much of the tapestry of contemporary Greece

The Guardian
The Greek myths are told to you here by the ever-soothing voice of Stephen Fry, who takes you from Zeus to Athena with his typical humour. The Greek gods of the past become relatable as pop culture, modern literature and music are woven throughout. It is joyfully informal yet full of the literary legacy threaded through so much of the tapestry of contemporary Greece

The Guardian
The Greek myths are told to you here by the ever-soothing voice of Stephen Fry, who takes you from Zeus to Athena with his typical humour. The Greek gods of the past become relatable as pop culture, modern literature and music are woven throughout. It is joyfully informal yet full of the literary legacy threaded through so much of the tapestry of contemporary Greece

The Guardian
Fry takes us from Zeus to Athena with humour. The Greek gods of the past become relatable as pop culture, modern literature and music are woven throughout. Joyfully informal yet full of the literary legacy

Guardian
Fry takes us from Zeus to Athena with humour. The Greek gods of the past become relatable as pop culture, modern literature and music are woven throughout. Joyfully informal yet full of the literary legacy

Guardian
Fry takes us from Zeus to Athena with humour. The Greek gods of the past become relatable as pop culture, modern literature and music are woven throughout. Joyfully informal yet full of the literary legacy

Guardian
Fresh revivals of the myths of ancient Greece. In his own imitable style, Fry takes an erudite look at the doings of gods, goddesses, kings, queens and ordinary mortals

The Bay
Fresh revivals of the myths of ancient Greece. In his own imitable style, Fry takes an erudite look at the doings of gods, goddesses, kings, queens and ordinary mortals

The Bay
Fresh revivals of the myths of ancient Greece. In his own imitable style, Fry takes an erudite look at the doings of gods, goddesses, kings, queens and ordinary mortals

The Bay
I quite like Mythos, Stephen Fry's book on the Greek myths - he makes them amusing. I like people that illuminate the past with humour

Jools Holland
I quite like Mythos, Stephen Fry's book on the Greek myths - he makes them amusing. I like people that illuminate the past with humour

Jools Holland
I quite like Mythos, Stephen Fry's book on the Greek myths - he makes them amusing. I like people that illuminate the past with humour

Jools Holland
Mythos has the gripping nature that one would hope for from a modern blockbuster. Filled with a sharp and delightful sense of humour, Stephen Fry's many witticisms making it an even more enjoyable read. I would recommend it for so many reasons

The National
Mythos has the gripping nature that one would hope for from a modern blockbuster. Filled with a sharp and delightful sense of humour, Stephen Fry's many witticisms making it an even more enjoyable read. I would recommend it for so many reasons

The National
Mythos has the gripping nature that one would hope for from a modern blockbuster. Filled with a sharp and delightful sense of humour, Stephen Fry's many witticisms making it an even more enjoyable read. I would recommend it for so many reasons

The National
Brilliant . . . Stephen Fry's writing style makes it appealing to all. There's something for everyone

The Herald
Brilliant . . . Stephen Fry's writing style makes it appealing to all. There's something for everyone

The Herald
Brilliant . . . Stephen Fry's writing style makes it appealing to all. There's something for everyone

The Herald
Reimagines the lives of ancient Greek gods and goddesses through a humorous lens, using casual language and making valuable comparisons to modern characters or events. It's also just really, really funny

American Express Essentials
Reimagines the lives of ancient Greek gods and goddesses through a humorous lens, using casual language and making valuable comparisons to modern characters or events. It's also just really, really funny

American Express Essentials
Reimagines the lives of ancient Greek gods and goddesses through a humorous lens, using casual language and making valuable comparisons to modern characters or events. It's also just really, really funny

American Express Essentials
Video
Mythos by Stephen Fry (Audiobook)
One of the most imaginative minds alive retells the greatest stories in history - the Greek Myths Buy here: https://www.penguin.com.au/books/mythos-9781405934312