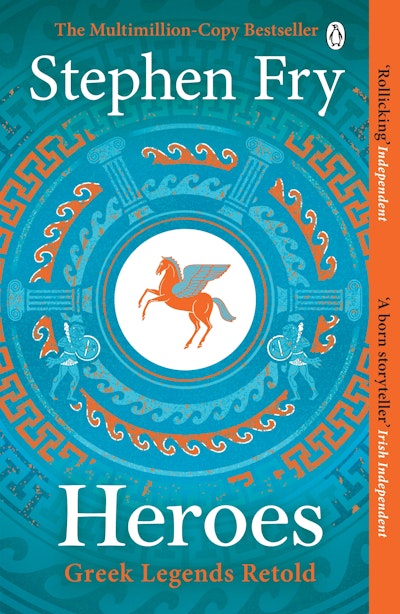 Published:

2 July 2019

ISBN:

9781405940368

Imprint:

Michael Joseph

Format:

Paperback

Pages:

496

RRP:

$22.99
Heroes
The myths of the Ancient Greek heroes retold
---
---
---
The dazzling companion volume to the bestselling MYTHOS. There are heroes - and then there are Greek heroes
Few mere mortals have ever embarked on such bold and heart-stirring adventures, overcome myriad monstrous perils, or outwitted scheming vengeful gods, quite as stylishly and triumphantly as Greek heroes.
In this companion to his bestselling Mythos, Stephen Fry brilliantly retells these dramatic, funny, tragic and timeless tales. Join Jason aboard the Argo as he quests for the Golden Fleece. See Atalanta - who was raised by bears - outrun any man before being tricked with golden apples. Witness wily Oedipus solve the riddle of the Sphinx and discover how Bellerophon captures the winged horse Pegasus to help him slay the monster Chimera.
Heroes is the story of what we mortals are truly capable of - at our worst and our very best.
Published:

2 July 2019

ISBN:

9781405940368

Imprint:

Michael Joseph

Format:

Paperback

Pages:

496

RRP:

$22.99
Assured and engaging. The pace is lively, the jokes are genuinely funny, and Fry once again proves himself a master of great learning worn lightly

Guardian
Assured and engaging. The pace is lively, the jokes are genuinely funny, and Fry once again proves himself a master of great learning worn lightly

Guardian
Assured and engaging. The pace is lively, the jokes are genuinely funny, and Fry once again proves himself a master of great learning worn lightly

Guardian
Assured and engaging. The pace is lively, the jokes are genuinely funny, and Fry once again proves himself a master of great learning worn lightly

Guardian
Here, indeed, be monsters, myriad adventures and machinating gods. Fry is a personable and passionate narrator

Mail on Sunday
Here, indeed, be monsters, myriad adventures and machinating gods. Fry is a personable and passionate narrator

Mail on Sunday
Here, indeed, be monsters, myriad adventures and machinating gods. Fry is a personable and passionate narrator

Mail on Sunday
Here, indeed, be monsters, myriad adventures and machinating gods. Fry is a personable and passionate narrator

Mail on Sunday
Joyfully informal yet full of the literary legacy. The Greek gods of the past become relatable

Guardian (on 'Mythos')
Joyfully informal yet full of the literary legacy. The Greek gods of the past become relatable

Guardian (on 'Mythos')
Joyfully informal yet full of the literary legacy. The Greek gods of the past become relatable

Guardian (on 'Mythos')
Joyfully informal yet full of the literary legacy. The Greek gods of the past become relatable

Guardian (on 'Mythos')
The best thing he's written since his superb first novel . . . entertaining and edifying

Telegraph (on 'Mythos')
The best thing he's written since his superb first novel . . . entertaining and edifying

Telegraph (on 'Mythos')
The best thing he's written since his superb first novel . . . entertaining and edifying

Telegraph (on 'Mythos')
The best thing he's written since his superb first novel . . . entertaining and edifying

Telegraph (on 'Mythos')
A rollicking good read

Independent (on 'Mythos')
A rollicking good read

Independent (on 'Mythos')
A rollicking good read

Independent (on 'Mythos')
A rollicking good read

Independent (on 'Mythos')
Perfect for the 21st Century. Ebullient, funny, Fry retells the Greek myths with elegance

The Times (on 'Mythos')
Perfect for the 21st Century. Ebullient, funny, Fry retells the Greek myths with elegance

The Times (on 'Mythos')
Perfect for the 21st Century. Ebullient, funny, Fry retells the Greek myths with elegance

The Times (on 'Mythos')
Perfect for the 21st Century. Ebullient, funny, Fry retells the Greek myths with elegance

The Times (on 'Mythos')
A wondrous new immersion in ancient stories we only thought we knew. Brilliant, funny, erudite, inventive, surprising and enthralling

Richard North Patterson (on 'Mythos')
A wondrous new immersion in ancient stories we only thought we knew. Brilliant, funny, erudite, inventive, surprising and enthralling

Richard North Patterson (on 'Mythos')
A wondrous new immersion in ancient stories we only thought we knew. Brilliant, funny, erudite, inventive, surprising and enthralling

Richard North Patterson (on 'Mythos')
A wondrous new immersion in ancient stories we only thought we knew. Brilliant, funny, erudite, inventive, surprising and enthralling

Richard North Patterson (on 'Mythos')
This is a spirited retelling of stories that Fry clearly knows and loves

The Times
This is a spirited retelling of stories that Fry clearly knows and loves

The Times
This is a spirited retelling of stories that Fry clearly knows and loves

The Times
This is a spirited retelling of stories that Fry clearly knows and loves

The Times
Fry brilliantly retells the dramatic, funny, tragic and timeless tales of these heroic men and women in all their grit and glory. Filled with white-knuckle chases and twisted labyrinths, impossible puzzles and blood-curdling monsters

Northern Ireland Homes & Lifestyle
Fry brilliantly retells the dramatic, funny, tragic and timeless tales of these heroic men and women in all their grit and glory. Filled with white-knuckle chases and twisted labyrinths, impossible puzzles and blood-curdling monsters

Northern Ireland Homes & Lifestyle
Fry brilliantly retells the dramatic, funny, tragic and timeless tales of these heroic men and women in all their grit and glory. Filled with white-knuckle chases and twisted labyrinths, impossible puzzles and blood-curdling monsters

Northern Ireland Homes & Lifestyle
Fry brilliantly retells the dramatic, funny, tragic and timeless tales of these heroic men and women in all their grit and glory. Filled with white-knuckle chases and twisted labyrinths, impossible puzzles and blood-curdling monsters

Northern Ireland Homes & Lifestyle
Just as delightful and difficult to put down as the first. Heroes makes the stories relatable without skimping on the gory details, or sacrificing the truths of the myth. It's rich, it's funny and you'll feel like you've learned a lot

Herald
Just as delightful and difficult to put down as the first. Heroes makes the stories relatable without skimping on the gory details, or sacrificing the truths of the myth. It's rich, it's funny and you'll feel like you've learned a lot

Herald
Just as delightful and difficult to put down as the first. Heroes makes the stories relatable without skimping on the gory details, or sacrificing the truths of the myth. It's rich, it's funny and you'll feel like you've learned a lot

Herald
Just as delightful and difficult to put down as the first. Heroes makes the stories relatable without skimping on the gory details, or sacrificing the truths of the myth. It's rich, it's funny and you'll feel like you've learned a lot

Herald
Just as delightful and difficult to put down as the first. It makes stories relatable without skimping on the gory details

Sunday Life
Just as delightful and difficult to put down as the first. It makes stories relatable without skimping on the gory details

Sunday Life
Just as delightful and difficult to put down as the first. It makes stories relatable without skimping on the gory details

Sunday Life
Just as delightful and difficult to put down as the first. It makes stories relatable without skimping on the gory details

Sunday Life
Rich, funny and you'll feel like you've learned a lot along the way

Eastern Daily Press
Rich, funny and you'll feel like you've learned a lot along the way

Eastern Daily Press
Rich, funny and you'll feel like you've learned a lot along the way

Eastern Daily Press
Rich, funny and you'll feel like you've learned a lot along the way

Eastern Daily Press
Fry makes the stories relatable without skimping on the wonderful gory details, or sacrificing the traditional truths of the myth

i (The paper for today)
Fry makes the stories relatable without skimping on the wonderful gory details, or sacrificing the traditional truths of the myth

i (The paper for today)
Fry makes the stories relatable without skimping on the wonderful gory details, or sacrificing the traditional truths of the myth

i (The paper for today)
Fry makes the stories relatable without skimping on the wonderful gory details, or sacrificing the traditional truths of the myth

i (The paper for today)
Tales of fatal flaws, perilous journeys and shining acts of heroism are told with gusto and young and old will be engrossed. The audiobook is an absolute gem too, read by the author who has a winning way of bringing these epic tales to life

Western Morning News
Tales of fatal flaws, perilous journeys and shining acts of heroism are told with gusto and young and old will be engrossed. The audiobook is an absolute gem too, read by the author who has a winning way of bringing these epic tales to life

Western Morning News
Tales of fatal flaws, perilous journeys and shining acts of heroism are told with gusto and young and old will be engrossed. The audiobook is an absolute gem too, read by the author who has a winning way of bringing these epic tales to life

Western Morning News
Tales of fatal flaws, perilous journeys and shining acts of heroism are told with gusto and young and old will be engrossed. The audiobook is an absolute gem too, read by the author who has a winning way of bringing these epic tales to life

Western Morning News
Stephen Fry has created a magnificent book. Humorous, but with serious stories told with wit and erudition. This is a book that will delight readers of all ages. Fry's writing is never less than delightful

Moorlander
Stephen Fry has created a magnificent book. Humorous, but with serious stories told with wit and erudition. This is a book that will delight readers of all ages. Fry's writing is never less than delightful

Moorlander
Stephen Fry has created a magnificent book. Humorous, but with serious stories told with wit and erudition. This is a book that will delight readers of all ages. Fry's writing is never less than delightful

Moorlander
Stephen Fry has created a magnificent book. Humorous, but with serious stories told with wit and erudition. This is a book that will delight readers of all ages. Fry's writing is never less than delightful

Moorlander
Fry is a natural storyteller and his lively retellings make for an entertaining read

Hannah Beckerman, Observer
Fry is a natural storyteller and his lively retellings make for an entertaining read

Hannah Beckerman, Observer
Fry is a natural storyteller and his lively retellings make for an entertaining read

Hannah Beckerman, Observer
Fry is a natural storyteller and his lively retellings make for an entertaining read

Hannah Beckerman, Observer
The comedian and polymath retells age-old Greek myths in dramatic, modernised style

i
The comedian and polymath retells age-old Greek myths in dramatic, modernised style

i
The comedian and polymath retells age-old Greek myths in dramatic, modernised style

i
The comedian and polymath retells age-old Greek myths in dramatic, modernised style

i
One of the nation's favourite intellectuals retells the epic myths of the Greek heroes in his own unique and very enjoyable way

Cambridge Independent
One of the nation's favourite intellectuals retells the epic myths of the Greek heroes in his own unique and very enjoyable way

Cambridge Independent
One of the nation's favourite intellectuals retells the epic myths of the Greek heroes in his own unique and very enjoyable way

Cambridge Independent
One of the nation's favourite intellectuals retells the epic myths of the Greek heroes in his own unique and very enjoyable way

Cambridge Independent
Ebullient and funny

The Times
Ebullient and funny

The Times
Entertaining and edifying

Daily Telegraph
Entertaining and edifying

Daily Telegraph
A rollicking good read

Independent
A rollicking good read

Independent
Fry exhibits enormous erudition and enthusiasm

Mail on Sunday
Fry exhibits enormous erudition and enthusiasm

Mail on Sunday
Video
Heroes by Stephen Fry
The dazzling companion volume to the bestselling Mythos. There are heroes - and then there are Greek heroes. Learn more: https://www.penguin.com.au/books/heroes-9780241380369
Video
Stephen Fry live recording of Heroes
Stephen Fry is in our office, recording the audio edition of his upcoming book, Heroes. Watch our livestream to hear Stephen introduce the book and give an exclusive reading. Heroes is out on 1st November but you can pre-order in hardback or audio now: https://amzn.to/2DmcQ8H Stay tuned until the end when he'll also be answering some of the questions you've sent in. ?? Signed copies from Waterstones: http://po.st/PreOrderSignedHeroes ?? Signed copies from Foyles: http://po.st/OrderSignedHeroesFoyles ?? International editions: http://po.st/PreOrderHeroesSF ------------------------------------------------------------------------- Subscribe to the Penguin channel: http://po.st/SubscribePenguinYouTube Follow us here: Twitter | http://www.twitter.com/penguinukbooks Website | http://www.penguin.co.uk Instagram | http://www.instagram.com/penguinukbooks Facebook | http://www.facebook.com/penguinbooks