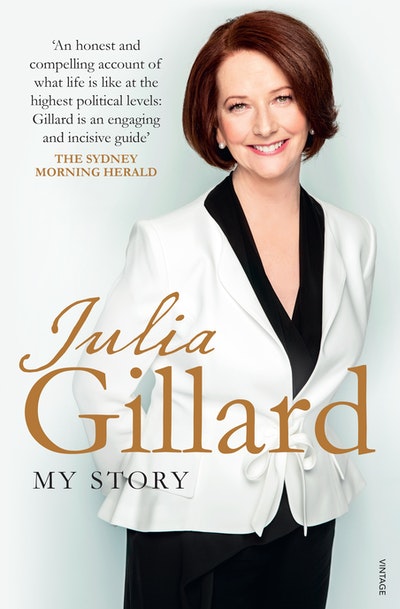 Published:

1 July 2015

ISBN:

9780857983992

Imprint:

Vintage Australia

Format:

Trade Paperback

Pages:

544

RRP:

$34.99
My Story
---
---
---
Featuring new material. 'I was prime minister for three years and three days.Three years and three days of resilience.Three years and three days of changing the nation.Three years and three days for you to judge.'
On Wednesday 23 June 2010, with the government in turmoil, Julia Gillard asked Prime Minister Kevin Rudd for a leadership ballot.
The next day, Julia Gillard became Australia's 27th prime minister, and our first female leader. Australia was alive to the historic possibilities. Here was a new approach for a new time.
It was to last three extraordinary years.
This is Julia Gillard's chronicle of that turbulent time, a strikingly candid self-portrait of a political leader seeking to realise her ideals. It is her story of what it was like - in the face of government in-fighting and often hostile media - to manage a hung parliament, build a diverse and robust economy, create an equitable and world-class education system, ensure a dignified future for Australians with disabilities, all while attending to our international obligations and building strategic alliances for our future. This is a politician driven by a sense of purpose - from campus days with the Australian Union of Students, to a career in the law, to her often gritty, occasionally glittering rise up the ranks of the Australian Labor Party.
Refreshingly honest, peppered with a wry humour and personal insights, Julia Gillard does not shy away from her mistakes, admitting freely to errors, misjudgements, and policy failures as well as detailing her political successes. In the immediate aftermath of the leadership, here is her account, of what was hidden behind the resilience and dignified courage Gillard showed as prime minister, her view of the vicious hate campaigns directed against her, and a reflection on what it means - and what it takes - to be a woman leader in contemporary politics.
With new material and fresh insights, Julia Gillard reveals what life was really like as Australia's first female prime minister.
'An honest and compelling account of what life is like at the highest political levels: Gillard is an engaging and incisive guide.' Sydney Morning Herald
'Julia Gillard's memoir provides real, detailed, forensic, and clinical insight into the government from her central, completely unique, vantage point.' Katharine Murphy, The Guardian
'Provides a cogent defence of the reasons for the challenge to Rudd, the difficulties her government faced, both internal and external, and an insight into Gillard herself.' The Conversation

Published:

1 July 2015

ISBN:

9780857983992

Imprint:

Vintage Australia

Format:

Trade Paperback

Pages:

544

RRP:

$34.99
Julia Gillard's memoir provides real, detailed, forensic, and clinical insight into the government from her central, completely unique, vantage point. As a consequence of her own leadership, and her window on Rudd's, she can plunge the reader into government at a deeper level than most other protagonists of this historical period; and the memoir strives to not only recount first-hand experiences, but also analyse.

Katharine Murphy, The Guardian
Her story is, and always has been, the story of an immigrant child. Gillard epitomises all those diligent, high-achieving kids who, not wanting to disappoint their hardworking, sacrificing parents, can never be slackers like many of their fellow students. The young Julia Gillard was always working: studying at school, doing homework at the psychiatric hospital where her father worked or helping set tables at the women's aged-care ­facility that employed her mother. Some of what she absorbed in both these places would later be reflected in landmark legislation by her government. As a primer on how government works, My Story is on a par with the cabinet diaries of Clyde Cameron, Peter Howson, Neal Blewett and Gareth Evans. It's as comprehensive, but more personal, than Howard's Lazarus Rising. Contrary to those who say she should have waited and reflected more, I think the almost contemporaneous nature of her account gives it a powerful immediacy. She ought to be remembered as much for making minority government work as for making history by being Australia's first woman prime minister.

Anne Summers, The Australian
In her memoir Gillard sheds some of the padding and asks us to see her fraught Prime Ministership through her eyes. This is a revealing frame of a woman at work in the toughest job in the country. The demands of public and private performance. She is frank, with her disciplined lawyer's mind, forensic and through a habit of a lifetime, is still careful. It tells us much about Julia Gillard's stubbornness and resilience. If Julia Gillard chose to turn the other cheek while she was PM she now neatly skewers a few who have chosen to tarnish her reputation in books or elsewhere.

Mary Delahunty, Hoopla
Julia Gillard's memoir is interesting, thought-provoking and unexpectedly candid. In its juxtaposition of large events and small piquant details, My Story is an honest and compelling account of what life is like at the highest political levels: Gillard is an engaging and incisive guide.

Jacqueline Kent, The Sydney Morning Herald
Mirroring Gillard's role in government, My Story is a thoroughly researched, forensically argued, well-organised piece of writing. The warmth for which she is known by people who have seen her at close quarters, and that I had witnessed that 2007 election night, also shines through. She is a woman with heart, humour and sense, a person who notices people. She is understandably scarred by the brutal attacks she endured, and there are those for whom she reserves her special condemnation, but she is not vindictive, nor is she shy about taking full responsibility for her mistakes.

Sara Dowse, Inside Story
My Story is a substantial piece of work, yet there are times where policy wonks will be wishing for greater detail on negotiations or even why certain policy decisions were taken. Still in a work this size, limits must be made. For the most part Gillard's focus is on key issues and those close to her heart. The lucid presentation of Gillard's case ultimately provides a cogent defence of the reasons for the challenge to Rudd, the difficulties her government faced, both internal and external, and an insight into Gillard herself.

Natalie Mast, The Conversation
This remarkably candid memoir begins the process of properly assessing Julia Gillard's prime ministership and the path that led to office, and gives a better understanding of where she stands in Australia's political history.

Chris Wallace, Anne Summers Reports
Article