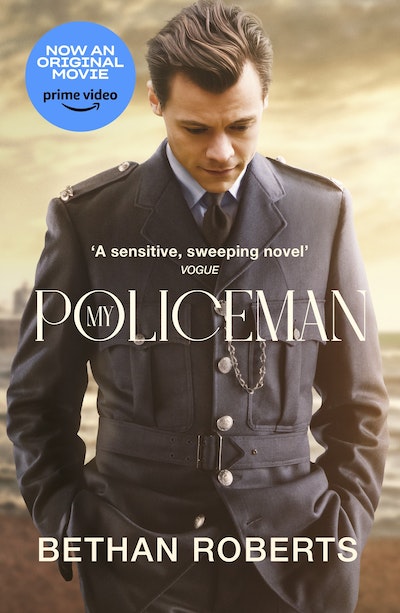 Published:

2 February 2012

ISBN:

9781448130986

Imprint:

Vintage Digital

Format:

EBook

Pages:

352
My Policeman
Soon to be a major film starring Harry Styles
---
---
---
An exquisitely told, tragic tale of thwarted love.
Discover the exquisitely told tragic tale of thwarted love behind the major new film adaptation starring Harry Styles.
It is in 1950s' Brighton that Marion first catches sight of Tom. He teaches her to swim in the shadow of the pier and Marion is smitten - determined her love will be enough for them both.
A few years later in Brighton Museum Patrick meets Tom. Patrick is besotted with Tom and opens his eyes to a glamorous, sophisticated new world.
Tom is their policeman, and in this age it is safer for him to marry Marion. The two lovers must share him, until one of them breaks and three lives are destroyed.
'I loved it. Devoured it! A wonderful read. Tense, romantic, smart' Russell T. Davies (on Instagram)

Published:

2 February 2012

ISBN:

9781448130986

Imprint:

Vintage Digital

Format:

EBook

Pages:

352
'I loved it. Devoured it! A wonderful read. Tense, romantic, smart; a beautiful portrait of a seaside town poised at an exact moment in history, with people trapped by laws and mores'

Russell T. Davies (on Instagram)
Pitch perfect

Marie Claire
A gripping read

Viv Groskop, Red
A humane and evocative portrait of a time when lives were destroyed by intolerance

Guardian
The era and the seaside locale are beautifully rendered and observed, not least the social and sexual undercurrents of the time

Elizabeth Buchan, Sunday Times
A moving story of longing and frustration

Observer
Captures the obsessive and destructive madness of sexual jealousy

Psychologies
Roberts gives us two strong, absorbing voices, whose competing claims on our sympathies...make My Policeman a satisfyingly taut and involving read

Times Literary Supplement
Roberts deploys her research carefully, honing a novel with a strong period feel and a sprightly structure

Independent
An amazing read

Latest 7
Roberts' sharp, evocative prose renders this simple story complex, enthralling and compelling

Anne Hill, Sussex Life
This spiky portrait of love makes for a gripping read

Independent, i
This spiky portrait of love makes for a gripping read

Emma Hagestadt, Independent Radar
A heartbreaking examination of lives and love

Diva Magazine
A powerful story of sexual jealousy and longing, My Policeman is also a heartbreaking examination of lives and love that has gone to waste in an era in which homosexuality was a prosecutable offence

DIVA Magazine
A sensitive, sweeping novel

Vogue
A gripping read

Viv Groskop, Red
A humane and evocative portrait of a time when lives were destroyed by intolerance

Guardian
A moving story of longing and frustration

Observer
'I loved it. Devoured it! A wonderful read. Tense, romantic, smart; a beautiful portrait of a seaside town poised at an exact moment in history, with people trapped by laws and mores'

Russell T. Davies (on Instagram)
Pitch perfect

Marie Claire
A heartbreaking examination of lives and love

Diva Magazine
A powerful story of sexual jealousy and longing, My Policeman is also a heartbreaking examination of lives and love that has gone to waste in an era in which homosexuality was a prosecutable offence

DIVA Magazine
An amazing read

Latest 7
Captures the obsessive and destructive madness of sexual jealousy

Psychologies
Roberts deploys her research carefully, honing a novel with a strong period feel and a sprightly structure

Independent
Roberts gives us two strong, absorbing voices, whose competing claims on our sympathies...make My Policeman a satisfyingly taut and involving read

Times Literary Supplement
Roberts' sharp, evocative prose renders this simple story complex, enthralling and compelling

Anne Hill, Sussex Life
The era and the seaside locale are beautifully rendered and observed, not least the social and sexual undercurrents of the time

Elizabeth Buchan, Sunday Times
This spiky portrait of love makes for a gripping read

Independent, i
This spiky portrait of love makes for a gripping read

Emma Hagestadt, Independent Radar
Video