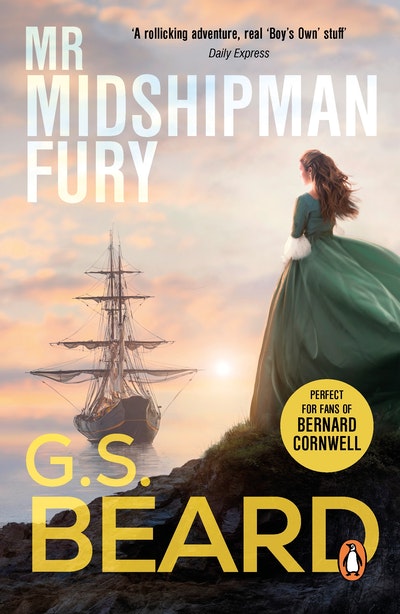 Published:

1 July 2010

ISBN:

9781407088877

Imprint:

Cornerstone Digital

Format:

EBook

Pages:

320
Mr Midshipman Fury
a rollicking, lively naval page-turner set during the French Revolutionary Wars which will capture you from the very first page
---
---
---
A brilliant sea-faring novel for fans of Hornblower, Bernard Cornwell's Sharpe and Alan Mallinson's Matthew Hervey novels
Fans of Hornblower and Sharpe will love this captivating andcompelling nautical adventure from much loved author G.S.Beard. Guaranteed to stir into life even the most sluggish of readers!
'If you like sea stories, you will enjoy this, and even if you think you don't but enjoy things like Sharpe, it might just convert you' - HISTORICAL NOVELS REVIEW
'Excellent gripping story gives you little time to put the book down' -- ***** Reader review
'Read almost overnight, difficult to put down, a memorable yarn' -- ***** Reader review
'A proper page turner' -- ***** Reader review
'A brilliant read, I was hooked from the beginning to the end' -- ***** Reader review
'I felt like I was on the high seas with them!' -- ***** Reader review
*************************************************************
1792: the start of the French Revolutionary Wars.
A shadow hangs over John Thomas Fury in this his first voyage as a midshipman aboard the 32-gun frigate Amazon. The son of a violent and unstable brig commander who drove his crew to mutiny, Fury finds himself an outcast onboard and working doubly hard to prove that he isn't cursed like his father.
Redemption arrives when Amazon reaches Bombay, only to discover that ships of the East India Company have disappeared, including the Company's warships. Somewhere in the Indian Ocean a very powerful privateer is at work and the Governor despatches Amazon to find and destroy her.
Soon afterwards Amazon is in a desperate fight for her life against a much stronger foe. In such crucibles of fire are the officers in His Majesty's Service forged.
Can Fury cover himself in glory and banish the shadows of the past are forever?
Fury's adventures continue in Lieutenant Fury.
Published:

1 July 2010

ISBN:

9781407088877

Imprint:

Cornerstone Digital

Format:

EBook

Pages:

320
Praise for Mr Midshipman Fury
A lively page-turner. Beard shows that he can write about nautical action fluently, and there is always something going on as adventures fairly fall over each other once the ship sails into Indian waters. If you like sea stories, you will enjoy this, and even if you think you don't but enjoy things like Sharpe, it might just convert you.

Historical Novels Review
Here is a rollicking adventure, real Boy's Own stuff, whicn is romantic (though twithout romance)and reassuring...and which will stir into life the sluggish blood of even the most pacific of readers

Daily Express