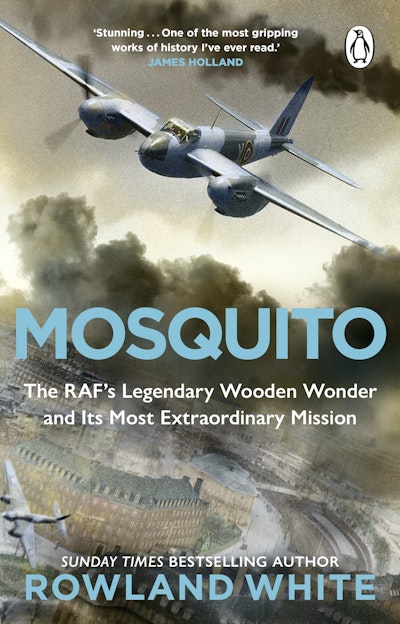 Published:

12 October 2023

ISBN:

9781473589476

Imprint:

Transworld Digital

Format:

EBook

Pages:

560
Mosquito
The RAF's Legendary Wooden Wonder and its Most Extraordinary Mission
---
---
---
The incredible story of one of WW2's most iconic aircraft told through one impossible mission by the master of the aviation thriller
'No dry history, Mosquito reads like a thriller… this outstanding book is hard to put down… Unreservedly recommended' Aviation Historian
'White immerses the reader in the action from the first page. A must read choice for total aviation people everywhere' Flight International
'A captivating history... Rowland White uses the history of these operations to weave stories of courage and fortitude into the story of a great machine' Daily Telegraph
_________________________________
Built of lightweight wood, powered by two growling Rolls-Royce Merlin engines, impossibly aerodynamic, headspinningly fast and armed to the teeth, the de Havilland Mosquito was the war-winning wonder that should never have existed: the aircraft the RAF didn't think it wanted then couldn't do without.
Flying on operations barely eighteen months after a single prototype was ordered off the drawing board, it was the answer to its pilots' prayers: a stunningly versatile warplane capable of leaving the Luftwaffe in its wake to attack when and where the enemy was least expecting it.
Excelling as a spyplane, night-fighter and pathfinder for Bomber Command's heavies the Mossie's reputation was cemented by a series of daredevil bombing raids across occupied Europe, including on Berlin itself, where only surprise, speed and precision could ensure success.
So when Churchill's top secret Special Operations Executive needed to destroy the Gestapo HQ in the centre of downtown Copenhagen to prevent a devastating Nazi last stand that might prolong the war for many months, there was only one machine for the job - the Mosquito.
This is the story of that legendary aircraft told through that one impossible mission.
Like Rowland White's previous books, Mosquito is an unputdownable mix of utterly compelling storytelling, incredible human stories and fascinating technological detail, which sheds never-before-told light on a pivotal mission that helped bring the war to its bloody and brutal close.
_________________________________
Praise for Mosquito
'Wonderful detail, intricate research and most importantly, powerful & moving human testimony, ensure the reader is gripped from the first page to the last by this incredible story' John Nichol
'Stunning... This is history as it should be written: adrenaline-charged, exciting, impeccably and painstakingly researched with a cast of vividly-drawn characters. Riding through it is among the greatest, most extraordinarily brilliant aircraft of them all: the Mosquito. One of the most gripping works of history I've ever read' James Holland
'Weaving together the story of its evolution with vivid accounts of the crews that flew it and the Special Operations Executive on the ground, Mosquito is both a tribute to the finest aircraft Britain produced during the war and a page-turning thriller about its use as the world's first precision aerial weapon' Tom Petch, author of Speed Aggression Surprise: The Secret Origins of the SAS
Published:

12 October 2023

ISBN:

9781473589476

Imprint:

Transworld Digital

Format:

EBook

Pages:

560
A masterwork of narrative history

Clive Cussler
A masterwork of narrative history

Clive Cussler
An utterly compelling war story, brilliantly written

Simon Winchester
An utterly compelling war story, brilliantly written

Simon Winchester
Exciting and breathtakingly pacy...This is exactly how modern hitory should be written

Andy McNab
Exciting and breathtakingly pacy...This is exactly how modern hitory should be written

Andy McNab
I more than enjoyed it - it could have been written specially for me

Jeremy Clarkson
I more than enjoyed it - it could have been written specially for me

Jeremy Clarkson