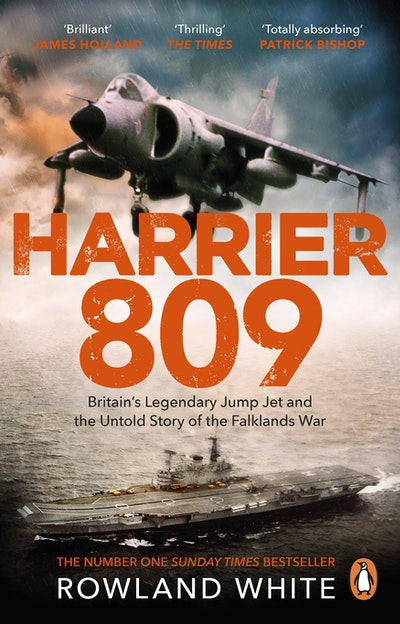 Published:

31 August 2021

ISBN:

9780552176354

Imprint:

Corgi

Format:

Paperback

Pages:

512

RRP:

$22.99
Harrier 809
Britain's Legendary Jump Jet and the Untold Story of the Falklands War
---
---
---
From one of the leading voices in aviation non-fiction, and the bestselling author of VULCAN 607, the untold story of the Falklands War and the iconic 809 Squadron. Perfect for fans of SPITFIRE.
'Utterly brilliant: a fantastically exciting book... This really does read like the best kind of thriller. His best book yet'
James Holland, author of Normandy '44
April 1982. Argentina invades the Falkland Islands.
In response, Britain despatches a naval task force. Eight thousand miles from home, its fate hinges on just twenty Sea Harriers against the two hundred-strong might of the Argentine Air Force.
The odds against them are overwhelming.
The MoD's own estimates suggest that half the Harriers will be lost in the opening days of the conflict. They need backup. Within three weeks 809 Naval Air Squadron is reformed, trained and heading south, ready for war.
Not since World War Two had so much been expected of such a small band of pilots.
Published:

31 August 2021

ISBN:

9780552176354

Imprint:

Corgi

Format:

Paperback

Pages:

512

RRP:

$22.99
A story of skill, courage and imagination that resembles a miniature Battle of Britain ... a military adventure, written with expertise, a tale of initiative, skill and courage, of pushing beyond the rules ... A thrilling account

The Spectator
Harrier 809 is a truly insightful study of this iconic British aircraft at war, and a tremendous account of the personal experiences of those who flew it in battle. By turns exciting, moving and enlightening; Rowland White has crafted yet another brilliant account of aerial warfare.

JOHN NICHOL, BESTSELLING AUTHOR OF SPITFIRE
Rowland White has scored again. Harrier 809 reads like a fast-paced military adventure novel only better because every word is true. White has brought us an up-close, inside-the-cockpit saga of a band of heroes in the Falklands air war. Riveting.

Robert Gandt
Set against the broader context of the Falklands War, Harrier 809 brings the squadron's story to life in fine and highly readable style.

Garth Ennis
Deeply researched and written with Rowland White's trademark brio, Harrier 809 is the thrilling story of the 'forgotten' Sea Harrier squadron of the Falklands War, one that arrived late to the party yet played a key role in Britain's unlikely victory. A superb book.

Saul David
This is utterly brilliant: a fantastically exciting book about those amazing Harrier jets in the Falklands War but so much more besides. White has a richly drawn cast of unforgettable characters ... this really does read like the best kind of thriller. His best book yet.

James Holland
Utterly thrilling and totally absorbing. White conveys brilliantly the spirit of a great aircraft - and the men who flew it

Patrick Bishop
Rowland White has done it again! A compelling, fast-paced narrative that thrusts us into a fascinating cockpit-view of the Falklands War. Harrier 809 provides a true window into a conflict that shaped the modern path of Argentina and the United Kingdom; a "must read" for serious military aviation enthusiasts and historians alike!

Dan Hampton
A compelling narrative, brought to life through vivid personal accounts and told in the author's usual lucid style

Soldier
White writes narrative history like a novelist ... a story of politics, invention, determination and courage.

Navy News
You do get what's on the rather stylish tin; it is a pacy and thrilling read...Taken with his Vulcan 607, to which this book is essentially a sequel, Rowland White has written a fine popular history of the air war for the Falklands

The Times