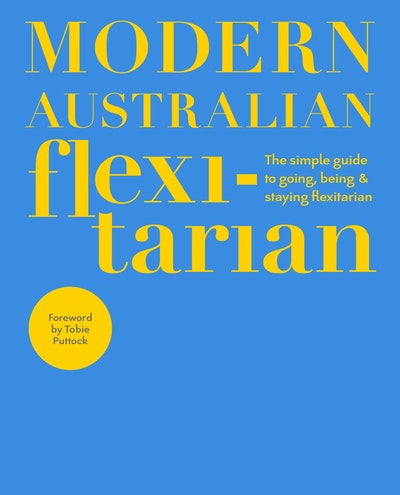 Published:

19 November 2019

ISBN:

9780143796961

Imprint:

Dorling Kindersley

Format:

Hardback

Pages:

256

RRP:

$39.99
Modern Australian Flexitarian
---
---
All the benefits of a plant-based diet, without the stress. Enjoy nutritious, flexible meals with vegan, vegetarian and meat-eater variations, all in one place.
Are you fed up with strict diets? Do you want a sustainable and simple approach to healthy eating, without sacrificing all your favourite ingredients? Or do you want to cook for vegans and vegetarians, but don't want to give up meat, dairy or fish? The flexitarian diet is the answer!
Let Modern Australian Flexitarian give you the confidence to sustain a healthy diet for the long haul. With a foreword by flexitarian pioneer, Tobie Puttock, this beautiful recipe book features more than 100 flexible recipes, each with the option to add meat or a vegan variation. It's perfect for tricky dinner parties or flexible family dinners catering to a range of dietary requirements, all in one place. With expert advice from Australian accredited dietitian and nutritionist Lucy Gwendoline Taylor, you can make the switch to flexitarianism while maintaining a balanced diet.
Even the slightest reduction in your meat and dairy intake will have a positive effect on your health, the environment and your bank balance, so now is the perfect time to adopt this easy, semi-vegetarian lifestyle and a varied, nutrient-packed diet. Bring plants front and centre, and start creating delicious – and flexible – meals with Modern Australian Flexitarian.
Published:

19 November 2019

ISBN:

9780143796961

Imprint:

Dorling Kindersley

Format:

Hardback

Pages:

256

RRP:

$39.99
Article
Strawberry polenta shortcakes
These little 'sandwiches' are a lovely adaptation of the traditional shortcake. They make excellent use of polenta to produce the perfect dessert for summer, when you can take advantage of a glut of strawberries.
Article
Vietnamese chicken noodle salad
Based on the traditional Vietnamese dish of 'bún', this refreshing noodle salad is tossed in a zesty citrus dressing and topped with chicken flavoured with ginger and lemongrass.