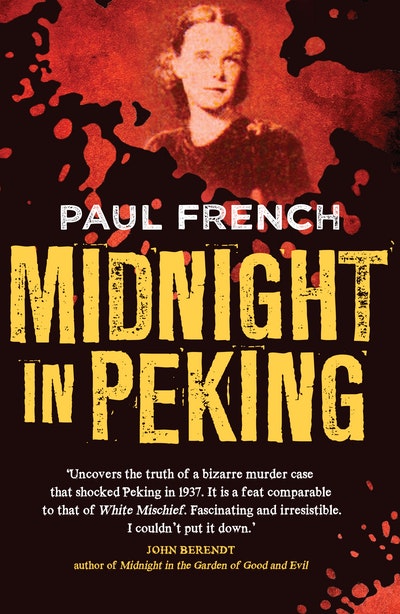 Published:

23 August 2011

ISBN:

9781742533568

Imprint:

Penguin eBooks

Format:

EBook

Pages:

304
Midnight in Peking
The Murder That Haunted the Last Days of Old China
---
---
---
Midnight in Peking is the unputdownable true story of a murder that will make you hold your loved ones close, and also a sweepingly evocative account of the end of an era.
January, 1937: Peking is a heady mix of privilege and scandal, lavish cocktail bars and opium dens, warlords and corruption, rumours and superstition – and the clock is ticking down on all of it.
In the exclusive Legation Quarter, the foreigners are jumpy. Japanese troops are poised to attack, and word has it the Chinese government is about to cut a deal with Tokyo, leaving Peking to its fate. Fear reigns inside the ancient city walls, on one of which, not far from the nefarious Badlands, is a massive watchtower. Locals believe it to be haunted by fox spirits that prey upon innocent mortals.
Then one bitterly cold night, the body of an innocent mortal is dumped there. It belongs to the daughter of a former British consul, and when the details of her death become known, people find it hard to credit that any human could treat another in such a fashion. Even as the Japanese noose on the city tightens, this bizarre murder transfixes the people of Peking.
Seventy-five years after these events, Paul French finally gives the case the resolution it was denied, in a story that will make you hold your loves ones close ...
'Unputdownable ... French's re-creation of the police investigation will have you enthralled.' Sydney Morning Herald
'A brilliantly evocative book.' The Sunday Age
Published:

23 August 2011

ISBN:

9781742533568

Imprint:

Penguin eBooks

Format:

EBook

Pages:

304
Praise for Midnight in Peking
An instant true crime classic which grips and hooks from the first page to the last.

David Peace, author of The Damned Utd and the Red Riding quartet
Clue by clue, Paul French uncovers the truth of a bizarre murder case that shocked Peking in 1937. In doing so, he draws a chilling portrait of the city's decadent, violent and overly-privileged Euro-American expatriate community. It is a feat comparable to that of White Mischief. Fascinating and irresistible. I couldn't put it down.

John Berendt
So brilliantly described ... a wonderfully atmospheric evocation of expatriate Peking, from grand hotels to seedy brothels ... Reminiscent of Graham Greene, particularly The Third Man, while French's terse, tightly-focussed style has rightly been compared to Chandler. Midnight in Peking deserves a place alongside both these masters.

Christopher Hirst, The Independent
Midnight in Peking has all the page turnability of a Ruth Rendell mystery.

Time Out, Shanghai
A brilliantly evocative book.

Lucy Sussex, Sunday Age
Masterfully revives the Peking of 1937 ... Unputdownable ... French's re-creation of the police investigation will have you enthralled.

Sydney Morning Herald
Fascinating, not just because the story of the brutal and perplexing murder of a young British woman in Peking in 1937 the book investigates is so fascinating, but because Paul brings the world he is exploring so vividly and grippingly to life ... I'm not sure I've read a better illustration of those complexities, or the tenseness of the moment preceding the Japanese occupation, than Paul's book.

James Bradley
A cracking yarn.

Chris Herde, Courier Mail
Keeps the reader enthralled to the end.

Jonathan Fenby
Paul French has written a true-crime thriller, an atmospheric portrait of Peking on the eve of Japanese occupation and an expose of white mischief that kept me on the edge of my seat from the first page to the last.

Linda Jaivin
Simply marvelous! An atmospheric who-done-it in which the setting is pre-communist China, incorporating the last tottering edges of the British empire, a cast of enigmatic foreigners, and Peking bracing as Japan invades and brings the last of Old China to its knees. The mysterious and seemingly motiveless killing of a young English girl by a spirit-haunted gate in Peking is much more than it appears.

Margaret George, author of Elizabeth I
A brilliant book about Old Peking and an extraordinary time of disintegration and change that really captures the imagination. It evokes the city of divided zones and loyalties with a superb feeling for the characters who mingled in that nervous milieu. A chilling story told with forensic artistry that is utterly compelling.

Nicholas Jose
Fascinating ... Compelling, disquieting ... Kept me turning pages until the early hours.

Jonathan Chatwin, Asian Review of Books
Masterly portrays the graft-ridden milieu of pre-World War II China ... A well-composed, engaging, lurid tale.

Kirkus Reviews
The best true crime stories are tales of place as well as people, evoking the long shadows of our often haunted history. And Midnight in Peking is among the best. French carries the reader on a journey through the city's twisting streets and equally twisted politics. The result is a real-life story ultimately as suspenseful as any modern thriller.

Deborah Blum, author of The Poisoner's Handbook
Once you've read the first page, you won't want to put it down again until the last page ... Definitely the book you want as a travel companion.

Erick Peterson, Global Times
An excellent, punchy combination of a real-life whodunnit and a portrait of a city on the edge ... This was a time when life was cheap and worldwide slaughter was about to begin in earnest; perhaps the most impressive thing about this book is that even with this backdrop, French still makes us care about the unfair death of a single person.

That's Shanghai
Compelling ... Captures the hypocrisy of a bygone era ... Intriguing.

Herald Sun
Magically captures a strange, largely unknown time and place in modern history ... Thrilling ... wise and compassionate and deeply human - an astonishing achievement.

Douglas Perry, author of The Girls of Murder City
Paul French has masterfully recreated the murder investigation ... [and] also painted a beautifully intriguing picture of the city.

Andrew Wrathall, fancygoods.com.au
Fascinating.

Publishers Weekly (US)
The most talked-about read in town this year.

Evan Osnos, The New Yorker
An engrossing true-life murder mystery that might have leapt from one of Josef von Sternberg's films ... or from the pages of a thriller by a Chinese James M. Cain ... Mr. French's account is never less than fascinating ... one of the best portraits of between-the-wars China that has yet been written.

Fergus M. Bordewich, The Wall Street Journal
Reads like a mystery thriller ... Read it and weep, Black Dahlia obsessives.

Cheryl Eddy, San Francisco Bay Guardian
Paints an intimate portrait of 1930s Beijing, a city of opium dens, refugees and warlords steeped in terror of Japan's impending invasion.

Jonathan Kaiman, Los Angeles Times
Fascinating ... An engrossing read ... chilling and disturbing.

Nathalie Gorman, oprah.com
A riveting murder story ... Persuasive and disturbing.

Charles Finch, USA Today
A powerful page-turning narrative ... French fills his story with the kind of unforgettable details that give it a life that jumps off the page ... A story that reads with all the tension of a fictional thriller.

Jack Goodstein, seattle.pi.com
Engrossing true crime whodunit ... He is good at marshalling the evidence gathered from the archives, and particularly skilful at evoking the atmosphere of prewar Peking with its gossip, its edginess, and the bizarre and wholly unrealistic life of privilege lived by many in the expat community. A terrific read.

Andrew Holgate, Sunday Times
Not only does Mr French succeed in solving the crime, he resurrects a period that was filled with glitter as well as evil.

The Economist (UK)
Fascinating ... Vivid ... A deeply engrossing tale.

Austin Ramzy, Time magazine
French has an easy-going prose style ... well-chosen quotes bring a new vigour and crispness ... [French] succeeds in giving voice to a tragic quest for justice.

Sunday Telegraph
Brings his vanished world back to vivid, pulsating life ... it is the storytelling flair that marks Midnight in Peking so highly above the run-of-the-mill true crime stories: with its false leads and twists, and the care taken never to reveal anything ahead of his protagonists, it sucks the reader in like the best fiction.

The Scotsman
The shocking true tale combined with the author's ability to write prose you can't drag yourself away from makes Midnight in Peking a work of non-fiction as compulsive as any bestselling crime novel. It also brings justice at last for a young woman whose murder nearly went unsolved.

Sunday Express
Written in the style of a gripping murder mystery but all the facts are true.

Kirsty Lang, BBC Radio 4 Front Row
Paul French has not only solved this crime, he has also written a page-turning and fascinating true crime book. This is a genre-breaker that captures the atmosphere of 1930s Peking.

Patrick Neale, The Bookseller
Australian Book Industry Awards
Winner • 2012 • International Success of the Year
CWA Dagger Awards
Winner • 2013 • Non-Fiction
Edgar Award (Mystery Writers US)
Winner • 2013 • Best Fact Crime
Macavity Award (US)
Nominated • 2013 • Best Mystery Non-Fiction
Video
City of Devils by Paul French
A spellbinding and dramatic account of Shanghai's lawless 1930s and two of its most notorious criminals, by the author of the prize winning MIDNIGHT IN PEKING. Learn more - https://www.penguin.com.au/books/city-of-devils-a-shanghai-noir-9780143790570