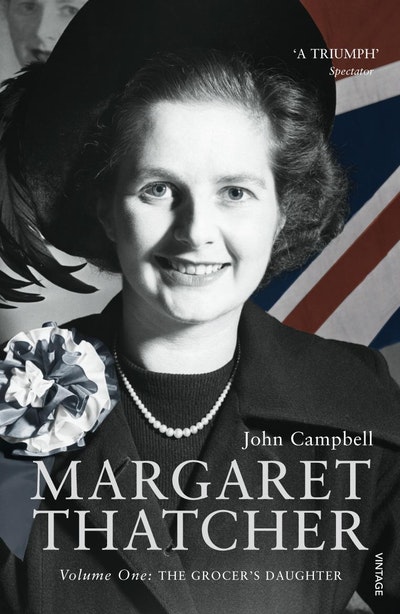 Published:

1 February 2011

ISBN:

9781409039990

Imprint:

Vintage Digital

Format:

EBook

Pages:

528
Margaret Thatcher
Volume One: The Grocer's Daughter
---
---
---
The first volume of the critically acclaimed, definitive biography of Margaret Thatcher.
'A fascinating account... Campbell's research is as exhaustive as it is meticulous' Observer
When Margaret Thatcher unexpectedly emerged to challenge Edward Heath for the Conservative Party leadership in 1975, the public knew her only as the archetypal Home Counties Tory Lady, more famous for her hats than for any outstanding talent: she had a rich businessman husband, sent her children to the most expensive private schools and sat in Parliament for Finchley.
Yet almost overnight she reinvented herself. Journalists who set out to discover where she came from were amazed to find that she had grown up above a grocer's shop in Grantham. Within weeks of her becoming Tory leader an entirely new image was in place, based around the now famous corner shop beside the Great North Road; the strict Methodist upbringing; and her father, who taught her the 'Victorian values' which were the foundations of her subsequent career.
In the first volume of the first full-scale biography of Margaret Thatcher since her fall from power - and the first thoroughly to explore her early life - John Campbell re-examines the mythology and suggests a more complex reality behind the idealised picture accepted by Lady Thatcher's early biographers. He portrays an ambitious and determined woman ruthlessly distancing herself from her roots, until the moment in 1975 when they suddenly became a political asset.
Published:

1 February 2011

ISBN:

9781409039990

Imprint:

Vintage Digital

Format:

EBook

Pages:

528
Praise for Margaret Thatcher
'A fascinating account... Campbell's research is as exhaustive as it is meticulous'

Observer
'A superbly researched biography... unlike so many others is neither hagiography nor hatchet-job, and probably gets closer to the truth than any... magnificently told'

Sunday Express
'A triumph'

Spectator
A winner. Whatever your views on the grocer's daughter, I defy you not to enjoy it

Daily Mail
'Searching and beautifully written'

Independent
'Succeeds brilliantly'

London Review of Books
The best book yet written about Lady Thatcher

Daily Telegraph