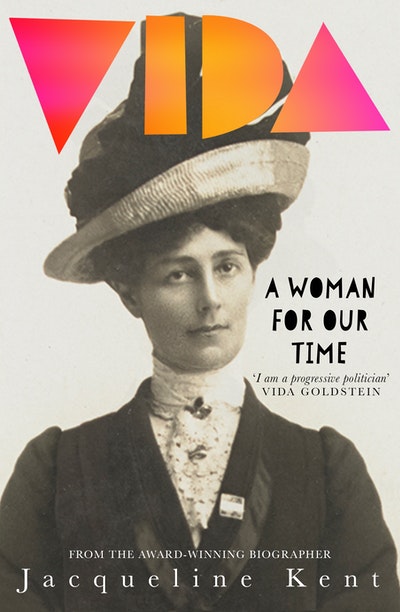 Published:

15 September 2020

ISBN:

9780670079490

Imprint:

Viking

Format:

Trade Paperback

Pages:

336

RRP:

$34.99
Vida
A woman for our time
---
---
---
Vida Goldstein was an advocate for women's rights, a campaigner for peace, fought for the distribution of wealth, and a trail-blazer who provided leadership and inspiration to innumerable people.
Blazing her trail at the dawn of the twentieth century, Vida Goldstein remains Australia's most celebrated crusader for the rights of women. Her life – as a campaigner for the suffrage in Australia, Britain and America, an advocate for peace, a fighter for social equality and a shrewd political commentator – marks her as one of Australia's foremost women of courage and principle.
Vida first came to national prominence as the first woman in the Western world to stand for a national Parliament, in Victoria, for the Senate, in 1903. As a fighter for equal rights for women, and as a champion of social justice, she quickly established a pattern of working quietly against men's control of Australian society. Her work for the peace movement and against conscription during the heightened emotions of the First World War showed her determination to defy governments in the name of fairness and equity.
Vida came to adulthood when Australia was in the process of inventing itself as a new nation, one in which women might have opportunities equal to those of men. Her work for her own sex, especially her battles for equality in politics, illuminated issues that persist to this day.
Jacqueline Kent has written acclaimed biographies of Julia Gillard, pianist and social activist Hephzibah Menuhin, and pioneer book editor Beatrice Davis.
Published:

15 September 2020

ISBN:

9780670079490

Imprint:

Viking

Format:

Trade Paperback

Pages:

336

RRP:

$34.99
Jacqueline Kent's absorbing biography, is packed with illuminating historical detail from Goldstein's life and times. An energetic teacher, an inspired writer and magazine publisher, and a devoted Christian Scientist, Goldstein turned down all suitors—including the dashing John Monash—and pursued her own path. Goldstein became an internationally celebrated feminist figure and a staunch ally of the suffragettes. She died four years after the end of WWII—a war that she, as a pacifist, saw coming in the mess of WWI. With her progressive socialist beliefs and armed with a calm inner strength, she is a visionary woman for our times—anyone trying to make sense of the misogyny directed at the Julia Gillard prime ministership, for example, would do well to read this book.

Julia Taylor, Bookseller + Publisher
I am a progressive politician

Vida Goldstein
Is Vida a woman for our time, as the title claims? I think Kent has proved that she is.

Kathy Gollan, Newtown Review of Books
Article
Discovering Vida
Jacqueline Kent on the inspiration behind her book about an extraordinary woman, Vida.
Article