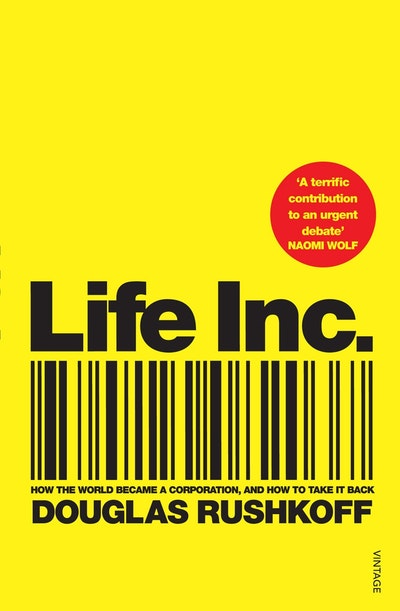 Published:

31 March 2011

ISBN:

9781446467787

Imprint:

Vintage Digital

Format:

EBook

Pages:

304
Life Inc
How the World Became a Corporation and How to Take it Back
---
---
---
A timely, provocative and urgent look at how our world has become slowly but surely corporatised.
Douglas Rushkoff was mugged outside his apartment on Christmas Eve, but when he posted a friendly warning on his community website, the responses castigated him for potentially harming the local real-estate market. When did these corporate values overtake civic responsibilites?
Rushkoff examines how corporatism has become an intrinsic part of our everyday lives, choices and opinions. He demonstrates how this system created a world where everything can be commodified, where communities have dissolved into consumer groups, where fiction and reality have become fundamentally blurred. And, with this system on the verge of collapse, Rushkoff shows how the simple pleasures that make us human can also point the way to freedom.
Published:

31 March 2011

ISBN:

9781446467787

Imprint:

Vintage Digital

Format:

EBook

Pages:

304
There are few more important subjects in the West today than the corporaticization of public and personal space and few writers as well-suited to the subject as the always insightful and provocative Doug Rushkoff. A terrific contribution to an urgent debate.

Naomi Wolf
Read this book if you want to understand how the current economic meltdown started 400 years ago, how so much of what you consider to be a natural evolution of daily life was carefully designed to profit a few, and how corporatism has so colonised every part of life that most of us don't even recognise how our lives and fortunes are channeled and manipulated by it.... I love that Rushkoff isn't afraid to think big - very big

Howard Rheingold author of Smart Mobs
Life Inc is a return to Rushkoff's best form. In it he takes swipes at advertising, pop psychology, public relations, suburban life, the dotcom boom, reality TV and many of the things we take for granted

Guardian
Fluent and well-researched

Independent