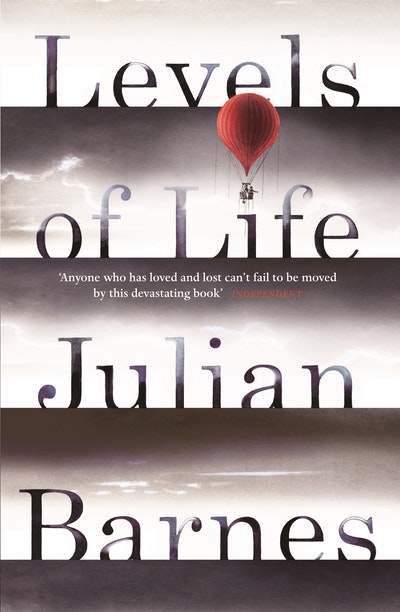 Published:

1 April 2014

ISBN:

9780099584537

Imprint:

Vintage

Format:

Paperback

Pages:

128

RRP:

$19.99
Levels of Life
---
---
---
This short, unconventional book is probably the most moving that Julian Barnes has ever written
You put together two things that have not been put together before. And the world is changed.
In Levels of Life Julian Barnes gives us Nadar, the pioneer balloonist and aerial photographer; he gives us Colonel Fred Burnaby, reluctant adorer of the extravagant Sarah Bernhardt; then, finally, he gives us the story of his own grief, unflinchingly observed.
This is a book of intense honesty and insight; it is at once a celebration of love and a profound examination of sorrow.
**ONE OF THE GUARDIAN'S100 BEST BOOKS OF THE 21st CENTURY**
Published:

1 April 2014

ISBN:

9780099584537

Imprint:

Vintage

Format:

Paperback

Pages:

128

RRP:

$19.99
Praise for Levels of Life
It is extraordinary... [It] would seem to pull off the impossible: to recreate, on the page, what it is like to be alive in the world.

Emma Brockes, Guardian
This is a book of rare intimacy and honesty about love and grief. To read it is a privilege. To have written it is astonishing.

Ruth Scurr, The Times
It's an unrestrained, affecting piece of writing, raw and honest and more truthful for its dignity and artistry... Anyone who has loved and suffered loss, or just suffered, should read this book, and re-read it, and re-read it.

Martin Fletcher, Independent
Levels of Life is both a supremely crafted artefact and a desolating guidebook to the land of loss.

John Carey, Sunday Times
While one might expect a Barnes book to impress, delight, move, disconcert or amuse, the last thing for which his work prepares us is the blast of paralysingly direct emotion that concludes Levels of Life.

Tim Martin, Daily Telegraph
Levels of Life is, deep-down, a heartfelt attempt to chronicle the strange journey that follows the death of a loved one.

Craig Brown, Mail on Sunday
A magnificent blast of unflinching prose.

Daily Telegraph
Powerful and well-articulated.

Roger Lewis, Daily Mail
It is true that the private language of love doesn't generally translate; yet how vividly Barnes invokes the power and delicacy of what is lost to him.

Jane Shilling, Sunday Telegraph
A Taj Mahal made of paper not white marble.

Peter Conrad, Observer
Profoundly emotive.

Sunday Times
He writes with aphoristic simplicity and a calm profundity, without ever sounding self-pitying, maudlin or trite. Levels of Life is at times unbearably sad, but it is also exquisite: a paean of love, and on love, and a book unexpectedly full of life.

Rosemary Goring, Herald
A grief-stricken, achingly precise and bravely unconsoling exploration into the inadequacy of words.

Metro
An impassioned, raw insight into a survivor's grief.

Sport
A moving and important read.

Good Housekeeping
Its resonance comes from all it doesn't say, as well as what it does; from the depth of love we infer from the desert of grief.

Blake Morrison, Guardian
Moving, heartfelt, exact and telling. A remarkable narrative that is as raw in its emotion as it is characteristically elegant in its execution.

Eileen Battersby, Irish Times
Anyone who has loved and lost can't fail to be moved by this devastating book.

Leylai Sinai, Independent
Seemingly incapable of writing a bad sentence. Important and brilliant.

Nadine O'Regan, Sunday Business Post
It is the more piercing for Barnes's refusal to sentimentalise himself or others. A force-ten account of the ongoing pain of having loved entirely and lost entirely.

Sam Leith, Spectator
A confession of grief so emotively described that it leaves the reader cold with awe.

Billy O'Callaghan, Irish Examiner
Smartly structured.

Donal O'Donoghue, RTE Guide
Barnes writes from the heart; but what an informed, proud, devoted heart he has.

Violet Hudson, Standpoint
Essentially a musing on the miracle and tragedy of love.

Dan Carrier, UK Regional Press Syndication
A precisely composed, often deeply moving hybrid of non-fiction, 'fabulation', and straightforward reminiscence and contemplation.

Joyce Carol Oates, Times Literary Supplement
Julian Barnes is a prose sculptor.

Totally Dublin
Intricately wrought.

Elspeth Barker, Literary Review
Rich, ludic, and achingly sad, Barnes' shortest book, it turns out, is also his most profound.

Jonathan Barnes, Lancet
A luminously strange fusion of biography, fiction and memoir, combining balloons, Sarah Bernhardt and lost love in an irresistible alchemy.

Leo Robson, New Statesman
Barnes reformed the conventional autobiography.

Mark Lawson, Guardian
Dealt a blow that left me reeling. [it] combines ballooning, photography, love and bereavement, and if you can't think how, you need to read it.

Rachel Joyce, Observer
Barnes' most audacious formal experiment yet. A playful historical novel is yoked with a straight, bleak, wise lamentation for the death of his wife. The combination. looks impossible, but combine they do, forming a compound as potent as it is poignant.

Lucy Hughes-Hallett, Telegraph
The cumulative effect of the three pieces is haunting.

Sian Griffiths, Sunday Times
A deeply moving meditation on love and loss, the reality of grief, the power of art.

Alan Spence, Herald
A love story surrounded by meditations... The meditations keep coming back to me.

Denis Donoghue, Irish Times
Heartbreaking... Remarkable... The obliquity of the opening makes the directness of the final section all the more forceful.

Sam Leith, Guardian
Clear-eyed, honest and unsentimental, it's a moving meditation on love and loss, the reality of grief, the power of art.

Alan Spence, Scotsman
Julian Barnes magnificently turns an essay on ballooning into a beautiful eulogy to his late wife Pat Kavanagh.

Philip Collins, The Times
A breathtakingly moving book.

Gaby Wood, Daily Telegraph
This is an unexpectedly heartbreaking, profound and highly individual response to the incapacitating agony of personal grief.

Eileen Battersby, Irish Times
One of the best, most moving things you'll ever read.

William Leith, Evening Standard
Category-defying. Levels of Life is a book that levels with us only up to a point. Its resonance comes from what it doesn't say, as well as what it does, from the depths of love we infer, from the desert of grief.

Blake Morrison, Guardian
[An] astounding book. It will be read as long as people can read.

Christopher Hirst, Independent
Intense, raw, sad and deeply moving. The integrity and stark honest touches you somewhere deep inside. This book is an astounding piece of literature

Holly Hide, Boston Target
Shakespearean in its poetry and profundity

Louise Jameson, Daily Express
I'm sure I've shed the odd reader's tear subsequently but this was special. The tears came from exquisitely understated and honest writing even more than the subject of grief for a dear departed love.

Shami Chakrabarti, Guardian