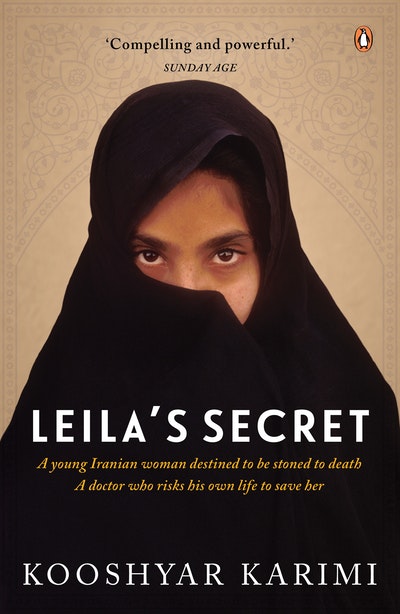 Published:

20 March 2017

ISBN:

9780143783992

Imprint:

Penguin

Format:

Paperback

Pages:

304

RRP:

$22.99
Leila's Secret
---
---
---
Spellbinding and heartbreaking, Leila's Secret shows us everyday life for women in a country where it can be a crime to fall in love. But for all its tragedy, this unforgettable book is paradoxically uplifting, told from the heart of Kooshyar's immense sympathy, in the hope that each of us – and the stories we tell – can make a difference.
In fundamentalist Iran, new life sometimes means certain death. When Leila comes to see Doctor Karimi, both are in danger.
Born in a slum to a Muslim father and a Jewish mother, Kooshyar Karimi has transformed himself into a successful doctor, an award-winning writer, and an adoring father. His could be a comfortable life but his conscience won't permit it: he is incapable of turning away the unmarried women who beg him to save their lives by ending the pregnancies that, if discovered, would see them stoned to death.
One of those women is 22-year-old Leila. Beautiful, intelligent, passionate, she yearns to go to university but her strictly traditional family forbids it. Returning home from the library one day – among the few trips she's allowed out of the house – she meets a handsome shopkeeper, and her fate is sealed. Kooshyar has rescued countless women, but Leila seeks his help for a different reason, one that will haunt him for years afterwards and inspire an impossible quest from faraway Australia.
Spellbinding and heartbreaking. Leila's Secret shows us everyday life for women in a country where it can be a crime to fall in love. But for all its tragedy, this unforgettable book is paradoxically uplifting, told from the heart of Kooshyar's immense sympathy, in the hope that each of us – and the stories we tell – can make a difference.
'[A] remarkable book . . . Karimi earns our trust through his experiences and his sympathy with the plight of the marginalised.' Owen Richardson, Saturday Age
'A profoundly moving story, beautifully told with extraordinary insight, and filling us with awe at the strength of the author's moral courage.' Robin de Crespigny, author of The People Smuggler
'An absolutely stunning book. Leila's story is deeply affecting and Kooshyar Karimi is a consummate storyteller.' Shirley Walker, Author of The Ghost at the Wedding
'Leila's Secret brims with compassion and yearning and eloquently shares the story of a regime suffocating its people and losing all that was great about it. To read this book is to see inside a culture and understand the desperation of its people.' The Hoopla
'A riveting account of one girl's innocent spirit defying the tyranny of Iran's crushing regime. It is a masterpiece of moral impossibilities and climactic suspense.' Bob Brown
'Inspiring . . . often harrowing . . . Offers insight into how and why one man is willing to put the welfare of others before his own safety.' Townsville Bulletin
'Compelling and powerful.' Sunday Age
Published:

20 March 2017

ISBN:

9780143783992

Imprint:

Penguin

Format:

Paperback

Pages:

304

RRP:

$22.99
Praise for Leila's Secret
An inspiring, true tale of what one doctor risks to aid others in need. It is his personal and often harrowing story, detailing a brazen defiance of laws that ultimately saw him arrested and tortured.

Herald Sun
Compelling and powerful.

Thuy On, The Sunday Age