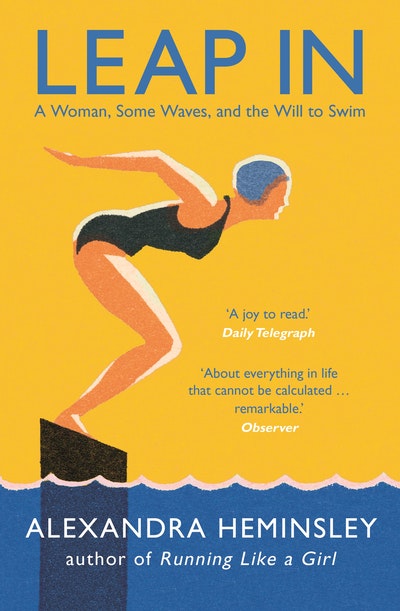 Published:

12 January 2017

ISBN:

9781473536692

Imprint:

Cornerstone Digital

Format:

EBook

Pages:

240
Leap In
A Woman, Some Waves, and the Will to Swim
---
---
---
I wanted to dive into water as I want to dive into life: filled with joy, curiosity and the knowledge that there may be dangers - but that they're not daunting enough to make it not worth doing.
All I needed to do was learn to swim.
'Remarkable' Observer
'A joy to read' Daily Telegraph
'Soaringly beautiful' Sunday Times Magazine
'Genuine and persuasive' Guardian
Alexandra Heminsley thought she could swim. She really did.
It may have been because she could run. It may have been because she wanted to swim; or perhaps because she only ever did ten minutes of breaststroke at a time. But, as she learned one day while flailing around in the sea, she really couldn't.
Believing that a life lived fully isn't one with the most money earned, the most stuff bought or the most races won, but one with the most experiences, experienced the most fully, she decided to conquer her fear of the water.
From the ignominy of getting into a wetsuit to the triumph of swimming from Kefalonia to Ithaca, in becoming a swimmer, Alexandra learns to appreciate her body and still her mind. As it turns out, the water is never as frightening once you're in, and really, everything is better when you remember to exhale.

What Hemmo's readers are saying:
'This book is funny, engaging, entertaining, informative, suspenseful, motivating, and inspiring... I've never read anything quite like it'
­- Nina on Goodreads, 5 stars
'Just like Running Like a Girl, this was an absolute joy to read. A beautifully written story of swimming, family and being a woman'
- Violet on Amazon, 5 stars
'Fantastic book. Entertaining - often laugh-out-loud funny - and full of really useful advice'
- J. Edwards on Amazon, 5 stars
'A fabulous book that's beautifully written'
- Nik on Goodreads, 5 stars
'I can't recommend this book enough! I absolutely love Alexandra Heminsley's writing, her attitude towards exercise and her passion for swimming'
- Sarah on Goodreads, 5 stars
'an inspirational and encouraging read'
- Stephanie on Goodreads, 5 stars
'the author's enthusiasm is contagious. one cannot help but yearn to join in. . A thoroughly inspiring book with a likeable narrator unafraid to share her personal life'
- Eleanor on Goodreads, 5 stars
'This is a delightful book, a pleasure to read. Unbelievably well written, it flows like the water she loves'
­- Bobby on Amazon, 5 stars

Published:

12 January 2017

ISBN:

9781473536692

Imprint:

Cornerstone Digital

Format:

EBook

Pages:

240
Inspiring

The Simple Things
Warm, personal and moving

Yours
This is a book that turns out to be about everything in life that cannot be calculated. Heminsley responds to life's uncertainty by becoming decisive: "The grit was in the oyster now. It was the sea versus me." It sets a remarkable example, and by the end it could not be more obvious: the true grit is not in the oyster but in Heminsley herself.

Kate Kellaway, Observer
Masterful

Irish Independent
A great entry point to the sport, it's also a searingly honest personal story as she finds solace in the water when faced with tricky times.

Glamour
An honest moving account of marriage, personal loss and living life to the full.

Woman & Home
The 'woman-versus-sea' narrative makes the book a page-turner. Heminsley tackles head-on the uncomfortable truth that it's hard for an adult to get rid of the fears of decades.

Daily Mail
Genuine and persuasive

Guardian
Inspirational and thought-provoking, Leap In is the perfect accompaniment to your New Years Resolutions.

The Pool
This is a candid and empowering book. I recommend it.

Frost Magazine
A joy to read . . . another triumph for Heminsley, a champion of sport in the truest sense, and a wonderfully compassionate voice.

Kat Brown, Daily Telegraph
Plaudits will arrive faster than an incoming tide.

Dorset Echo
Leap In celebrates the glory of swimming.

New Statesman
Alex Heminsley has the rare gift of being able to take a sport - running or swimming - that most of us find a bit daunting and fill the reader with enthusiasm for it. She comes to sport from the position of the ordinary person - and yet shows that it can change your life in an extraordinary way.

Jojo Moyes
In her memoir Leap In, Alexandra Heminsley gives an eloquent exposition of the painful, powerful but ultimately exhilarating effects of wild swimming throughout the winter.

Breathe Magazine
Haunting and beautiful

Image Magazine