Try this fresh recipe from Silvia Colloca's La Dolce Vita.
Pan di Spagna is a classic cake as popular in Italy as sponge cake is in Anglo-Saxon cuisine. You'll always find it in Italian desserts, such as tiramisu, cassata and zuppa inglese (Italian trifle). However, its light and airy texture also makes it perfect for afternoon tea or dessert, especially served simply with berries and other beauties. It is surprisingly simple to make, with only a handful of main ingredients; however, the success or failure of your pan di Spagna is determined by a few baking tricks: make sure your eggs are at room temperature; don't use high-protein bread flour (specialty low-protein or plain flour will do); and don't incorporate the flour all at once. Do it gently, with a little love, and you will be rewarded with a light-as-a-feather cake that will keep moist for days, wrapped in plastic film and stored in the fridge.
ITALIAN SPONGE CAKE WITH BALSAMIC ROASTED STRAWBERRIES (PAN DI SPAGNA CON FRAGOLE AL BALSAMICO)
Serves 8
Ingredients
Sponge:
6 eggs, at room temperature
180 g caster sugar
Pinch of salt
Finely grated zest of 1 lemon
1 vanilla bean, split and seeds scraped
180 g plain flour
Balsamic Roasted Strawberries:
600 g strawberries, hulled
2 tablespoons caster sugar
2 tablespoons balsamic vinegar
1 cinnamon quill
1 star anise
 
Method
Preheat the oven to 170°C (150°C fan-forced). Oil and flour a 20 cm round cake tin and line the base with baking paper.
Put the eggs, sugar and salt in an electric mixer fitted with a whisk attachment and beat until very pale and fluffy. This will take about 10–15 minutes using a mixer – quite a bit more if you do it by hand! The texture you are looking for is airy and somewhat firm, so that if you lift some mixture with a spoon and then let it fall into the bowl, it sits on top without sinking back into the batter. Add the lemon zest and vanilla and mix well. Sift the flour over the top, a little at a time, and gently fold it in with a wooden spoon. Don't overmix!
Pour the batter into the prepared tin and bake for 40 minutes or until a skewer inserted into the middle of the cake comes out clean. Don't open the oven during this time or the cake will collapse. When it's ready, turn off the heat but leave the cake in the oven to cool for 10 minutes, with the door ajar. Turn out the cake onto a wire rack and cool completely.
Meanwhile, make the balsamic strawberries. Increase the oven temperature to 180°C (160°C fan-forced). Put the strawberries in a large bowl, cut the bigger ones in half and then dress with the sugar and vinegar. Add the cinnamon quill and star anise, then tumble the mixture into a baking dish and bake for 15–20 minutes.
To serve, cut large squares or wedges of cake and serve with plenty of strawberries and their juices.
---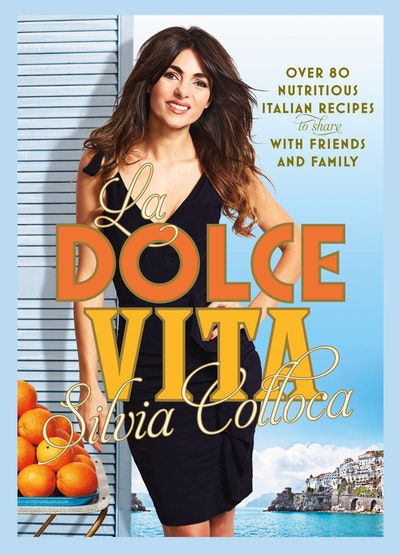 In her third cookbook Silvia embraces the Mediterranean food she grew up with, taking us far beyond the heavy pasta dishes and rich cakes that Italian cuisine is often (mistakenly) associated with. Italian home cooks are more likely to cook simply, allowing fresh fruit and vegetables, legumes and fish to shine, with sparing use of dairy, meat, animal fats and sugars.
Buy now
Buy now
---