A variation on a classic from Stephanie Alexander's Kitchen Garden Companion: Cooking.
The inclusion of broccoli is a 'ring-in' addition to a classic way with spaghetti. I prefer to use penne for this variation as it seems to complement the weight of the broccoli pieces.
BROCCOLI CARBONARA
Serves 2
Ingredients
Salt
250 g penne or pasta of choice
350 g broccoli, cut into small florets, stems peeled and cut into thin rounds
3 free-range egg yolks
2 tablespoons pouring cream
2 tablespoons grated parmesan
2 tablespoons extra-virgin olive oil
75 g streaky bacon, cut into thin strips
sea salt and freshly ground pepper
Method
Preheat oven to 100°C and put an ovenproof serving bowl inside to warm.
Fill 2 large heavy-based saucepans with lightly salted water and bring to the boil over high heat. Drop penne into one and boil for about 12 minutes or until al dente. Drop the broccoli into second pan. When water returns to the boil, cook for 2 minutes exactly, then scoop broccoli with a slotted spoon into a colander resting over a large mixing bowl.
Put egg yolks, cream and parmesan in a bowl. Lightly whisk and set aside. When pasta has 3–4 minutes cooking time left, heat olive oil in a large heavy-based non-stick frying pan over medium heat and sauté bacon until it starts to crisp. Tip in broccoli and toss.
Drain pasta in a colander, reserving a spoonful of cooking water. Immediately add pasta to broccoli and bacon mixture. Toss to mix. Add reserved pasta water to egg mixture. Remove frying pan from the heat, then tip in egg, cream and cheese mixture and shake to thicken. Transfer to the heated serving dish and season to taste. Serve at once.
---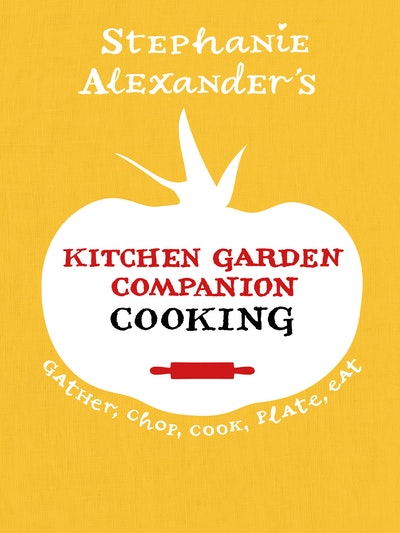 In this new paperback edition, Stephanie Alexander's Kitchen Garden Companion Cooking, Stephanie has added more than 20 new delicious and reliable recipes in addition to the 250 recipes first published in her landmark book Stephanie Alexander's Kitchen Garden Companion, first published in 2009. As the second volume companion to Kitchen Garden Companion Growing, this cookbook is a comprehensive guide for making the most of the produce you've grown yourself to create delicious meals for family and friends.
Buy now
Buy now
---