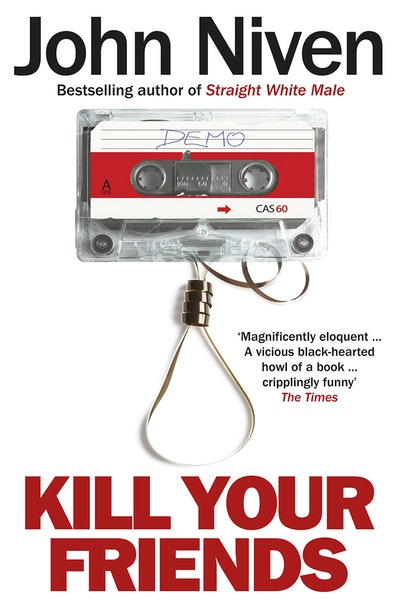 Published:

1 September 2010

ISBN:

9781407010953

Imprint:

Cornerstone Digital

Format:

EBook

Pages:

336
Kill Your Friends
---
---
---
A scabrous, darkly humourous satire of the music industry, by a former A&R man.
***Now available for preorder: KILL 'EM ALL, the stunning sequel to KILL YOUR FRIENDS***NOW A MAJOR MOTION PICTURE STARRING NICHOLAS HOULT, ED SKREIN AND JAMES CORDEN.
Meet Steven Stelfox.
London 1997: New Labour is sweeping into power and Britpop is at its zenith. A&R man Stelfox is slashing and burning his way through the music industry, fuelled by greed and inhuman quantities of cocaine, searching for the next hit recordamid a relentless orgy of self-gratification.
But as the hits dry up and the industry begins to change, Stelfox must take the notion of cut throat business practices to murderous new levels in a desperate attempt to salvage his career.
Published:

1 September 2010

ISBN:

9781407010953

Imprint:

Cornerstone Digital

Format:

EBook

Pages:

336
Praise for Kill Your Friends
One of the evilest, most vicious, despicable characters ever. I couldn't put it down.

James Dean Bradfield, The Manic Street Preachers
Kill Your Friends gladly hammers the final and needed nail into the coffin of self-serving and undignified spin that was "Cool Britannia". It exposes a world that seethes alongside us and in which we all collude but whose nasty little machinery is rarely glimpsed. The novel is furiously, filthily funny, and, I imagine, tragically true.

Niall Griffiths
Anyone working in or trying to get into the music industry should read this book. Niven grotesquely portrays the short term disposability of this world with a great eye for detail and a stockpile of hilarious insults. Throw in some murder and major brand obsession and you have an indie American Psycho.

James Brown
The anti-hero of John Niven's Kill Your Friends is magnificently eloquent in an utterly sewer-minded way...A vicious, black-hearted howl of a book...A realistic portrait of the music industry, doing for it what The Player did for Hollywood. Having spent ten years in the business [Niven's] insider knowledge, coupled with the kind of headlong, febrile prose that would have Hunter S. Thomson happily emptying both barrels into the sky, results in a novel that is cripplingly funny in the way that only the very darkest comedy can be.

Chris Power, The Times
A rollicking tale of record company excess...Hysterical...Niven worked in the UK music industry for 10 years and his insider knowledge pays off...This is truly an account of a lost era, a brilliant description of the last decadent blow-out.

Matt Thorne, Independent on Sunday
Brilliant...Hilariously scabrous...Niven's mix of truth and fiction means Kill Your Friends might just be the best book ever written about the music industry. I say might because I've not read them all, but I've read an awful lot and his is the most savage, the most unforgiving, the funniest and the cruellest.

Rob Fitzpatrick, Word Magazine
John Niven's Kill Your Friends might just be the most exciting British novel since Trainspotting...Although the tone - a mixture of breathtakingly black-hearted cynicism, hyperbolically dark comedy and liberal sprinklings of violence - will invite comparisons with American Psycho and Bright Lights Big City, Niven brings a uniquely vibrant tone to the page with take-no-prisoners language that manages to be equal parts comic and shocking.

John Naughton, Word Magazine
The fickle music industry is ripe for satire and here former record-label man Niven creates a compelling and hilarious portrait.

Shortlist
Dark, twisted... and also laugh-out-loud funny

TNT Magazine
...absolutely riveting.

Cerys Matthews, Daily Express
'Brilliant. It made me ill with laughter. The filthiest, blackest, most shocking, most hilarious debut novel I've read in years.'

India Knight