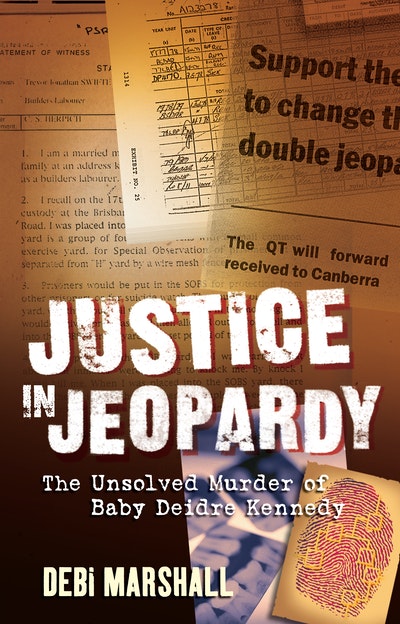 Published:

1 July 2011

ISBN:

9781742745558

Imprint:

Random House Australia

Format:

EBook

Pages:

368
Justice In Jeopardy
The Unsolved Murder of Baby Deidre Kennedy
---
---
---
The shocking story of the unresolved murder of baby Deidre Kennedy.
The shocking story of the unresolved murder of baby Deidre Kennedy.
As her parent's slept on Friday April 13, 1973 17-month old Deidre Kennedy was snatched from her cot. Tossed like trash on top of a toilet block in a nearby park, dawn revealed the obscenity of her murder. Dressed in women's underwear, her chubby thigh showed bruising inflicted by bite marks. She had been bashed, sexually assaulted and strangled. There was no eyewitness. No motive. No confession. No closure for Deidre's family. Three decades on, they are still waiting.
In 1985 - eleven years after her death - former RAAF technician Raymond John Carroll was found guilty of her murder and later acquitted on appeal. In 2000, he was found guilty of perjury on the grounds that he lied when he said he did not kill the baby. Acquitted for the second time - this time on double jeopardy - the case went all the way to the Australian High Court, which dismissed the Crown's appeal. He could never be re-tried again.
A bewildered Australian public, at a loss to understand the technicalities of the law clamoured for explanations. Late in 2003 the United Kingdom successfully passed a Bill that modified the rule of double jeopardy. The Crown now has a right to appeal acquittals when 'new and compelling evidence' comes to light - laws which operate retrospectively. In Australia, change has been excruciatingly slow.
This is an intensely personal story about the casualties of murder: private lives thrown open to public scrutiny, families shattered by grief and a loss of faith in the judicial system. Against legal advice and for the first time, Raymond John Carroll and his family spoke to Debi Marshall about the crime for which he has been twice accused and which, despite two acquittals, continues to haunt him. Informed by interviews with Deidre's shattered family, police, lawyers and forensic scientists,Justice in Jeopardy is a thought-provoking and harrowing true story that will make you weep. For Deidre, whose short life and appalling death spearheaded the call for an overhaul of an ancient law called Double Jeopardy; for her heartbroken family whose lives have been ruined by her murder and for justice denied.
Published:

1 July 2011

ISBN:

9781742745558

Imprint:

Random House Australia

Format:

EBook

Pages:

368