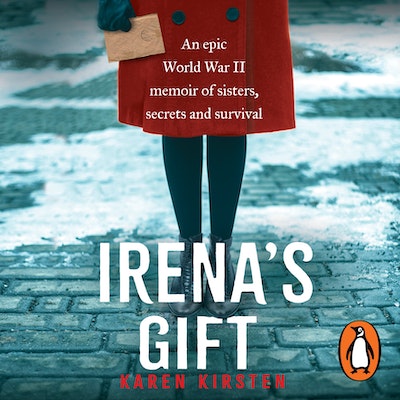 Published:

18 July 2023

ISBN:

9781761341342

Imprint:

Penguin Random House Australia Audio

Format:

Audio Download

Length:

12 hr 29 min

Narrator:

Karen Kirsten

RRP:

$34.99
Irena's Gift
An epic World War II memoir of sisters, secrets and survival
---
---
---
If we seal off the past, how will we ever know the truth?
In 1942, in Nazi-occupied Poland, a Jewish child was smuggled out of the Warsaw ghetto in a backpack. That child was Karen Kirsten's mother, but she knew nothing about this extraordinary event until one day a letter arrived from a stranger.
After eventually discovering the grandparents she loved dearly were in fact not her biological grandparents, Karen travelled the globe to uncover her family's past and to find the answers to baffling questions: why did her adoptive grandmother treat Karen's mother so unkindly? Why did she hide the truth that she was actually her mother's aunt? And why, if she appeared to dislike Karen's mother, did she risk her life to save her and bring her to Australia?
Irena's Gift weaves together a mystery, history and memoir to tell the story of a family torn apart by war. From the glittering concert halls of interbellum Warsaw to the vermin-infested prison where a Jewish woman negotiates with an SS officer to save her sister's child, Irena's Gift is about the lies we tell to survive and what happens when those lies unravel. It is about the extraordinary resilience of three generations of women, and the sacrifices made for love.
Published:

18 July 2023

ISBN:

9781761341342

Imprint:

Penguin Random House Australia Audio

Format:

Audio Download

Length:

12 hr 29 min

Narrator:

Karen Kirsten

RRP:

$34.99
Article