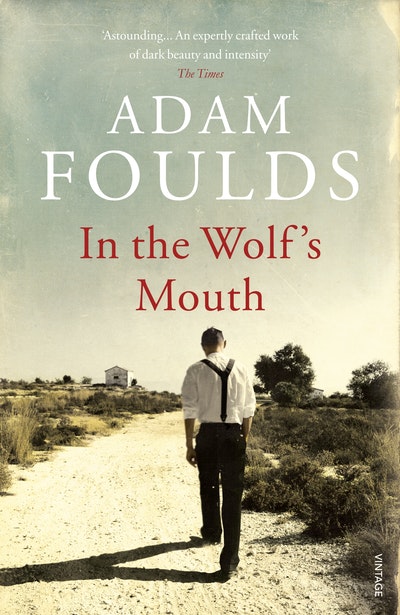 Published:

6 February 2014

ISBN:

9781448181612

Imprint:

Vintage Digital

Format:

EBook

Pages:

336
In the Wolf's Mouth
---
---
---
The eagerly awaited follow-up to The Quickening Maze by the brilliant young prize-winner.
From the author of the Man Booker shortlisted The Quickening Maze
In the Wolf's Mouth follows the lives of four very different men, all of them navigating the chaos and horror brought about by the Second World War. Fighting for the Allies are Will Walker, an ambitious English Field Security Officer and Ray Marfione, a wide-eyed Italian-American infantryman who dreams of home and the movies. Meanwhile in Sicily, Angilù, a young shepherd caught up in corruption and Cirò Albanese, a sinister Mafioso, are fighting their own battles with devastating consequences.
Published:

6 February 2014

ISBN:

9781448181612

Imprint:

Vintage Digital

Format:

EBook

Pages:

336
Praise for In the Wolf's Mouth
Astounding vivid snapshots that somehow mimic the fractured intensity of real firefight: the delicately crafted but deceptively powerful images of each staccato chapter linger and resonate. Reading this book is like remembering war…an expertly crafted work of dark beauty and intensity.

Patrick Hennessey, The Times
Wonderful – subtle and atmospheric. Foulds's prose frequently verges on poetry – with its intensity and neat turn of phrase … impressive.

Frances Perraudin, Observer
Adam Foulds writes like an angel about devilish things... The supple, sensuous beauty of his prose is bewitching… The pace and tension of a political thriller… Superb novel.

Rebecca Abrams, Financial Times
Powerful and persuasive… As admirable as it is disturbing.

Allan Massie, Scotsman
Adam Foulds is a young British novelist of striking talent and eclecticism. His style is first-rate, combining precision with a rich poetic imagination. He is able to do more with language, and at greater depth, than most other British novelists of his generation.

Andrew Holgate, Sunday Times
The pellucid elegance of Foulds's fictional voice is entirely his own. He conjures with exhilarating assurance the sense of a postwar collapse of order so complete as to be almost voluptuous.

Jane Shilling, Prospect
Ambitious and diffuse... Foulds is a master of concision and clarity, and his prose is "poetic" in the best sense: never florid or rambling, each short sentence weighed and parcelled out.

Tom Gatti, New Statesman
The bleakness of Foulds's message…is not reflected in the richness of the prose or characterisation of this deep, dark, demanding tale.

Lesley McDowell, Independent on Sunday
[Foulds] matches his flair for rhythm with a skilful ownership of both his prose and a complex narrative. All delivered with a minimalist restraint.

Will Dean, Independent
There's much to admire in this novel. Foulds has a searching eye for detail and an apparently helpless compulsion to wring imagery from his subject.

Tim Martin, Daily Telegraph
Foulds's writing invites...returning to consider each layer of the composition...there is a prismatic quality to the language which allows various levels of interpretation to be separated out and refined.

Thea Lenarduzzi, Times Literary Supplement
Wonderfully enticing.

Lucian Robinson, Literary Review
Individual scenes are often gripping, shocking or moving.

John Harding, Daily Mail
The bloody horrors of conflict are captured with visceral aplomb in this fine, minimalist novel.

i
Some of the most vividly evoked battle scenes I've read – he doesn't shy away from taking risks … chilling and touching all at the same time.

John Preston, Evening Standard
Foulds has the literary intelligence to turn the commonplace on its head.

Alberto Manguel, Guardian
A high-class thriller … Foulds has a literary novelist's feel for [Sicily's] harsh beauty.

Mail on Sunday
Foulds' prose is superb… It reads like Catch-22 written by Evelyn Waugh.

Good Book Guide
It's an ambitious book and the writer relates his story with poetic precision

i (The paper for today)