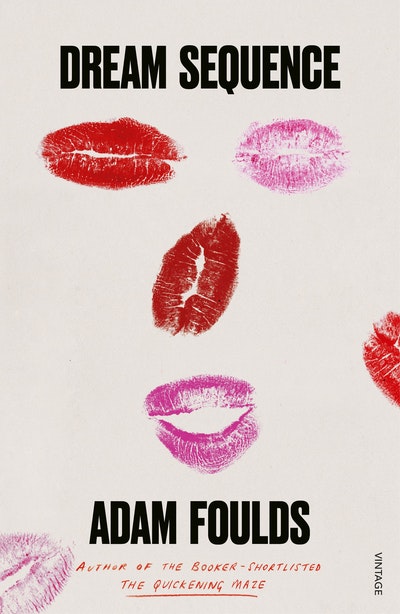 Published:

3 January 2019

ISBN:

9781473555952

Imprint:

Vintage Digital

Format:

EBook

Pages:

224
Dream Sequence
---
---
---
A novel about the brutality of fame and what happens when fandom turns to obsession from the Booker-shortlisted author of The Quickening Maze
A novel about the brutality of fame and what happens when fandom turns to obsession, from the Booker-shortlisted author of The Quickening Maze
Henry Banks, a brilliant, anxiously ambitious young actor prepared to go to any length for a role, is finally on the brink of achieving serious celebrity.
However, Henry has - unwittingly - become an important part of the life of recently-divorced Kristin. Sitting in her beautiful, empty Philadelphia home, Kristin's obsession with Henry grows and she becomes convinced they are destined to be together. Flying to London she resolves to bring their relationship to fruition no matter what the cost.
'This mordantly clever story about fame, fantasy and narcissism is deliciously funny. Foulds is a very fine writer' Observer

Published:

3 January 2019

ISBN:

9781473555952

Imprint:

Vintage Digital

Format:

EBook

Pages:

224
Praise for Dream Sequence
Pitch-perfect sentence by pitch-perfect sentence, Foulds weaves a quiet but harrowing tale of obsession that takes the reader into the characters' tragic downward spiral - Dream Sequence is as good a novel as I have read in a while.

Lawrence Osborne, author of Beautiful Animals
[Adam Foulds's] signature psychological sensitivity and attention to detail... shine through [in Dream Sequence].

Thea Lenarduzzi, Vogue, **Books to Look Out for in 2019**
Foulds's observations are spot-on and his prose is delicious sharp.

Economist, 1843
[A] lucid, richly detailed and tense novel.

Carl Wilkinson, Financial Times
Everyone loves a good page-turner full of aspirational scene-setting, but few literary novelists dare to try it. [Dream Sequence] is a sexy, celeby drama. just like The Great Gatsby, this novel billows around you like a queasy dream, its grand scenery and awful characters combining to take us out of the real world and into another, oddly shimmering version of it.

Melissa Katsoulis, The Times
Foulds. does not disappoint with this psychological exploration that tests the limits of control.

Jemma Crow, UK Press Syndication
Absorbing and beautifully written, Foulds' novel is particularly illuminating on the actor's craft and the nature of fame.

Anthony Gardner, Mail on Sunday
An exquisitely concocted, riveting account of artistic ambition and unrequited love. Foulds is proving himself to be a very versatile writer of intelligence and charm.

Spectator
Incisively well-written and alluringly readable. This prose is truly poetic, being concise, not impasto. This novel moves like a thriller. A terrific book about the realities and delusion of fame distorting the way we live now: not to be missed.

Evening Standard
A nuanced, original and sharply observed study of fame and power. [a] spare and beautifully written novel.

Stephanie Cross, Daily Mail
Adam Foulds is the real deal. it's the details of the writing itself - the precision of the word selection combined with the precision of the observation - that make for such enjoyable reading.

Edward Docx, Guardian
Funny, dramatic and poignant. The final five pages of the novel resolve in a masterly poetic unification of suspense and feeling. Adam Foulds. has won many literary awards and this new work deserves to win another.

Lindsay Duguid, Tablet
[Foulds] is an astute observer of behaviour and speech. acutely tuned in to his characters' physical experience. many sentences in this book have wings.

Alice O'Keeffe, New Statesman
[A] live-wire exploration of sex and power.

Anthony Cummins, Metro
This mordantly clever story about fame, fantasy and narcissism. is deliciously funny. Foulds is a very fine writer.

Johanna Thomas-Corr, Observer
Foulds's style is the instrument of a virtuoso, at once rich, resonant and startlingly precise. in sentence after perfect sentence, [he] has created something altogether more strange: an acid, amoral tale of hunger and haunting.

Matt Rowland Hill, Literary Review
Dream Sequence notices everything. intimate and visceral, scratching at the glossy surface of the lives of the characters and underpinning the "vacuum" they move through, together but apart.

Sheena Joughin, Times Literary Supplement
Foulds' prose is both evocative and scrupulous. It's a novel wired with anticipation of the central characters' eventual meeting, and it doesn't disappoint.

Peter J. Smith, Times Higher Education
With shades of JG Ballard, Foulds teases violent subtexts from the blandest urban environments. His polished prose fits the two empty lives perfectly. [a] chilling tale.

Chris Moss, Prospect