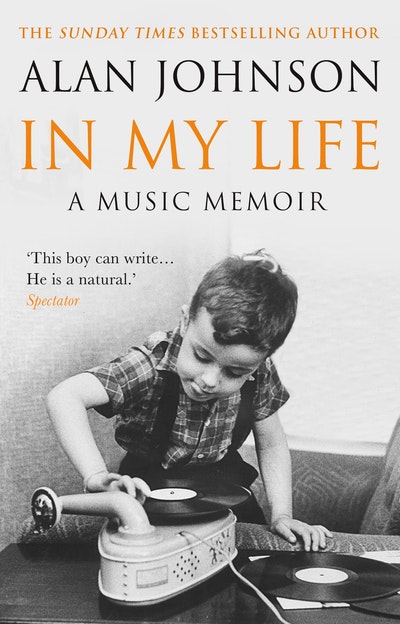 Published:

27 June 2019

ISBN:

9780552174763

Imprint:

Corgi

Format:

Paperback

Pages:

272

RRP:

$22.99
In My Life
A Music Memoir
---
---
---
Before he became one of the most respected and liked political figures of the past two decades, Alan Johnson wanted to be a rock 'n' roll star. This is the warm, funny and affecting story of how he nearly made it...
'Warmth, wit and honesty make this such a satisfying read' Daily Mail
Supermarket worker, postman, union official, father of three.
Dansettes, dancehalls, smoky pubs, rock-n-roll West London.
There are two sides to Alan Johnson.
___________________
From the moment a young Alan Johnson first twanged the strings of his plastic 'Tommy Steele' guitar, he was determined to become a rock star.
Alan's life has always been lived to a musical soundtrack. His earliest memories of the bleak, post-war, pre-rock 'n' roll west London landscape into which he was born are suffused with the melodies that wafted from the rented Bakelite wireless in the slum where he lived with his frail mother and dauntless sister. His love affair with pop music blossomed alongside the music itself, which exploded into being in the mid-1950s and came to embody the iconoclastic spirit of a new era.
In this memoir, Alan looks back at his pursuit of rock stardom through the music that accompanied it – on vinyl, cassette tape or blasting from the stages of the Marquee club in Soho or the Wimbledon Palais; the sounds of Chuck Berry and Lonnie Donegan, of the Yardbirds and Dylan, of Bowie, Elvis Costello and Springsteen . . . not forgetting the Beatles, the band he has worshipped since 1963.
In My Life recalls with affection a vanished world of Flower Power and platform shoes. Honest, poignant and very funny, it is more than just a nostalgic celebration of music: it offers a new perspective on the singular life of Alan Johnson the man.
___________________
PRAISE FOR IN MY LIFE:
'Radiates the author's easygoing charm' Spectator
'Loving slice of social history' Daily Express
'Very readable' New Statesman
'Charming memoir' Mail on Sunday
Published:

27 June 2019

ISBN:

9780552174763

Imprint:

Corgi

Format:

Paperback

Pages:

272

RRP:

$22.99
What a lovely writer he is: funny. modest, unsentimental and utterly without self-pity . . . warmth, wit and honesty make this such a satisfying read.

Marcus Berkmann, DAILY MAIL
Radiates the author's easygoing charm . . . at the peak of his youthful fame he auditioned for a band called the Jaywalkers . . . alas he was unsuccessful. Who knows what might have been? But what the pop world lost, the world of politics gained.

Chris Mullin, SPECTATOR
His charming memoir details the ways in which records by his heroes . . . have formed the soundtrack to his life.

MAIL ON SUNDAY 'Books of the Year'
This memoir will give you that warm glow of finding a friend who shares your passions . . . In this loving slice of social history, he beautifully mixes that passion with the story of a young man growing up and succeeding in post-war Britain.

DAILY EXPRESS
In prose and in person, Johnson has always had an everyman likeability . . . his take on the "good old days" is sparely unsentimental . . . very readable.

Stuart Maconie, NEW STATESMAN