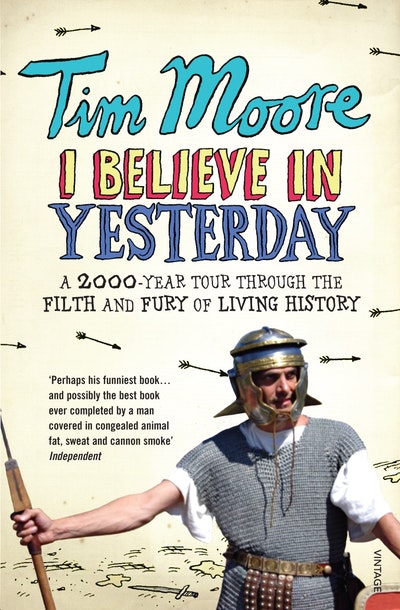 Published:

1 September 2010

ISBN:

9781407021034

Imprint:

Vintage Digital

Format:

EBook

Pages:

256
I Believe In Yesterday
My Adventures in Living History
---
---
---
'Hailed as the new Bill Bryson, he in fact a writer of considerably more substance' - Irish Times
In 1989, Tim Moore moved into the last house in Chiswick with an outside toilet. Intrigued by a subsequent encounter with an elderly former resident, he finds himself inspired to travel back to the land before now, experiencing the hardships and pleasures enjoyed and endured by Moores gone by.
The journey that follows takes him through the world of historical re-enactment: living on bramble leaves, Johnny cake and porridge, Moore travels from the Iron Age to the Steam Age, from Roman legionary to Tudor master to Yankee spy, sharing straw beds and daft hats with period obsessives driven by socio-historical curiosity, disillusionment with the modern world, or a simple nostalgia for campfires, flatulence and brutality.
I Believe in Yesterday is an odyssey through 2,000 years of filth and fury, to a time where men were men, the nights were black, the world was your outside toilet and everything tasted faintly of leeks.
Published:

1 September 2010

ISBN:

9781407021034

Imprint:

Vintage Digital

Format:

EBook

Pages:

256
Praise for I Believe In Yesterday
Moore has never been afraid to suffer for his art. In pursuit of comic travelogue gold, he's followed in the footsteps of a nineteenth-century explorer; driven, silver-suited, across Europe in a temperamental Rolls-Royce Silver Shadow; cycled the 3,500km-plus route of the Tour de France; and made a pilgrimage to Santiago accompanied only by a donkey. But none of this compares to what he endured for this superbly funny new book

Time Out
The tone is light and Moore a delightful writer

London Lite
The main lesson of this entertaining trawl through history-as-dressing-up is that living the way we used to is not much better

Times Literary Supplement
Hugely enjoyable... Whether he's firing cannons, battling Gauls or forgetting how to get into his codpiece, moore is always entertaining, and this book is laugh-out-loud funny and genuinely educational

The Gloss
A witty, inventive and engaging book

Waterstones Books Quarterly
His funniest book... Possibly the best book ever completed by a man covered in congealed animal fat, sweat and canon smoke

Independent
A live and amusing... interesting and entertaining read

TNT Magazine
One of our most amiable writers

The Times
Moore is a talented and very funny writer

Daily Telegraph
The world's funniest travel writer

Observer