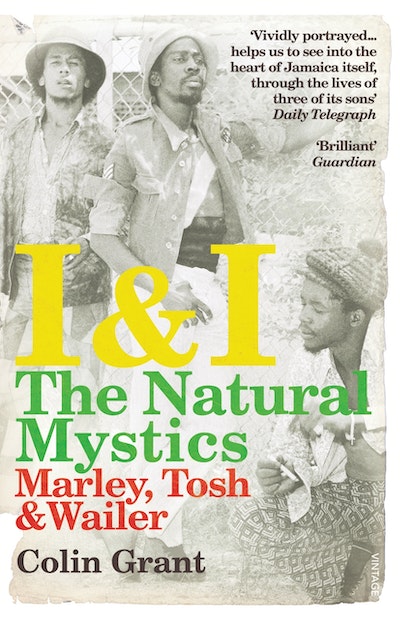 Published:

1 April 2011

ISBN:

9781409027768

Imprint:

Vintage Digital

Format:

EBook

Pages:

336
I & I: The Natural Mystics
Marley, Tosh and Wailer
---
---
---
The history of the original Wailers - Tosh, Livingstone and Marley - as never before told
The Wailers are the undisputed kings of reggae, and one of the biggest and most influential groups of the twentieth century. In the course of their ten years together, Peter Tosh, Bunny Wailer and Bob Marley produced a raft of songs – including 'Get Up, Stand Up', 'I Shot the Sherriff' and 'Stir It Up' – that have come to define an era, and a golden
age in music.
They had, at one stage, been inseparable; three great men united in their ambition for the kind of musical harmony and financial reward that would provide an escape from the Trench Town ghetto of Kingston, Jamaica. On the cusp of success however, they'd been pulled apart, if not by dark forces, then by the elevation of Marley as first among equals and by the razor sharp instincts of Chris Blackwell, the shrewd and charming boss of Island Records.
I & I: The Natural Mystics examines for the first time the history and development of the Wailers, and the overlapping stories of each member in detail. It charts the complex relationship of these three strong personalities, from their influences and origins to the group's slow start, the roller-coaster of their fluctuating fortunes and musical peak, and the politics and ideologies that provoked their split in the mid 1970s. Following their trail from Jamaica through Europe, America, Africa and back to the vibrant and volatile world of Trench Town, Colin Grant travels in search of the last remaining Wailer. He unravels the roots of their charisma, their adoption of the cult of Rastafari, their suspicion of race pimps and Obeah men (witch doctors), and illuminates why the Wailers were not just extraordinary musicians, but also natural mystics.
I & I is a remarkable story of creativity, squandered talent and fierce ambitious rivalry – a mix of reportage and revelatory history by one of our best and brightest non-fiction writers.
Published:

1 April 2011

ISBN:

9781409027768

Imprint:

Vintage Digital

Format:

EBook

Pages:

336
Praise for I & I: The Natural Mystics
This brilliant book is not just about Jamaica, but about ourselves

Maggie Gee, Guardian