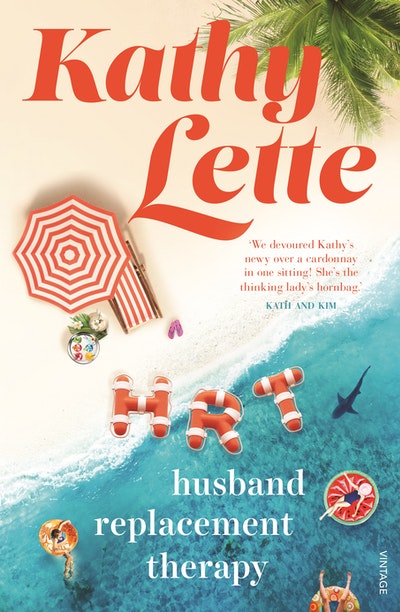 Published:

28 April 2020

ISBN:

9781760890148

Imprint:

Random House Australia

Format:

EBook

Pages:

336
HRT: Husband Replacement Therapy
---
---
---
What do you do when you're told you've got terminal cancer at 50? Take up crochet, get religion and bow out gracefully? Or upend your life and spend every remaining minute exploring new pleasures?
Ruby has always been the generous mediator among her friends, family and colleagues, which is why they have all turned up to celebrate her 50th birthday. But after a few too many glasses of champers, Ruby's speech doesn't exactly go to plan. Instead of delivering the witty and warm words her guests are expecting, Ruby takes her moment in the spotlight to reveal what she really thinks of every one of them. She also accuses her husband, Harry, of having an affair.
Saving the best till last, Ruby lambasts her octogenarian mother for a lifetime of playing her three daughters against each other. It's blisteringly brutal. As the stunned gathering gawks at Ruby, the birthday girl concludes her bravura monologue with the throwaway comment that she has terminal cancer. She has cashed in her life savings and plans on taking her two sisters cruising into the sunset for a dose of Husband Replacement Therapy. Courageous? Or ruthlessly selfish?
But, do they even want to go with her now that she's cast herself off into social Siberia?
Published:

28 April 2020

ISBN:

9781760890148

Imprint:

Random House Australia

Format:

EBook

Pages:

336
Praise for HRT: Husband Replacement Therapy
Feminist social satire. Lette's swingeing irreverence still has the juice to make you laugh out loud.

Cameron Woodhead, The Age
Video
Celebrating Mother's Day with Kathy Lette
We're celebrating Mother's Day with Kathy Lette! To purchase a copy of HRT: Husband Replacement Therapy, please go to this link https://www.penguin.com.au/books/hrt-husband-replacement-therapy-9781760890124 Kathy Lette is a celebrated and outspoken comic writer who has an inimitable take on serious current issues. She is one of the pioneering voices of contemporary feminism, paving the way for Caitlin Moran and Lena Dunham. She first achieved succès de scandale as a teenager with the novel Puberty Blues, which was made into a major film and a TV mini-series. After several years as a newspaper columnist and TV sitcom writer in America and Australia, she's written 11 international bestsellers in her characteristic witty voice, including Mad Cows, How to Kill Your Husband - and Other Handy Household Hints (staged by the Victorian opera) and The Boy Who Fell to Earth. Kathy Lette lives in London, and can often be found at The Savoy drinking a cocktail named after her.
Article
HRT book club notes
Kathy Lette's Husband Replacement Therapy is a perfect spontaneous reading group choice.
Article
Kathy Lette Q&A
We sat down with celebrated comic writer Kathy Lette to talk about throwing her knickers at Tom Jones, the time she met the Queen and more.