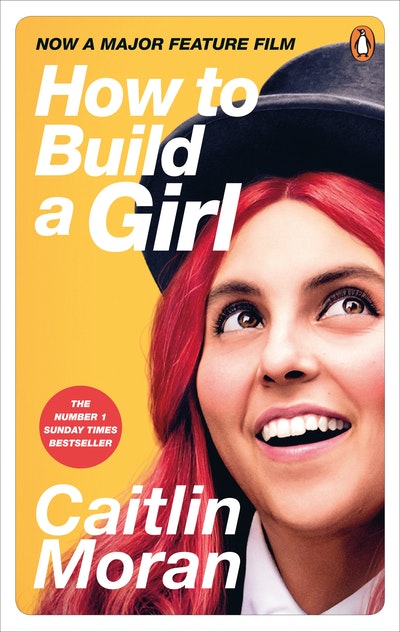 Published:

2 July 2020

ISBN:

9781529103199

Imprint:

Ebury Press

Format:

Paperback

Pages:

368

RRP:

$22.99
How to Build a Girl
---
---
---
The Sunday Times Number One coming-of-age bestseller from the author of How To Be a Woman - soon to be a major motion picture.
Soon to be a major film directed by Coky Giedroyc and starring Ladybird's Beanie Feldstein as Johanna Morrigan and Game of Thrones's Alfie Allen as John Kite
My name's Johanna Morrigan. I'm fourteen, and I've just decided to kill myself.
I don't really want to die, of course! I just need to kill Johanna, and build a new girl. Dolly Wilde will be everything I want to be, and more! But as with all the best coming-of-age stories, it doesn't exactly go to plan.
A Number One Sunday Times bestseller in hardback and paperback, from the award-winning and SundayTimes bestselling author of How to Be a Woman.
Published:

2 July 2020

ISBN:

9781529103199

Imprint:

Ebury Press

Format:

Paperback

Pages:

368

RRP:

$22.99
Praise for How to Build a Girl
spirited coming of age novel romps from strength to strength…I'm a Moran fan

Lionel Shriver, The Times
rude, big-hearted, wise-cracking novel

Christina Patterson, The Sunday Times
a Portnoy's Complaint for girls… when I see this book described as "laugh-out-loud funny" I feel affronted; it could make you laugh out loud with one hand tied behind its back, while wanking itself off to fantasies of Satan. Laughing out loud is just the start

Zoe Williams, The Guardian
an entertaining read, with Moran in fine voice – hilarious, wild, imaginative and highly valuable…Moran is in danger of becoming to female masturbation what Keats was to Nightingales…

Barbara Ellen, The Observer
Moran also writes brilliantly about music, and especially about what music can do. She carries Johanna through this novel with incredible verve, extravagant candour, and a lot of heart. Johanna is … a wonderful heroine. A heroine who cares, who bravely sallies forth and makes things happen, who gives of herself, who is refreshingly unashamed. She's so confident, it's glorious

The Independent on Sunday
there's so much real feeling too. Johanna's vulnerability and bravado, as she moves out of her world and falls in love is beautifully done' or ' and running through it all, with a visceral power that most writers should envy, is the shame and grinding anxiety of being poor

Sunday Times
This isn't a sleek, slick novel, but it is a rambunctious, raw-edged, silly-profound and deeply relatable guide to what your worst mistakes can teach you, and it has much to offer teenagers both actual and inner

The Independent
Brilliantly observed, thrillingly rude and laugh-out-loud funny

Helen Fielding
I have so much love for Caitlin Moran

Lena Dunham
Binge-read all of #HowToBuildAGirl in one sitting. Even missed supper. A first

Nigella Lawson
She writes with breathtaking brio…Moran shows her shining soul — which is even more remarkable than her wit — when she writes about being young, looking for love and the utter vileness of the class system . . .almost every page has something on it which makes you smile, makes you sad or makes you think — often all three at once, in one sentence

Julie Burchill, The Spectator
A riotous read with jokes galore cut through with lightly handled serious observations about the nature of poverty and the challenges of emerging female sexuality. It is also stunningly rude…

Sunday Express
Exuberant, funny coming-of-age tale with a highly-literate, resourceful Wolverhampton teen at its centre. As building girls goes this is one alternative instruction manual every woman should read

Daily Express
The self-conscious agonies of precocious yet sensitive Dolly ring painfully true, while the witty sex scenes, boozy anecdotes and one-liners make this great fun…

Sunday Mirror
An exuberant coming of age novel in DMs and ripped tights

Tatler
So funny it hurts. How to Build a Girl is Adrian Mole meets Fear of Flying. I predict they'll be tears a plenty – both of laughter and excruciating recognition – on sun-loungers this summer

Harper's Bazaar
Moran is a brilliantly funny writer, and How To Build A Girl is brimful of jokes

FT
This very British (and very naughty) coming-of-age novel will have you in literal hysterics!

Company
terrific - funny, honest and deliciously rude

Alice O'Keefe, The Bookseller
This is going to be a bestseller…A sharp, hilarious and controversial read

The Bookseller
I laughed aloud at this funny, outrageous story of a girl from Wolverhampton council estate who reinvents herself as Dolly Wilde

Woman & Home
as irreverent, amusing and vibrant as Moran herself

GQ
rowdy and fearless ... sloppy, big-hearted and alive in all the right ways

New York Times
Ms. Moran['s] ... funny and cheerfully dirty coming-of-age novel has a hard kernel of class awareness ... sloppy, big-hearted and alive in all the right ways.

Dwight Garner, New York Times