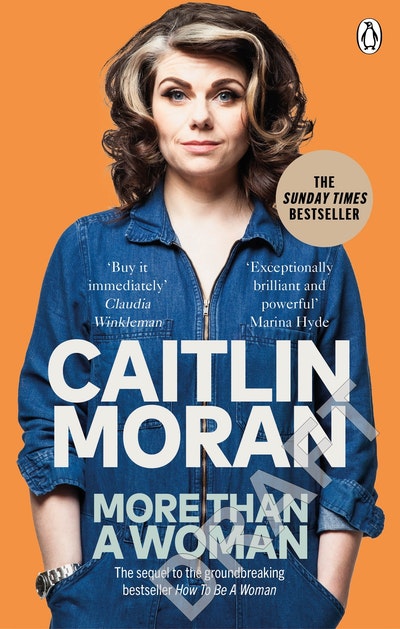 Published:

20 July 2021

ISBN:

9781529102772

Imprint:

Ebury Press

Format:

Paperback

Pages:

288

RRP:

$22.99
The Unseen World
---
---
---
The follow-up to the international bestseller and multi-award-winning How To Be a Woman, with Caitlin exploring the lives of older women in her inimitable style.
THE SUNDAY TIMES NUMBER ONE BESTSELLER
'Exceptionally brilliant and powerful' Marina Hyde
'This book is a hilarious memoir, a passionate polemic, and a moving manifesto on how to be a decent person and try, in the face of countless stresses, to live a full open-hearted, joyous life' Sunday Times
A decade ago, Caitlin Moran thought she had it all figured out. Her instant bestseller How to Be a Woman was a game-changing take on feminism, the patriarchy, and the general 'hoo-ha' of becoming a woman. Back then, she firmly believed 'the difficult bit' was over, and her forties were going to be a doddle.
If only she had known: when middle age arrives, a whole new bunch of tough questions need answering. Why isn't there such a thing as a 'Mum Bod'? How did sex get boring? What are men really thinking? Where did all that stuff in the kitchen drawers come from? Can feminists have Botox? Why has wine turned against you? How can you tell the difference between a Teenage Micro-Breakdown, and The Real Thing? Has feminism gone too far? And, as always, WHO'S LOOKING AFTER THE CHILDREN?
Now with ageing parents, teenage daughters, a bigger bum and a To-Do list without end, Caitlin Moran is back with More Than A Woman: a guide to growing older, a manifesto for change, and a celebration of all those middle-aged women who keep the world turning.
Published:

20 July 2021

ISBN:

9781529102772

Imprint:

Ebury Press

Format:

Paperback

Pages:

288

RRP:

$22.99
Praise for The Unseen World
I absolutely love this wise, compassionate novel that challenges our definitions of family, of intelligence, and of love. Equal parts cerebral and heartbreaking, The Unseen World is utterly compelling, and its heroine Ada Sibelius is irresistible in all her thorny vulnerability. Liz Moore has given us a masterful version of our own modern condition, and I cannot wait to place this book in the hands of my most ardent reader friends.

Robin Black, author of Life Drawing
In sparse, urgent prose, Liz Moore delivers a staggeringly beautiful meditation on love, legacy, and the emotional necessities that make life worth living. That lump in your throat? You won't quite know how it got there?nor believe how long it will stick around once the final page is turned.

Tea Obreht, author of The Tiger's Wife
I was so thoroughly engaged with The Unseen World. What a wonderful, fulfilling, riveting read, alive with complex characters, a thrilling story, wit, and, above all, a deep sense of compassion.

Jami Attenberg, author of Saint Mazie
A striking examination of family, memory, and technology. Mysteries build, and Moore's gift for storytelling excels. This is a smart, emotionally powerful literary page-turner.

Publishers Weekly
Intelligent and brilliantly absorbing... Filled with achingly memorable scenes and beautifully nuanced writing, Moore's latest is a stunner in its precise take on identity and the compromises even the most righteous among us must make to survive life's challenges with grace.

Booklist
Moore creates a continually compelling drama ... She is masterful at evoking powerful personal connections as well as the intellectual excitement of the dawning computer era.

BBC Culture
A cerebral, page-turning thriller . an elegant and ethereal novel about identity and the dawn of artificial intelligence, and a convincing interior portrait of a young woman.

Washington Post
Smart and touching

Good Housekeeping
[A] captivating page-turner . a wry, gentle coming-of-age story and an intriguing glimpse into the development of artificial intelligence and virtual reality . It is also an incisive, insightful, and compassionate examination of the complexities of family and identity

Boston Globe
Fiercely intelligent....Moore evocatively renders the remoteness of even our closest loved ones

New York Times Book Review
Elegantly written with thoughtful and affecting prose, Liz Moore's The Unseen World is a powerful story about love, memory, acceptance and discovery.

Culture Fly
This book is a hilarious memoir, a passionate polemic, and a moving manifesto on how to be a decent person and try, in the face of countless stresses, to live a full open-hearted, joyous life

Sunday Times
Superbly funny

Guardian
She writes with such heartening VIM and warmth about all the important stuff. More Than A Woman is my FRIEND, untangling a lot of my confusion about doing feminism right

Marian Keyes
Exceptionally brilliant and powerful. Her new book is incredible - I shrieked with laughter throughout and probably cried solidly for the last 30 pages. She is simply one of the most significant people of her generation. Her writing has helped so many.

Marina Hyde
I wish I'd read Caitlin Moran's More Than A Woman 40 years ago. But like with the tree-planting, the second best time is now. You just have to.

Hugh Laurie
One of very few who can write inspirationally without becoming platitudinous. Her prose is so lucid and personal and funny you don't even notice that what you're reading is a manifesto.

David Baddiel
Warning - you won't sleep until you've inhaled every single word ... BUY IT IMMEDIATELY

Claudia Winkleman
More Than a Woman examines middle age, motherhood, sex and, of course, feminism all with Moran's signature wit.

Evening Standard
Funny, life-affirming and wise.

The Observer