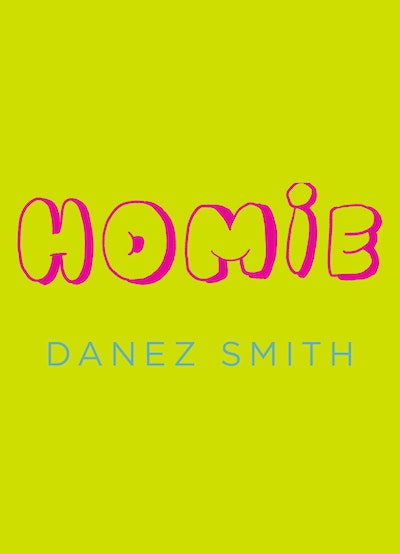 Published:

20 February 2020

ISBN:

9781473581319

Imprint:

Vintage Digital

Format:

EBook

Pages:

96
Homie
---
---
---
The highly anticipated new collection from 2018 Forward Prize winner and poetic star, Danez Smith.
'A deeply personal collection... and provocative and moving meditation on friendship, sex and blackness,' Guardian
'In its cutting compassion, Homie is as much a celebration of loved ones' lives as it is a lament for their loss, equally a war cry for kinship and the burial dirge after the battle' Amanda GormanA mighty anthem about the saving grace of friendship, Danez Smith's highly anticipated collection Homie is rooted in their search for joy and intimacy in a time where both are scarce. In poems of rare power and generosity, Smith acknowledges that in a country overrun by violence, xenophobia and disparity, and in a body defined by race, queerness, and diagnosis, it can be hard to survive, even harder to remember reasons for living. But then the phone lights up, or a shout comes up to the window, and family - blood and chosen - arrives with just the right food and some redemption.
Part friendship diary, part bright elegy, part war cry, Homie is written for friends: for Danez's friends, for yours.
'This is a book full of the turbulence of thought and desire, piloted by a writer who never loses their way' New York Times
Published:

20 February 2020

ISBN:

9781473581319

Imprint:

Vintage Digital

Format:

EBook

Pages:

96
I'd like to invent or order up new adjectives to describe the startling originality and ambition of Smith's work. I'd like to unwrap some brand-new words, oddly pronged words, to convey their wary intelligence and open heart. Instead, I can only yoke together antonyms to convey anything of their particular vibration: their joy-dread, hunger-contentment, holy-profanity... The radiance of Homie arrives like a shock, like found money, like a flower fighting through concrete... This is a book full of the turbulence of thought and desire, piloted by a writer who never loses their way. That compass — provided by friends, influences, collaborators — stays steady.

Parul Sehgal, New York Times
A deeply personal collection... and provocative and moving meditation on friendship, sex and blackness.

Guardian
Danez Smith has always been the most talented voice of our generation, but it's here, in their third collection, that their virtuosic abilities are matched by the ambitiousness of their heart. Here, they've built a table big enough to hold all of it: the small shames that accompany grief, the ecstasy of chosen kinship, "your people, my people, all that hashappened / to us"

Franny Choi, author of Soft Science
This book reads as gospel, as righteous text that carves a religion out of friendship... Blessed be Danez Smith, for allowing us that closeness... Smith holds genius in them, and we are lucky that they choose to share it with usso abundantly

Fatimah Asghar, author of If They Come For Us
Homie is how we survive – in verse... For Danez, friendship is a forest ripe with foliage and possibility... They offer us poems of seed and breath, charging us to reimagine the world as inhabitable and safe in this skin and these bodies beckoning us back to dirt

Tish Jones
Homie is deeply moving and funny… [and] a step change from Smith's earlier work

Lanre Bakare, Guardian