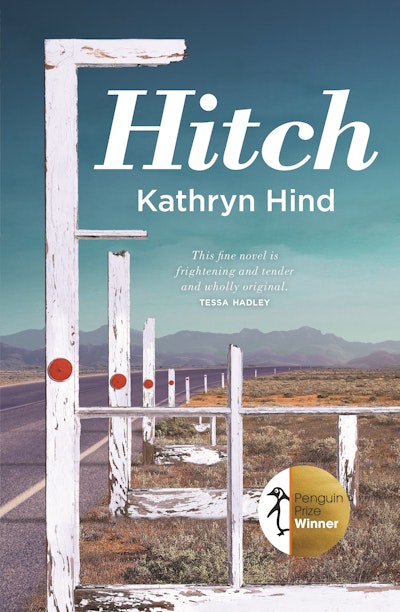 Published:

4 June 2019

ISBN:

9780143794349

Imprint:

Hamish Hamilton

Format:

Trade Paperback

Pages:

256

RRP:

$32.99
Hitch
---
---
---
Winner of the 2020 Betty Trask Award, the inaugural Penguin Literary Prize and a Canberra Critics Circle Award.
Amelia stands beside a highway in the Australian desert, alone except for her dog and the occasional road train that speeds past her raised thumb.
After her mother's funeral, Amelia was confronted by Zach and reminded of the relationship they had when she was a teenager. She feels complicit and remains unable to process what happened. So she ran. Her best friend, Sid, is Zach's cousin and the one person in the world she can depend upon.
But, of course, the road isn't safe either. Amelia is looking for generosity or human connection in the drivers she finds lifts with, and she does receive that. But she is also let down.
Hitch is a raw exploration of consent and its ambiguities, personal agency and the choices we make. It's the story of twenty-something Amelia and her dog Lucy hitchhiking from one end of the country to the other, trying to outrun grief and trauma, and moving ever closer to the things she longs to escape.
Kathryn Hind, winner of the inaugural Penguin Literary Prize, writes with acuity, empathy and wisdom. She is a shining new light on the Australian literary scene.
Published:

4 June 2019

ISBN:

9780143794349

Imprint:

Hamish Hamilton

Format:

Trade Paperback

Pages:

256

RRP:

$32.99
An extraordinary take on the picaresque . . . At times I found the book so intense I had to pause to catch my breath. Moving at a pace so relentless, the controlled, crafted storytelling provides an elegant masterclass in how to write a novel.

Elanor Dymott, Judges' comments, Betty Trask Awards 2020
A breath-taking debut novel that is both tender and tense and wholly original.

Canberra Critics Circle
A tautly poetic and gripping tale of a young woman's perilous odyssey as she willingly puts herself at the mercy of the strangers – whether kind or cruel – in order to test her ability to confront her painful past.

Ceridwen Dovey
This fine novel is frightening and tender and wholly original.

Tessa Hadley
The initial experience of Hitch is sobering and savage, and its final effect is emotionally shattering, despite glimpses of tenderness, goodness and beauty. The novel is relentless, but in the best possible way, pushing readers through the wringer but also compelling them to read on through the power of the prose. Quite simply a must read.

Simon McDonald, Potts Point Bookshop
Gritty and suspenseful, and left you feeling wrung out but relieved by the end. A very impressive novel.

Max Shirley, Macleans Bookshop
An introspective tale about a young woman hitchhiking across Australia to escape her life but not knowing what she is looking for. Amelia is complicated and relatable. I really enjoyed and recommend it.

Sarah Deasy, Avid Reader Bookshop
Kathryn Hind has achieved the remarkable feat of creating a story that is both tense and tender. You'll fall hard for the indefatigable Amelia and her loyal dog, Lucy, hitching together through the harsh Australian outback, with all its strange and dangerous characters. Amelia chases freedom from a traumatic past on the loneliest roads all while heading toward a reckoning with it. Some things you can't escape. Some, perhaps, you can. A wonderful debut. And a great book club choice too.

John, Better Read Than Dead
It's tempting to read this novel in one sitting as every chapter demands your undivided attention. But a slower read lets you absorb Hind's colourful descriptions of landscape, appreciate her compelling exposure of the characters' thoughts and enjoy their natural, snappy dialogue.

Judith Grace, Good Reading
Hitch is sparely written; despite this the reader is drawn into the visceral details of the harsh Australian climate and its impact on Amelia. It is a very readable and compassionate book, and the issues it raises about trauma and recovery are timely and relevant.

Annie Condon, Readings
The storyline of Hitch, the deserving winner of the inaugural Penguin Literary Prize, is a hitchhiker's progress. Kathryn Hind's hurting protagonist, Amelia, hitches with her dog through outback South Australia, randomly encountering strangers who ­respond variously to her vulnerability, some with concern, others with indifference or opportunism. Although the episodic nature of hitchhiking suggests chapter breaks, Hind offers a linear narrative that will be consumed in a few sittings by readers wanting to know what happens.

Robyn Walton, The Australian
Hind has written a fine novel about trust and betrayal, about how women – young, single women in particular – are almost always unsafe, treated as property by men for whom the term 'unreconstructed male' remains unintelligible.

Nigel Featherstone, Canberra Times
This novel is not a difficult read but it can be a heart-stopping one, and while the style is straightforward, the exploration of ideas around sexual exploitation, grooming, complicity and consent is both subtle and complex.

Kerryn Goldsworthy, Sydney Morning Herald
Kathryn Hind is a new Australian voice and her debut novel is well crafted and genuinely gripping. The winner of the inaugural Penguin Literary Prize, Hind explores the ambiguities of consent through a pacy, authentic storyline that is sure to set your heart racing.

Anna Carew-Reid, Sunday Times Perth
Hitch is a timely and powerful novel.

Maria Takolander, Saturday Paper
Gripping, tender, traumatic, empathetic and wise.

Cass Moriarty
Betty Trask Award
Winner • 2020 • Betty Trask Award
Betty Trask Prize
Winner • 2020 • Betty Trask Prize
Article
Hitch book club notes
Join twenty-something Amelia and her dog Lucy as they hitchhike from one end of the country to the other.
Article
Hitchhiking with Kathryn Hind
Kathryn Hind reflects on winning the inaugural Penguin Literary Prize and her journey to becoming a published author. 
Article
Kathryn Hind Q&A
We sat down with Kathryn Hind to discuss the inspiration for Hitch, the editing process and what's next for the ACT-based author.