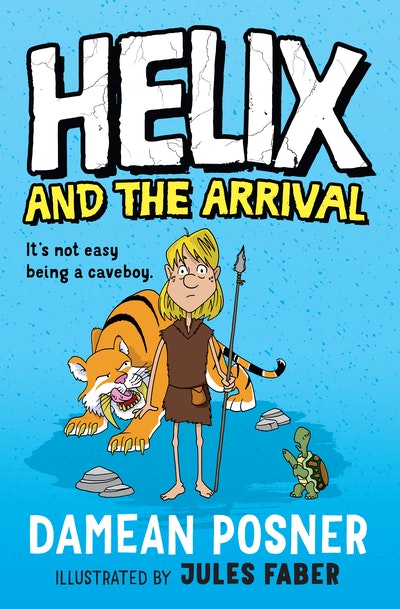 Published:

1 July 2015

ISBN:

9780857986542

Imprint:

Random House Australia

Format:

EBook

Pages:

288
Helix and the Arrival
---
---
---
What if a wimpy kid was born in the Stone Age?
What if a wimpy kid was born in the Stone Age?
Turning thirteen is when caveboys miraculously change from skinny, hairless, squeaky-voiced cowards (like me) to thick-browed, hair-covered, deep-grunting cavemen (like my best friend Ug).
That's when we're tested. It's called the Arrival. You're supposed to disappear into the woods and return with something big, dangerous or rare – preferably all three. Except I can't even lift a club above my shoulder. Even with my friends Ug and Saleeka trying to teach me to hunt, I don't have a chance.
If I fail the Arrival, there'll be an extra line on my family's stone tablet saying: Helix was banished to the Dark Side because he was a massive embarrassment to his family, as well as any self-respecting caveman on the mountain.
So my story might as well end here, but I'll keep telling it anyway. Charcoal meat on a stick, anyone?
Published:

1 July 2015

ISBN:

9780857986542

Imprint:

Random House Australia

Format:

EBook

Pages:

288
Praise for Helix and the Arrival
Hilarious and exciting . . . . I often laughed out loud when reading it.

Matthew, age 11, Random House Book Buddies
A brilliant book . . . Like the How to Train Your Dragon series and the Rowan of Rin books, it had a nice twist at the end that could be related to some of the world's problems. Great book for all of the family together and individually.

Ewen, age 12, Random House Book Buddies
I absolutely loved reading this book. I couldn't put it down! . . . It sort of reminded me of Harry Potter, because of it being very adventurous.

Chloe, age 11, Random House Book Buddies
A great read for anyone (adults included) as it is full of adventure, intrigue and suspense.

Sophie, age 11, Random House Book Buddies
This is a great book for anyone who loves reading adventure stories and wants something different.

Nikolas, age 13, Random House Book Buddies
I really enjoyed this because it was action packed. I wanted to keep reading it as I couldn't guess what was going to happen next . . . Helix and the Arrival was an excellent read.

Bella, age 9, Random House Book Buddies
I really enjoyed the book and really liked the fact that it had lots of twists and turns.

Conor, age 12, Random House Book Buddies
Posner has written a novel about finding the truth, sticking to it, doing the best you can to show others your reality, and helping your friends without fatally hurting your enemies. There is much fun on the way as the discomfort of stone age society is revealed – the burnt morsels eaten by its rather smelly citizens, and its unhygenic living conditions. Primary school boys and girls will enjoy the wit and the wisdom in this clever first novel from a promising writer.

Stella Lees, Reading Time
This story is hilarious and is great for people of all ages . . . This tale will have you gripping the book and itching to turn the page. I reckon that this book is definitely worth reading and is great fun to read. The book contains life's lessons and heartfelt stories. I think the author, Damean Posner, has really outdone himself.

Alexandria Lombard (student), Townsville Bulletin
This is a story of growing up, facing your fears and learning to be true to who you really are and not what everyone else expects you to be. It is also a story about not being afraid of change. Helix learns that sometimes you need to ask questions about the stories in your life. A perfect book for your Year 5 & 6's who are facing the change to high school and growing up.

Michelle, lamontbooks.com.au
This book was really exciting. It had lots of adventure in it . . . I would think that this book is suitable for readers 10 years and up especially for those readers who enjoy adventure tales. The pictures in the book are good because they depict Helix's growth from caveboy to manhood.

William Schopp, Townsville Bulletin
This is an excellent story about how Helix and his mate Ug learn to look outside the square . . . Interesting, easy to read, and as I say, surprisingly good reading for boys probably of 9-12 years.

Janet Croft, janetcroftbookreviews.wordpress.com
A fun look at prehistoric times as seen through the eyes of twelve year old Helix, who is wise beyond his years and questions everything, but is a hopeless caveman! . . . Quite a considered work with a very enjoyable and engaging storyline.

The Book Curator
A truly amazing story . . . As for first impressions, a book about the Stone age might not strike the hearts of everyone. But read it and the ending will warm your heart. It has the perfect balance of action, humour, drama and perhaps just a little bit of romance!

Callum Riley (student), Townsville Bulletin
Helix and the Arrival is written for children, aged 9-13, particularly boys who delight in descriptions of food odour, bad breath, nose hair and eating burnt rodent kebabs. The characters are a likeable lot especially the feisty Saleeka, a strongly feminist cave girl with a dry sense of humour. The pace is quick and exciting and the pictures amusing, particularly Helix's expression of bemusement.

Katy Gerner, Reading Time
CBCA Book of the Year Awards
Notable Book • 2016 • Younger Readers