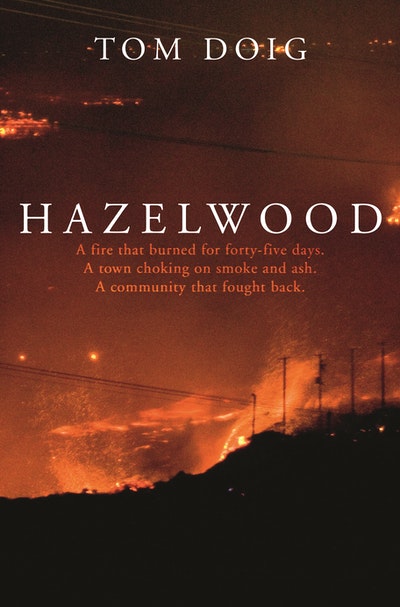 Published:

1 July 2020

ISBN:

9780143793342

Imprint:

Viking

Format:

Trade Paperback

Pages:

304

RRP:

$34.99
Hazelwood
---
---
---
A gripping and immediate account of one of the worst disasters in Australian history.
Early in the afternoon of 9 February 2014, during the worst drought and heatwave south-eastern Australia had experienced in over a century, two separate bushfires raged towards the massive Hazelwood open-pit brown-coal mine, near Morwell in the Latrobe Valley. The fires overwhelmed local fire-fighting efforts and sent a skyful of embers sailing onto millions of square metres of exposed, highly flammable brown coal. Twelve hours later, the mine was ablaze.
The Hazelwood mine fire burned out of control for 45 days. As the air filled with toxic smoke and ash, residents of the Latrobe Valley became ill, afraid – and angry. Up against an unresponsive corporation and an indifferent government, the community banded together, turning tragedy into a political fight.
In Hazelwood, Tom Doig reveals the decades of decisions that led to the fire, and gives an intimate account of the first moments of the blaze and the dark months that followed. This is a gripping and immediate report of one of the worst environmental and public health disasters in Australian history.
Published:

1 July 2020

ISBN:

9780143793342

Imprint:

Viking

Format:

Trade Paperback

Pages:

304

RRP:

$34.99
Compelling and urgent . . . The gripping narrative plays out like a true-crime thriller.

Andrew Wrathall, Books+Publishing
These oral history interviews are the heart of Doig's book, with personal stories woven through the narrative and then backed up by the documentary record of local media, government records and official inquiries. Doig's book offers an acute critique of how governments cut environmental corners to sponsor mining and industry, about the civic and environmental irresponsibility of multinational mining corporations, and about why workers and communities dependent on such industries are often unwilling or unable to criticise them, until it is too late.

Alistair Thomson, Australian Book Review
A crucial analysis of the complex relationship between political and socio-economic factors in the fallout from one of Victoria's worst environmental disasters and provides a voice to those who were most affected.

Kara, Readings
Hazelwood is a terrifying, eye opening, and fascinating read that made me realise how little I know about where our energy comes from, and the human and environmental cost required to produce it.

Chloe Cooper, Kill Your Darlings
Tom, intrigued by the story, was right there in the midst of it all. Hazelwood paints big screen characters who are every bit the region's true life heroes. Among them is David Briggs, a contractor who developed a debilitating lung condition after working to extinguish the mine fire and is currently in the midst of a legal battle to seek compensation. A story that reads like a John Grisham thriller. And it's all true.

Matt Dunn, The Paper - South Gippsland News
It provides vital historical context about the valley's settlement but, more importantly, it also explains why this story is by no means done despite the closure in 2017 and the demolition of the power station beginning with the chimneys in May this year. The mine's rehabilitation is another incendiary issue. The plan to fill it with some 740 billion litres of water – one and a half Sydney Harbours – could take up to 500 years. The community appears ready to fight and one hopes Doig will continue to write the story .

Kurt Johnson, The Age
Walkley Book Award
Longlisted • 2020 • Walkley Book Award
Ned Kelly Award for Best True Crime
Shortlisted • 2021 • Ned Kelly Award for Best True Crime
Article
A countdown to catastrophe
Hazelwood author Tom Doig offers a timeline of events preceding one of Victoria's worst industrial disasters.