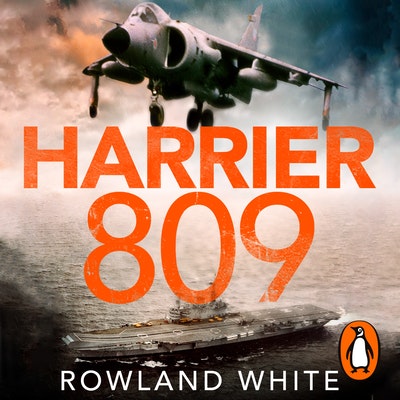 Published:

15 October 2020

ISBN:

9781473579378

Imprint:

Transworld Digital

Format:

Audio Download

Length:

14 hr 49 min

RRP:

$24.99
Harrier 809
Britain's Legendary Jump Jet and the Untold Story of the Falklands War
---
---
---
The untold story of the Falklands War told through the exploits of the iconic 809 Squadron
Brought to you by Penguin.
"Harrier 809 is a truly insightful study of this iconic British aircraft at war, and a tremendous account of the personal experiences of those who flew it in battle. By turns exciting, moving and enlightening; Rowland White has crafted yet another brilliant account of aerial warfare."
JOHN NICHOL, BESTSELLING AUTHOR OF SPITFIRE
When the Falkland Islands were invaded by Argentina in April 1982, Britain's immediate response was to send a task force. But behind the pomp and bravado of its departure, a sober reality lurked. A mere 20 Sea Harriers operating from two aircraft carriers would take on the might of the Argentine air force, some 200 planes strong. The MOD estimated that within four days and against such formidable air power, half the harriers would likely be lost.
To reinforce that meagre force, and in just three weeks, the Navy formed, trained and equipped a brand new squadron from scratch. Not since the Second World War had so much been expected of such a small band of pilots. Their home would be a container ship converted into a makeshift carrier. 809 Naval Air Squadron was born.
Other covert operations mounted by MI6 and the SAS in Latin America would provide vital intelligence to protect the task force from attack but in the vanguard of the conflict it would be the Sea Harriers of the 809 whose heroics in the South Atlantic which would become legendary.
With characteristic insider knowledge and in thrilling detail, Rowland White tells the story of those amazing exploits - the dogfights, the twenty-three kills, the deadly Exocet attacks, the ejections – demonstrating just why the Harrier is mentioned in the same breath as the Spitfire, the Lancaster and the Vulcan and is destined to join them in the ranks of our most celebrated aeronautical achievements.
© Rowland White 2020 (P) Penguin Audio 2020
Published:

15 October 2020

ISBN:

9781473579378

Imprint:

Transworld Digital

Format:

Audio Download

Length:

14 hr 49 min

RRP:

$24.99
Rowland White has scored again. Harrier 809 reads like a fast-paced military adventure novel only better because every word is true. White has brought us an up-close, inside-the-cockpit saga of a band of heroes in the Falklands air war. Riveting.

Robert Gandt
Set against the broader context of the Falklands War, Harrier 809 brings the squadron's story to life in fine and highly readable style.

Garth Ennis
Deeply researched and written with Rowland White's trademark brio, Harrier 809 is the thrilling story of the 'forgotten' Sea Harrier squadron of the Falklands War, one that arrived late to the party yet played a key role in Britain's unlikely victory. A superb book.

Saul David