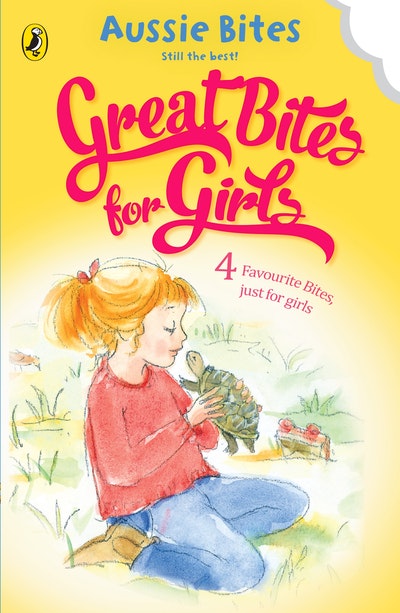 Published:

29 January 2014

ISBN:

9781743484593

Imprint:

Penguin eBooks

Format:

EBook

Pages:

300
Great Bites for Girls
---
---
---
Inside this book are sea-serpent rescues, lost-pet mysteries, best-friend problems, and big-bad-bunny fears! If this sounds like a whole lot of fun, then Great Bites for Girls is the book for you!

This delightful collection of Bites from the much-loved series has been specially put together for girls.
The Sugar-Gum Tree by Patricia Wrightson, illustrated by David Cox
Sarah Bell and Penny May were best friends. Sometimes they had fights, but afterwards they were best friends again.
Then one day they had a really bad fight.
Serena and the Sea Serpent by Garth Nix, illustrated by Stephen Michael King
A fierce sea serpent is frightening the people of Blubber Point.
Can super-smart Serena Smith scare him off?
Jessie and Mr Smith by Jane Godwin, illustrated by Ann James
Jessie would love to keep the tortoise in her backyard. But Mr Smith must belong to somebody. Will Jessie find the right home for him?
Big Bad Bunnies by Danny Katz, illustrated by Mitch Vane
Sandra is scared of bunny rabbits. She's terrified of their SCARY little bunny faces and their long NASTY bunny ears and their EVIL little bunny eyes. So what is Sandra to do when she finds herself at the Petting Zoo with a big BAD bunny snuggling up to her?

Published:

29 January 2014

ISBN:

9781743484593

Imprint:

Penguin eBooks

Format:

EBook

Pages:

300