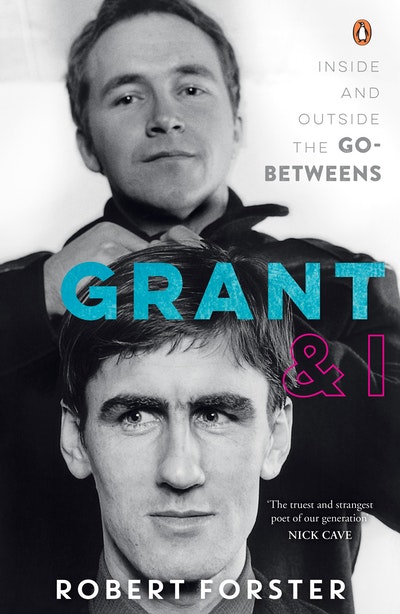 Published:

19 June 2017

ISBN:

9780143786405

Imprint:

Penguin

Format:

Paperback

Pages:

352

RRP:

$24.99
Grant & I
Inside and Outside the Go-Betweens
---
---
---
Grant & I is the story of the friendship and collaboration of Grant McLennan and Robert Forster, who gave Australia The Go-Betweens, one of our best and most influential bands. It was named Book of the Year 2017 by Mojo and Uncut magazines.
The Go-Betweens, one of Australia's most talented and influential bands, very nearly wasn't. Grant McLennan didn't want to be in a group, and couldn't even play an instrument. That didn't stop the singer-songwriter duo of Forster/McLennan becoming one of the most acclaimed partnerships in Australian music history.
Just as The Go-Betweens always defied categorisation, Grant & I is like no other rock memoir. At its heart is a privileged insight into a prolific artistic collaboration that lasted three decades, and an extraordinary friendship that rode out the band's break-up to remain strong until Grant's premature death in 2006.
Unconventional in lineup and look, noted for near misses and near hits, always a beat to one side of the mainstream – the band's unusual beginnings were followed by twists that often confounded its members as well as fans and record companies. The story of The Go-Betweens is also the story of the times, and Grant & I is a wonderfully perceptive look at the music industry and a brilliantly fresh take on the sounds of the era.
As distinctive a writer of prose as he is of songs, Robert Forster is wise and witty, intimate and frank, astute and knowledgeable. There could be no better tribute than Grant & I to this partnership and band who remain loved and revered.
'The truest and strangest poet of his generation.' Nick Cave
'An odyssey of friendship, ambition and the struggle of art. Clear-eyed and compelling.' Paul Kelly
'Grant & I is a beautifully written book . . . You long to hear McLennan's voice, to view the band, and Forster, through his eyes. There is still, even after McLennan's death, a sense of potential about this relationship.' Los Angeles Review of Books.
'Right up there with Julian Cope's Head On for rip-roaring rockin' hubris . . . [A] brilliant page-turner . . . Few rock artists have been remembered as perceptively and unflinchingly [as Grant] yet also lovingly in prose.' Andrew Perry, Mojo (5 stars)
'Forster's account is melancholic, cheery, and self-deprecating all at once. It is often unruly and mischievous as well. Rather than presenting a stock-standard Australian success story, Grant & I offers up the tangled lives of two kindred spirits who decided to make music together.' Doug Wallen, Australian Book Review
'As a survey of a sui generis carrer, as a glimpse into the formation and working methods of a superlative songwriter, and as an ultimately poignant chronicle of a friendship, Grant & I weaves a memorable story with wit, art and heart.' Readings Monthly

'The main focus is as admirable as it is surprising. Forster's topic is rarely himself or McLennan. Instead, it's the stuff of which their days were made, the music of The Go-Betweens . . . Forster is not at all sentimental about their friendship, until he has to be . . . And their relationship is not at all dramatic, until, of course, it is, at which point, it is gutting, sudden and tragic.' The Saturday Paper
'The Go-Betweens were fascinating for teaming two very different singer-songwriters – the sweetly melodic Grant McLennan and ragged rock poet Robert Forster. Robert's account of their journey is as compelling as it is sprightly.'The Weekly Review
'This moving memoir . . . is a fascinating glimpse into a life richly lived and a key friendship along the way . . . [Forster] has gone on to honour his departed friend in many ways and now, importantly, with this warm, witty and at times searingly honest book.' The Courier-Mail
'His writing is sharp, with an undercurrent of ironic humour but, when it comes to the big moment with which the book climaxes, he handles it with emotional precision . . . You can read this as a book about the music industry. You can read it as a book about the mysterious synergies of art. Or you can read it is a book about the non-erotic love that can exist between men.' The Age
'An engrossing, textured insight into [Forster's] friendship with his fellow, but more introverted, singer-songwriter while documenting the highs and lows of The Go-Betweens' battles with record labels in the UK, US and at home. The book is also a wonderful insight into the punk, post-punk and '90s music scenes, detailing the band's brushes with REM, Nick Cave's The Birthday Party, Lloyd Cole and Scottish cult act Orange Juice.' The Advertiser (Adelaide)
'[A] beautifully documented account . . . The heart of Forster's story is deeper and more poetically drawn than simple band autobiography, however. It's the unveiling of a friendship, a partnership, even a love affair, of sorts, that ended in tragic circumstances . . . His natural talent for the written word blossoms from almost every page of this colourful account of his relationship with McLennan . . . Forster writes from the heart.' Weekend Australian
'Forster's half of the tale is passionate, funny, unflinchingly honest and ultimately very moving in the hours of his friend's strange, tragically premature passing . . . What we have in The Go-Betweens is a beautiful puzzle that invites imagination to rule.' The Saturday Age
'Grace is the word that immediately springs to mind reading Grant & I . . . Remarkably Robert's story, with him as the narrator, comes across pretty much as one would hope the man might in real life: rather romantic, incredibly charming, very courteous, a little aloof, definitely enigmatic, perhaps elusive, sometimes self-deprecating, often defiantly arrogant, wonderfully wry and pleasingly discreet. How often does that happen when reading personal histories?' Kevin Pearce, caughtbytheriver.net

This project has been assisted by the Australian Government through the Australia Council for the Arts, its arts funding and advisory body.
Published:

19 June 2017

ISBN:

9780143786405

Imprint:

Penguin

Format:

Paperback

Pages:

352

RRP:

$24.99
The truest and strangest poet of our generation.

Nick Cave
Moving, funny and poetic . . . File alongside Patti Smith's Just Kids as a heartfelt book of deep friendship that also happens to be about the death drive of the rock'n'roll life.

Andrew Male, Mojo (Book of the Year 2017)
Poignant, thoughtful and elegantly written . . . A brave and beautiful attempt to comprehend the incomprehensible.

Graeme Thomson, Uncut (Book of the Year 2017)
An odyssey of friendship, ambition and the struggle of art. Clear-eyed and compelling.

Paul Kelly
You can read this as a book about the music industry. You can read it as a book about the mysterious synergies of art. Or you can read it is a book about the non-erotic love that can exist between men.

The Age
Beautifully documented . . . Deeper and more poetically drawn than simple band autobiography . . . It's the unveiling of a friendship, a partnership, even a love affair, of sorts, that ended in tragic circumstances . . . His natural talent for the written word blossoms from almost every page of this colourful account of his relationship with McLennan . . . Forster writes from the heart.

Weekend Australian
Forster's half of the tale is passionate, funny, unflinchingly honest and ultimately very moving in the hours of his friend's strange, tragically premature passing . . . What we have in The Go-Betweens is a beautiful puzzle that invites imagination to rule.

The Saturday Age
Melancholic, cheery, and self-deprecating all at once. It is often unruly and mischievous as well. Rather than presenting a stock-standard Australian success story, Grant & I offers up the tangled lives of two kindred spirits who decided to make music together.

Doug Wallen, Australian Book Review
A wonderful insight into the punk, post-punk and '90s music scenes, detailing the band's brushes with REM, Nick Cave's The Birthday Party, Lloyd Cole and Scottish cult act Orange Juice.

The Advertiser (Adelaide)
The main focus is as admirable as it is surprising. Forster's topic is rarely himself or McLennan. Instead, it's the stuff of which their days were made, the music of The Go-Betweens . . . Forster is not at all sentimental about their friendship, until he has to be . . . And their relationship is not at all dramatic, until, of course, it is, at which point, it is gutting, sudden and tragic.

The Saturday Paper
As a survey of a sui generis carrer, as a glimpse into the formation and working methods of a superlative songwriter, and as an ultimately poignant chronicle of a friendship, Grant & I weaves a memorable story with wit, art and heart.

Readings Monthly
A fascinating glimpse into a life richly lived and a key friendship along the way . . . [A] warm, witty and at times searingly honest book.

Courier-Mail
Article