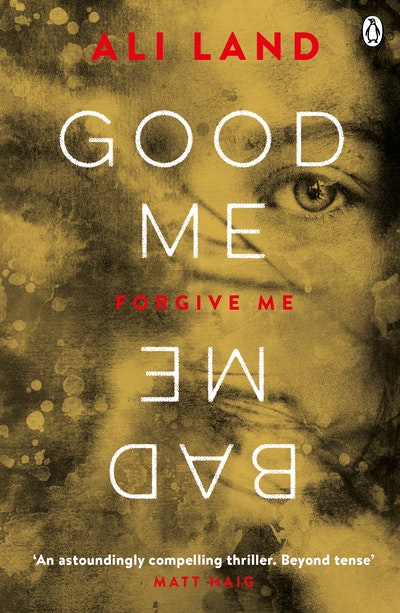 Published:

3 January 2017

ISBN:

9781405923934

Imprint:

Penguin eBooks

Format:

EBook

Pages:

400
Good Me Bad Me
---
---
---
The Sunday Times bestselling psychological thriller debut about the girl whose mother is a serial killer . . .
'New Name. New Family. Shiny. New. Me.'

Annie's mother is a serial killer. The only way Annie can make it stop is to hand her in to the police.
With a new foster family and a new name - Milly - she hopes for a fresh start. Now, surely, she can be whoever she wants to be. But as her mother's trial looms, the secrets of Milly's past won't let her sleep.
Because Milly's mother is a serial killer. And blood is thicker than water . . .
Published:

3 January 2017

ISBN:

9781405923934

Imprint:

Penguin eBooks

Format:

EBook

Pages:

400
Praise for Good Me Bad Me
A gripping tale about a teenage girl waiting to give evidence at her serial-killer mother's trial. Unsettling and unforgettable

Heat
Had me on the edge of my seat from the first page

Women & Home
Uncomfortable, shocking, and totally compelling, put this to the top of your to-read pile

Sun
Could not be more unputdownable if it was slathered with superglue

Sunday Express
The new Girl on The Train, which was the new Gone Girl. You get the picture. This psycho-thriller by Ali Land is set to be massive

Cosmopolitan
Incredible, very special

Radio 4's Open Book
Unsettling. Holds our attention from the opening page. There is so much to praise here

Guardian
Frightening, enthralling, utterly compelling. Everyone's scrabbling for the new Girl on the Train to get their thriller fix. And 2017's 'one' looks set to be Good Me Bad Me. A gripper. You'll be hooked

Grazia
A dark, intensely compelling debut. Terrifying

Daily Mail
Chilling

Woman & Home
Dark and unsettling . . . a truly gripping story

My Weekly
It's rare to come across a book you can't stop thinking about, talking about and pushing into the hands of everyone you know

Heat Magazine
Dark, claustrophobic and thought-provoking, you'll read this outstanding book holding your breath

Prima
A thrilling exploration of how much our natures are defined by our upbringing

Culturefly
***** Ali Lane has created a creepy and haunting read. Thriller of the year so far.

Jade Craddock, The Sun
Frightening and enthralling

Grazia
Good Me Bad Me is a compelling page-turner. Chilling and dark, it grips you and won't let go

Rebecca Done
Good Me Bad Me is a novel that explodes off the page, with beautifully drawn characters and carefully executed pace. Heart rending, engrossing and ultimately terrifying, you'll be thinking about it a long time after you've turned the final page

Rowan Coleman, author of R&J bestseller, The Memory Book
Good Me Bad Me is an astonishing debut - technically sophisticated and emotionally heart wrenching. So many things are done well - the status jungle of girls school, the psychological dissonance of a dysfunctional family, the internal machinery of damaged children. I thought it was wonderful

Helen Callaghan, bestselling author of, Dear Amy
Good Me Bad Me is the story of a girl who hands her serial killer mother over to the police. With a new life and new, welcoming family, she prepares for the coming trial. But this is a battle of wills, of nature versus nurture - of good against bad . . .

from the publisher's description
Good Me Bad Me is utterly compelling. Ali Land writes with such clarity, and such imagination, you will fall into her world on the very first page and find yourself unable to leave. An extraordinary and breath-taking debut

Joanna Cannon, author of Sunday Times bestseller The Trouble with Goats and Sheep
2017's most hotly anticipated psychological thriller

Stylist
A creepy, compulsive thriller I read in one breathless gulp... Good Me Bad Me reveals its shocking secrets slowly while reeling in the reader with all the intricate skill of a spider spinning a web. One not to be missed

Red Magazine
A strong contender for debut of the year

Irish Times
A triumph of tension. I doubt I'll ever sleep again

Cathy Rentzenbrink, author of R&J bestseller, The Last Act of Love
Ali Land's Good Me Bad Me is an intensely compelling exploration of nature versus nurture wrapped up in a page-turning psychological thriller. Darkly disturbing and beautifully written. What more could any reader want?

Sarah Pinborough
An astoundingly compelling thriller. Beyond tense. You hardly breathe. Best read in ages

Matt Haig
An incredible narrative voice . . . Very special and different

Radio 4's Open Book
Dark, claustrophobic and thought-provoking. You'll read this outstanding debut while holding your breath!

Prima Magazine
Gripping from the first page

Elle UK
I absolutely loved it and read it in less than a day. A proper page turner and brilliantly written

Edith Bowman
I read this book in one compulsive gulp over two days and absolutely loved it. It's raw, superbly controlled and it chills to the bone

Richard Skinner
Intelligent and disturbing, Good Me Bad Me had me hooked from the first page

Debbie Howells, author of Richard & Judy book club bestseller, The Bones of You
Listen to the early praise for Ali Land's Good Me Bad Me because it's all true. It's dark, utterly gripping, brilliant

David Headley, Goldsboro Books
Milly's voice is gripping and shocking. This is a book you will want to discuss with everyone you know

Claire Douglas, author of The Sisters and Local Girl Missing
One word: Wow. What a brilliant book - believable, shocking, thought-provoking and utterly compelling. The writing, as well as being so pacey, is beautiful. This feels such a current and original book

T R Richmond
Ten pages into Good Me Bad Me, I became an Ali Land fan. Her beautiful, intimate voice immediately tugged me into the heart and mind of a serial killer's daughter and then wouldn't let go. Is there hope for this teenager's new life outside of her mother's horror? Original, intense, and utterly compelling, Good Me Bad Me is not just a terrific thriller but a psychological dive into a young girl's soul. It takes subtlety and perfect balance to maintain a dark tale like this, and Land never once stutters or makes you look away

Julia Heaberlin, author of Sunday Times bestseller, Black-Eyed Susans
Terrifyingly good. The terror of Liz Nugent mixed with the teen angst of Louise O'Neill

The Irish Examiner
The best crime debut I've read in ages. Creepy, edgy and addictively twisted. I loved it

Sarah Hilary
The new Girl on The Train, which was the new Gone Girl... You get the picture. This psycho-thriller by Ali Land is set to be massive

Cosmopolitan
This book is a work of twisted genius. It is going to be HUGE. Watch out for Ali Land

Bryony Gordon
This superbly dark, twister chiller is as gripping as they come

Heat
Unbelievably good, utterly gripping

Jill Mansell
You know from the first page you're in confident hands. A genuinely disturbing debut that will stay with you long after you turn the last page. Good Me Bad Me is going to be huge - and it deserves to be

Catherine Ryan Howard
Article
Ali Land Q&A
Enter the mind of Good Me, Bad Me author Ali Land.