Enter the mind of Good Me, Bad Me author Ali Land.
In her chilling debut novel, Good Me, Bad Me, Ali Land channels the voice of Milly Barnes – the daughter of a serial killer – exploring notions of blood being thicker than water. Can Milly start afresh with her mother behind bars? Or will her genetic code propel her towards unspeakable acts? Here Land answers some questions about the inspiration and process behind the creation of this gripping psychological thriller.
Milly, the central character in your debut novel, Good Me, Bad Me, has a really strong voice. Where did the idea for the character come from?
Prior to becoming a writer I was a child and adolescent mental health nurse. One conversation in particular I had with a teenage girl never left me. After an episode of her self-harming and while I was tending to the wounds on her wrist, she asked me why I cared. I replied: Because you deserve my care. She disagreed and disclosed to me that the reason she kept harming herself was because she was worried she would end up doing bad things to children like her mother had. Her theory seemed to hold some weight as I began to witness young people taking on behaviours and traits of parents who had been absent from their lives for years. I couldn't shake off the idea of genetic imprinting and how it would feel to live with a parental legacy of evil, and although I held on to those thoughts for over ten years, they went on to form the basis of Good Me, Bad Me. Creating a voice for Milly was an intensely emotional, and at times isolating, process. It required me to delve into the darkest parts of my imagination and I spent a lot of time sitting quietly channelling what I was hearing, and tuning into Milly's thoughts, desires and feelings. My main priority was facilitating an authentic experience, one that would allow readers to inhabit the mind and body of a child who has a complex and disturbing past, and to illustrate that simply desiring to be good isn't enough. I'm hopeful that the psychological insights the book provides will encourage empathy and provoke discussion around how best to care for children like Milly.  
You wrote much of Good Me, Bad Me while you were travelling – how did that affect the writing process?
I wrote the first draft of Good Me, Bad Me over a four-month period during winter in a tiny basement flat in London. I was also working sixty-five hours a week at the time so when I secured the UK book deal, I quit my job and took off to reboot. I spent time in Spain and France and made my way back to Sydney, where I had previously lived, in time for the editing process to begin. I'd gone from writing the book in a dark flat in the middle of the night to an apartment flooded with light overlooking the ocean! I often describe the ocean as my calm, and for me, it was the perfect place to enter into what was a very intense editing process. Good Me, Bad Me was sold as a partial, it was fifty-five thousand words long with the strength of the voice and the overall premise being what the publishers bought into. I was then asked to double the book, and over the five months I was away a further three full drafts of the book took place with the fifth and final draft happening when I returned to London. The energy in Sydney is gentle and encouraging, and being surrounded by the ocean meant that if I was ever stuck or feeling marooned in my mind, I could go and sit by the water or take a walk on the rocks. I also spent time in a treehouse in Indonesia while working on one of the drafts. My creative brain appreciates both new experiences and being in environments that allow me time to breathe and let the voices and images download in my mind. Being a writer is a privilege but it's also a very insular and intense process and it's imperative, in order to avoid burnout or the work becoming stale, that we place ourselves in environments that nurture and stimulate our creativity.
What is your favourite novel and why?
If I had to pick JUST one it would be The Silence of the Lambs. The first book to truly terrify, yet thrill, me. Clarice Starling is one of my heroes and the relationship between her and Lecter and the conversations they have is pure genius. In Lecter, Harris creates a character hair-raisingly dangerous, yet one that's almost impossible not to admire for his twisted, intellectual finesse. And then there's Buffalo Bill, who says the line – 'It rubs the lotion on its skin. It does this whenever it is told.' The tension never lets up, and even though I fear for Clarice's safety and sanity, and perhaps even my own while reading it, I can't help but read on. It's sheer brilliance.
If you could have dinner with any fictional character, who would it be and why?
It would be Merricat from Shirley Jackson's We Have Always Lived in the Castle. One of the things I miss the most about working with children is being immersed in their magical thinking, and although Merricat is eighteen, her preoccupation with sympathetic magic makes her feel much younger. She observes the world through an extraordinary lens of superstitions, rituals and insanity, and I imagine her mind to be a spellbinding, intoxicating place to be. Being privy to a 'behind closed doors' experience of the house Merricat shares with her sister and her uncle would feel like a delicious opportunity, but those who've read the book will understand when I say, I'm not sure I'd be eating very much of the food, especially if Merricat had prepared it!
Which authors do you most admire?
My writing is very psychological in its nature so I admire authors who utilize the physical landscape to mirror emotional states in their characters. Emily Brontë does this so beautifully in Wuthering Heights as does Hannah Kent in Burial Rites. I admire Shirley Jackson for writing with perfect restraint and slowly turning the screws. And Roald Dahl and Nabokov for their wordplay and literary allusions – their love of alchemizing language is so evident and makes reading their work so joyful.
What is the last book you read and loved?
Foxlowe by Eleanor Wasserberg. A gothic and chilling tale that thrusts you into the heart of a Utopian commune gone wrong. I love that Wasserberg uses a child narrator and although she doesn't shy away from complex and disturbing issues, she handles them with sensitivity. I found her use of language on one hand, to be playful, naming the children Green, Blue, Pet and Egg, whilst also sophisticated and layered when describing the environment and emotional responses. A seriously accomplished debut.
---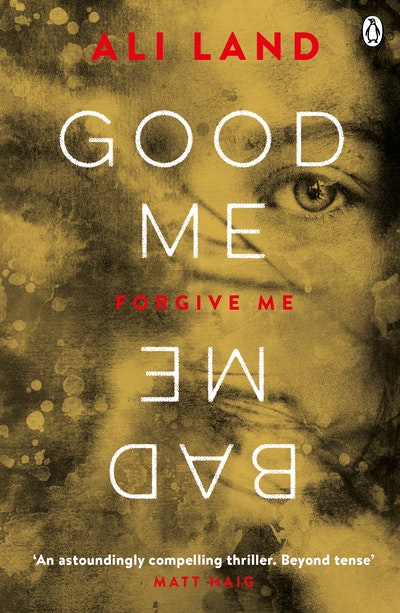 The Sunday Times bestselling psychological thriller debut about the girl whose mother is a serial killer . . .
Buy now
Buy now
---