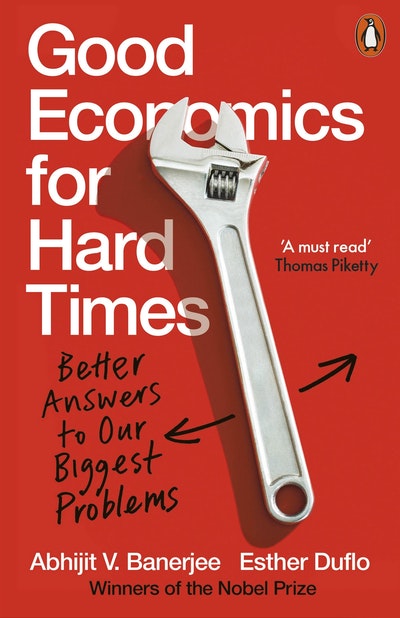 Published:

12 November 2019

ISBN:

9780141986203

Imprint:

Penguin eBooks

Format:

EBook

Pages:

256
Good Economics for Hard Times
Better Answers to Our Biggest Problems
---
---
---
Two prize-winning economists show how, when done right, economics can help us solve the thorniest social and political problems of our day
The experience of the last decade has not been kind to the image of economists: asleep at the wheel (perhaps with the foot on the gas pedal) in the run-up to the great recession, squabbling about how to get out of it, tone-deaf in discussions of the plight of Greece or the Euro area; they seem to have lost the ability to provide reliable guidance on the great problems of the day.
In this ambitious, provocative book Abhijit V. Banerjee and Esther Duflo show how traditional western-centric thinking has failed to explain what is happening to people in a newly globalized world: in short Good Economics has been done badly. They cover the most essential issues, including why migration doesn't follow the law of supply and demand, why trade liberalization can drive unemployment up and wages down and why nobody can really explain why and when growth happens.
In doing so, they seek to reclaim this essential terrain, and to offer readers an economist's view of the most pressing political issues, one that is candid about the obstacles we face but optimistic that we can find better ways to overcome them.
Published:

12 November 2019

ISBN:

9780141986203

Imprint:

Penguin eBooks

Format:

EBook

Pages:

256
Praise for Good Economics for Hard Times
Not all economists wear ties and think like bankers. In their wonderfully refreshing book, Banerjee and Duflo delve into impressive areas of new research questioning conventional views about issues ranging from trade to top income taxation and mobility, and offer their own powerful vision of how we can grapple with them. A must-read.

Thomas Piketty, author of Capital in the Twenty-First Century
A magnificent achievement, and the perfect book for our time. Banerjee and Duflo brilliantly illuminate the largest issues of the day, including immigration, trade, climate change, and inequality.

Cass R. Sunstein, author of How Change Happens
Banerjee and Duflo are masters of this terrain . . . Their book is as stimulating as it gets

Robert Solow, Nobel Prize winner
Excellent, important, disarmingly down to earth . . . they seek to shed much-needed light upon the distortions that bad economics bring to public debates while methodically deconstructing their false assumptions.

Yanis Varoufakis, Observer
A canard-slaying, unconventional take on economics ... invigorating ... a treasure trove of facts and findings about the biggest economic issues of the day

Ed Conway, The Times
Compelling, useful, relevant ... Banerjee and Duflo use extensive data to zoom out and show us a wider view of these human dynamics

Bill Gates
Excellent ... Few have grappled as energetically with the complexity of real life as Esther Duflo and Abhijit Banerjee, or got their boots as dirty in the process ... Readers will be captivated

The Economist