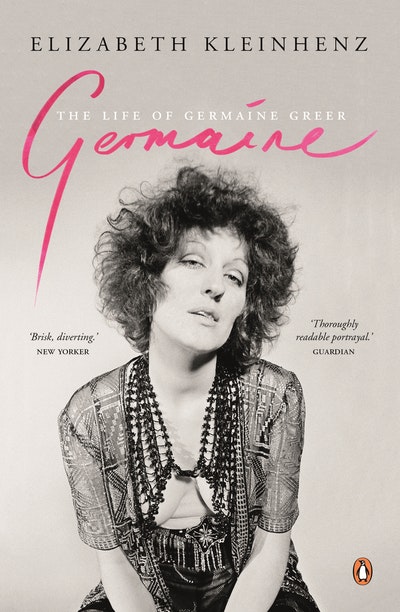 Published:

5 November 2019

ISBN:

9780143782858

Imprint:

Penguin

Format:

Paperback

Pages:

432

RRP:

$24.99
Germaine
The Life of Germaine Greer
---
---
---
Arguably the most significant and influential Australian woman of her time
As a student in Melbourne, Elizabeth Kleinhenz heard frequent talk of this almost mythical figure, Germaine Greer. Urged on by her mother, a first wave feminist, she read The Female Eunuch, a clarion call that rallied women to assert their female power, and, like her mother and millions of others across the world, changed her life.
As one of the first researchers permitted to trawl through the Germaine Greer Archive housed at the University of Melbourne, Elizabeth found evidence of a brilliant teacher, serious scholar, flamboyantly attired hippie TV presenter, provocative magazine columnist and editor, real estate investor, domestic goddess, creator of extravagant gardens and preserves, shelterer of strays and waifs, libertarian, bohemian, anarchist, working journalist, correspondent, traveller and adventurer, international celebrity and performer, wag and ratbag, mentor and icon.
Germaine Greer has said that her archive is a representation of the times in which she has lived. Yet she anticipated, catalysed and triumphantly rode the wave of the immense social and intellectual changes of her era. For Elizabeth, two things are certain: women's lives today are very different from how they were when Germaine Greer and she left school; and much of the change that has occurred over the past half-century can be directly attributed to the lifetime of intense scholarship, unremitting hard work and influence of Germaine Greer.
Published:

5 November 2019

ISBN:

9780143782858

Imprint:

Penguin

Format:

Paperback

Pages:

432

RRP:

$24.99
Kleinhenz acknowledges the criticisms and leaves the reader to decide what to make of it all. The Greer that emerges is a complex character whose powers of insight and invention are consistently confounded by her enthusiasm for controversy. Kleinhenz's achievement is to have produced a sympathetic, thoroughly readable portrayal of an ultimately unsympathetic figure.

Lorna Finlayson, Book of the Week - The Guardian
Kleinhenz's approach is as imaginative as it is conventionally linear. Using interviews with key figures as well as the archive material, she tracks Greer's life from its beginnings in January 1939. Hers is a well-rounded, sympathetic portrait of a remarkable human being, in a narrative that grips from the start. I'm in no position to predict how Greer will respond to this newly unauthorised account of her life, but I found it utterly fascinating.

Sara Dowse, The Sydney Morning Herald
How lucky we are that Elizabeth Kleinhenz has mustered the courage to write a biography of a woman who is famous for hating those who attempt such a task! She has written an engaging, nuanced and carefully researched book not just about Germaine Greer but about the societies she has shaped and shocked over the decades. Trust me, you don't have to be a fan of Germaine Greer to thoroughly enjoy this book.

Rebecca Huntley
She has produced a terrific book – even-handed and entertaining … Kleinhenz's biography is richly human and intellectually lucid, uncontaminated by cheap psychology. She lays bare Greer's personal flaws, cruelties and venomous tongue, but her quiet triumph is to balance them with the majestic achievements.

Melanie Reid, The Times (UK)
Elizabeth Kleinhenz, a former teacher, deserves a bravery medal for writing this biography … [Greer] has had many identities, often concurrently. Kleinhenz shows us Greer the Shakespeare scholar; the wit; the academic who wrote provocative articles for Oz; the "starf***ker" (Greer's term), who seduced famous men; and the "bully who could be extraordinarily kind".

Rosamund Urwin, The Sunday Times
'I don't know why I am the way I am,' the feminist intellectual Germaine Greer once said. 'I don't think it's interesting.' Yet this brisk, diverting biography makes the issue seem worth pondering. Kleinhenz ably evokes Greer's dazzling, maddening mind … Ultimately, her vivid life predominates. There are savage feuds, a famous prosecution for obscenity, and myriad liaisons, including one with Fellini.

The New Yorker
The biography does give a strong sense of Greer's vulnerability and the loneliness that accompanies her courageous individualism. Kleinhenz's Greer, then, is a kind of secular saint, experimenting with sexual possibilities and domestic arrangements on our behalf and reporting back on their mix of success and failure. She has suffered, too, physically as well as emotionally, as she risked her own comfort to discover what was possible for a modern woman. Wiser heads might have predicted some of the disasters, but wiser heads are usually much more boring than our Germaine, and this biography emphasises her sense of fun and zest for life.

Susan Lever, Inside Story
Greer hasn't always got it right: she hasn't been consistent and has sometimes been nasty. She continues to court controversy with out-of-step opinions on younger feminists, transgender rights and, most recently, rape. But I closed Kleinhenz's book in awe of the woman's physical, intellectual and emotional energy.

Helen Brown, The Daily Mail
Greer will no doubt scream at this biography … Kleinhenz holds her nerve and has made good use of the recently opened Greer Archive at the University of Melbourne.

Lynn Barber, The Oldie
[A]n informative look at Greer's cultural impact.

Kirkus Reviews