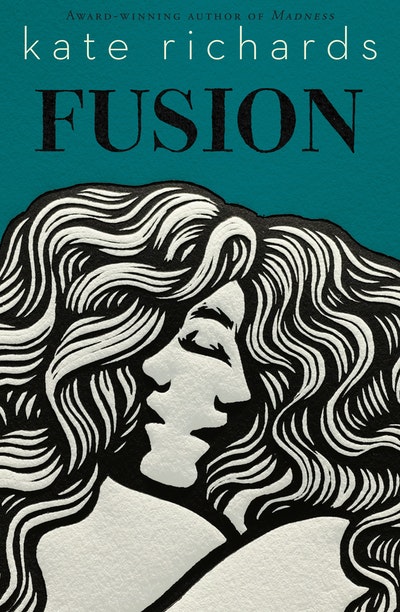 Published:

5 February 2019

ISBN:

9781926428703

Imprint:

Hamish Hamilton

Format:

Trade Paperback

Pages:

304

RRP:

$32.99
Fusion
---
---
---
A haunting, compelling first novel by the author of the award-winning Madness: A Memoir.
Forever entwined, Sea and Serene live isolated in the Australian alpine wilderness, together with Wren - the young man who helps care for them. Each have found peace in this wild, fierce landscape, and they live in harmony, largely self-sufficient.
One day Wren discovers a woman on the road nearby, badly injured and unconscious. He brings her back to the cottage, and he and the twins nurse her back to health. But the arrival of this outsider shatters the dynamic within, with unforeseen consequences.
Lyrical and poetic, Fusion is a unique and haunting modern-gothic tale that has at its heart questions of selfhood, dependency, difference and love. It is the compelling first novel by the award-winning author of Madness: A Memoir.
Published:

5 February 2019

ISBN:

9781926428703

Imprint:

Hamish Hamilton

Format:

Trade Paperback

Pages:

304

RRP:

$32.99
The plot of Fusion is lean and sinewy. But its exploration of both human longing and the fragile nature of self-acceptance and identity is lush and laced with sweetness. This is a book that fills tired lungs with air as sharp and pure as crystal.

Michael McGirr, The Age
While at times heart-wrenchingly sad, the novel is never without hope; Richards highlights her characters' ultimate desires for love and acceptance through gentle moments of compassion and exquisite descriptions of the natural world. Her highly stylised prose delivers a story that is as multi-layered as its characters. Part fairytale, part Australian Gothic thriller, Fusion is contemporary Australian literature at its finest and deserves multiple readings—an ideal selection for book clubs.

Jacqui Davies, Australian Bookseller + Publisher
Fusion is a reflection on love and how the manifestations of it range from self-sacrifice to selfishness.

Chris Murray, Australian Book Review
Fusion is a dark Australian Gothic fairy tale in a lyrical mode. At its heart, the novel questions identity, dependence, isolation and difference. It is a strange, bold, eerie debut.

Michael McLoughlin, Readings Carlton
There is certainly ugliness in Fusion (bullying, ostracism, abuse and death) but there are also strains of beauty running through it, particularly found in communing with the natural wilderness that's des­cribed with depth and lusciousness. There's a lot that's deliberately unanswerable in this fabulist tale. It's telling that one of the twin's favourite words is "beyond", for it carries with it elements of "the fantastical and of freedom".

Thuy On, The Australian
This is a weird but compelling story about four people (well...you could say three as two of them are conjoined) living on the fringes of society for different reasons—but they care for each other as no-one else will. It raises questions of difference and love and dependency which is woven through a haunting tale. A well written first novel by this Australian writer.

Victoria, Gleebooks Gleaner
Wonderful strangeness and intricate detail is captured in a story wrapped in a different style of language that captures a different way of thinking. Time slows while reading each short chapter in a parable recognising the cruel inevitability that nothing lasts forever. A unique and absorbing, yet disquieting perspective.

MUD prize for First Fiction, shortlisted
Australian Shadows Award
Nominated • 2019 • Novel
Sisters in Crime Davitt Award
Longlisted • 2020 • Adult crime
The Voss Literary Prize
Longlisted • 2020 • The Voss Literary Prize
Article
Forever entwined
Award-winning memoirist Kate Richards discusses the genesis of her debut novel, Fusion.