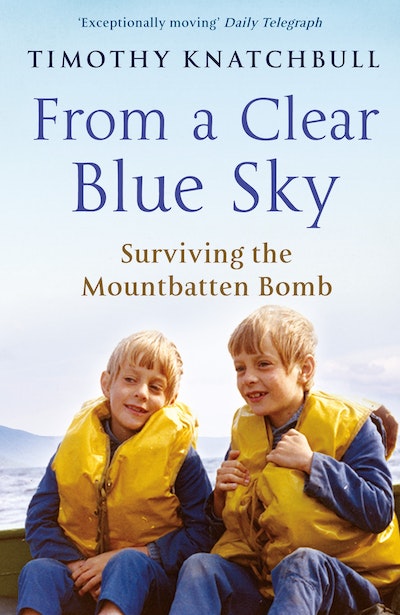 Published:

1 July 2010

ISBN:

9781407089263

Imprint:

Cornerstone Digital

Format:

EBook

Pages:

432
From A Clear Blue Sky
---
---
---
A powerful survivor's account of the IRA bomb that killed the author's 14-year-old twin brother, his grandparents and a family friend, to be published on the 30th anniversary of the atrocity
On the August bank holiday weekend in 1979, 14-year-old Timothy Knatchbull went out on a boat trip off the shores of Mullaghmore in Co Sligo. It was a trip that would cost 4 lives - and change his own forever.
The IRA bomb that exploded under their boat that day killed Knatchbull's grandfather Louis Mountbatten, his grandmother Lady Brabourne, his twin brother Nicholas and a local teenager Paul Maxwell. In telling this story for the first time, Knatchbull is not only revisiting the terrible events he and his family lived through but also writing an intensely personal book of human triumph over tragedy.
For 30 years, Knatchbull has lived with the echoes of that day: the death of the twin from whom he had been inseparable; the grieving for adored grandparents, whose funerals he and his parents were too injured to attend; the recovery from physical scars; and the mental legacy that proved far harder to endure.
Yet From A Clear Blue Sky is not just one man's story, it is the story of a family, past, present and future, and how, with courage and fortitude, they dealt with the cruel fate that erupted into their lives. Taking place in Ireland at the height of the Troubles, it gives a compelling insight into that period of Irish history. And it has a wider appeal, too, in bringing home how tragedy can strike human beings at any time, and analysing how we learn to deal with it.
Although it is unflinching in its detail, this is a book about reconciliation. It asks searching questions about why human beings deal out misery to others, and it holds lessons about how we can learn to forgive, to heal and to move on in our lives that will resonate with every reader.
It's a book of powerful testimony destined to be spoken of in the same breath as Brian Keenan's An Evil Cradling or Rian Malan's My Traitor's Heart.
Published:

1 July 2010

ISBN:

9781407089263

Imprint:

Cornerstone Digital

Format:

EBook

Pages:

432
Praise for From A Clear Blue Sky
This is an extremely moving book. Beyond providing a phenomenally detailed evocation of his own family's trauma, Knatchbull has lots of wise things to say about how we survive horrors - of all kinds - in our lives. He writes with great tenderness and an admirable lack of sentimentality

Zoe Heller
From a Clear Blue Sky is a minute by minute story of what happened that day, and what happened afterwards. It is a proper four-hanky bawler, and the exactitude of the story is what makes it so moving... He provides a convincing account of the extent to which he has been able to accept, forgive and move on. His narrative power is such that the reader can't always share his equanimity. It is a book that is as saddening as it is sad - but much more angering than it is angry.

Daily Mail