A moment of positivity in Peter Greste's protracted, potholed road to freedom. 
When Australian journalist Peter Greste's family learned he'd been arrested in Egypt, they were shocked but not panicked – they had to get to work on freeing him. They were soon managing an international media campaign, with such intensity that for the 400 days Peter spent in prison his plight was seldom out of the headlines.
Freeing Peter is the Greste family's inspirational story of resilience and fortitude in the face of unimaginable obstacles. Confronted with daily uncertainty, paucity of information, the strain of decision-making, emotional visits to Peter in prison, and the incomprehensible Egyptian legal system, the Grestes were buoyed by the overwhelming support they received. But, most importantly, they also found strength in family unity. During the frustrating weeks and months of Peter's farcical incarceration, the family left no stone unturned, taking every opportunity to spread the word of Peter's plight in order to prove his innocence and bring him home.
During the prolonged trial, after yet another in a series of botched hearings followed by adjournments, Peter's brother Mike explored the potential diplomatic benefits that could be derived from Peter's Latvian citizenship. Straight from the pages of Freeing Peter, here Mike details an encouraging meeting with a high-level diplomat that took place over a cup of tea. From this moment, the Grestes could be sure that the key points of a very important letter they'd sent to Egypt's interim president Mansour had reached their destination.
On the ride back to the hotel I gave Mum a quick call to confirm the news they'd already heard in Twitter feeds and texts. We talked about the latest note Peter had smuggled out in a wash­ing bag. At times like this he seemed to be holding us together, rather than the other way round. If anyone in the family had the right to be depressed and frustrated it was Peter, but instead he was philosophi­cal and seemingly at peace, as if he'd reached a deep acceptance of his powerlessness. By contrast, I would get agitated, and so would Mum and Dad when I Skyped them. It causes you to rethink things when the one who is not free is so calm while those who are out in the world are doing so much worrying.
While waiting for the next hearing date, I had a meeting at the Latvian embassy with Ambassador Iveta Šulca, who told me what they'd been doing, which was extensive. Through their EU and UN channels, they had been lobbying the Egyptians hard to release Peter. Catherine Ashton, the European Union's foreign policy chief, had had dinner with the Egyptian foreign minister and had also spoken to the deputy foreign minister. The Latvian prime minister had spoken to Egypt's interim president Mansour, who said he was closely following Peter's court proceedings. The former Latvian president, Vaira Vike-Freiberga, was coming to Cairo the next day on a cultural visit, and would have an audience with interim president Mansour too. I left their embassy with a spring in my step.
For the most part, though, I had to control my impatience while waiting for the next court session. I worked out in the gym, Skyped my family and Mum and Dad, kept up with email correspondence and wrote my diary. I had some delightful meals with Fairfax's Ruth Pollard and her partner Stevie, and got to know several of the other journalists. Joe and I bought things Peter had asked for, only to be told at the prison that a new head of investigations had taken over, and the rules for what we could bring in had changed.
But at least when I visited Peter I felt I was making a worthwhile contribution. He would pass me notes, shopping lists or letters when he could get away with it, and I would slip him letters from Mum and Dad. But security had definitely tightened up. With families allowed to bring in less, the quality of the prisoners' food declined. The authorities even confiscated a homemade backgammon set that the prisoners had fashioned, on the grounds that gambling was pro­hibited. Sometimes Peter and I managed to talk about things that had nothing to do with the case, and in a way, I felt that these moments of relaxing and reminiscing were as valuable as anything else I could give him.
Three days before the fifth court session, I had the honour of meeting former Latvian president Vike-Freiberga at the Sofitel Hotel, so she could tell me in person what had happened when she met interim president Mansour. She had highlighted to Mansour the fact that Peter was a Latvian citizen with impeccable journalistic standards, and that she personally knew our family through Dad's brother Ojars, who had retained strong connections with Latvia. She restated Peter's innocence, more or less echoing the letter our family had sent to Mansour at the end of February, which was accompanied by a family photo.
Your Excellency,
Salaam Aleikum. Please forgive that this letter is written in English and not Arabic.
We are the parents of Peter Greste, an Australian jour­nalist who has been detained in Tora prison in Cairo since 29 December, 2013.
We offer you and the people of Egypt our good will, with our best wishes for the peace and prosperity of Egypt.
Our son, Peter, is accused of supporting and collaborating with a terrorist group and with being a threat to state security and fabricating and distributing false news.
Peter is a mature 48 year old man and a very experienced journalist. He has had a notable career of service with many major news organisations including BBC and Reuters. In 2011 he was awarded the esteemed Peabody medal for distinguished and unbiased reporting from Somalia.
Peter's imprisonment is causing us, his parents and family, great anguish and distress. We are now retired and the stress of Peter's confinement has had an extreme effect upon us. We are law abiding people and are simply shocked to be placed in the position that we are in. In addition, his extended family are heart­broken and their and our lives have been turned upside down by what has happened to Peter. Peter has never and would never contemplate doing anything to undermine any nation's peace and security. His personal ethic is one of coexistence and tolerance. He has displayed these characteristics all his life. His professional standards have always been very high: he has always emphasised balance and fairness. He has never shown any support for the Muslim Brotherhood or any terrorist organisation. His entire professional life reflects the fact that he is dedicated only to the pursuit of accurate and balanced reporting.
As Peter's parents we will continue to protest Peter's innocence until our last breath. As a father yourself you will understand the passion and dedication with which any parent would defend and protect his or her child if they are accused of something that they did not do. There are thousands of people around the world who support Peter and us in our quest – 43 000 people have signed an online petition. There are many more in all ranks and levels of the international society.
We appreciate that the matter is in the hands of a court and trust that the court will act fairly, properly and expeditiously. As his parents we would offer ourselves up for arrest as testament to our unswerving and wholehearted support of our son who has only acted in accordance with the highest standards of interna­tional journalism.
We offer the people of Egypt our hands of friendship. We look forward to the exercise of dignity, fairness and compassion. We look forward to welcoming Peter into the loving arms of his family without further delay.
We thank you for the courtesy of reading this letter.
Mansour had replied to Madam Vike-Freiberga courteously, with­out making any promises. I'm sure she would have got across the fact that Peter's case was in the international spotlight, and wasn't going away, in such a diplomatic manner that it didn't sound overbearing or condescending… she was as sharp as a tack, and retained a presidential air that made people sit up and pay attention. It was a treasured experience to meet her over a cup of tea.
---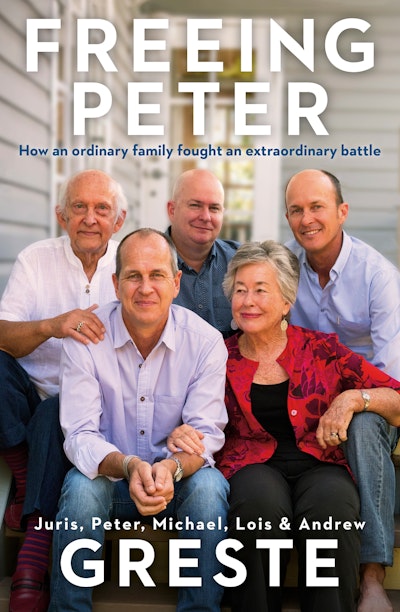 Freeing Peter tells the extraordinary true story of how an ordinary Australian family took on the Egyptian government to get Peter Greste out of prison.
Buy now
Buy now
---